Bike Czar
Why We Ride
And why Wisconsin is such a wonderful place to tour by bicycle.
//end headline wrapper ?>
Get a daily rundown of the top stories on Urban Milwaukee
It is easy to come up with reasons to ride a bicycle. Bicycling is a fun way to get exercise and stay healthy that also saves us money commuting. But those explanations don't capture the almost addictive attraction of bicycling. Words alone can't convey why we love pedaling the back roads and trails of Wisconsin. One reason why I became a photojournalist is I've always felt a picture really does convey more than what even the best writer can piece together with words alone.
As the quote by Kevin Eccles says in the caption below, this beautiful photograph of me riding up a hill outside Baraboo says more about why I ride than I could ever hope to say in words. It was taken on the second day of our now annual trip in which we ride a vintage train from Milwaukee to St. Paul and then pedal back on trails and back roads over three days, averaging about 120 miles each day. Members will remember we published a full story about last year's trip in our Bike Fed Magazine and shared a shorter excerpt of that story in this blog post.
This is the second year I have been invited on this trip by friend and Bike Fed member Tom Schuler, a member of the U.S. Bicycling Hall of Fame who has raced in the Giro d'Italia for Team Seven Eleven. Tom's Team Sports, Inc. now manages the Tour of America's Dairyland, and he owns the building which houses the Bike Fed's Milwaukee office.
He came up with the idea for the multi-modal adventure four years ago after he learned about the vintage train cars passing through Milwaukee on their way back to St. Paul after they are used to host parties at the National Restaurant Show in Chicago every May.  
The Friends of the  261 and the Railroading Heritage of Midwest America
maintain the Milwaukee Road 261 steam locomotive and fleet of passenger cars, including the luxurious Cedar Rapids, one of the Skytop Lounge streamliner cars designed by famed son of Wisconsin, industrial designer Brooks Stevens and built by the Milwaukee Road in 1948 in its own shops for service on the Minneapolis-Chicago "Hiawatha" line.
After the trip last year, Tom offered to auction off a spot on his invite-only trip at our Saris Gala. The winner of that auction was John Fleckenstein, a long-time member and supporter of the Bike Fed's Valid Bike Shop. John is a strong rider and a great guy who fit in perfectly with the eclectic crew. John pulled us along like a locomotive through the headwinds and got us home in record time on day three when we had a 20mph tailwind most of the way from Baraboo to Milwaukee.
On this four-day epic adventure, the eight of us pedaled through thunderstorms along the Great River Road. We struggled to grind our way over steep bluffs and the wind put grins on our faces as we sped down winding descents. We traveled through the famously dark tunnels of the Elroy Sparta Trail, our nation's oldest rail trail.  Surprised waitresses and and area farmers looked on in disbelief as we cleaned up double orders of delicious, made-from-scratch meatloaf, mashed potatoes, gravy and pie at small roadside diners.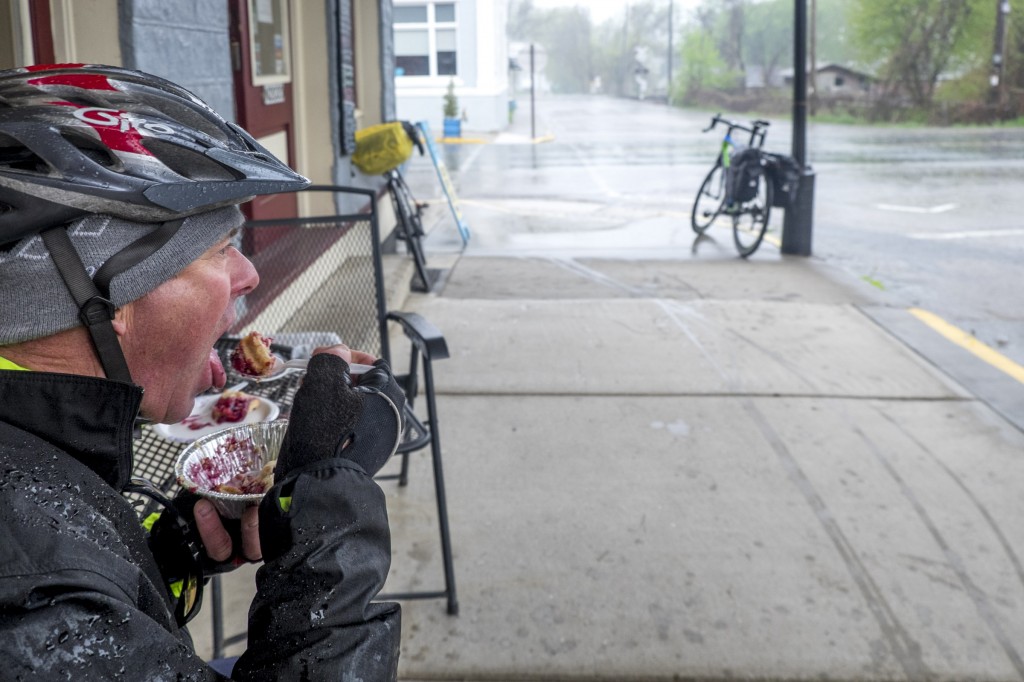 Tom stuffing his pie hole in Stockholm while the heavens pour down around him.
After two years doing this trip, I don't believe I will ever tire of the miles or the trails with all the gorgeous Wisconsin scenery. But Wisconsin has more to offer than low-traffic paved roads and thousands of miles of trails. You will find our state to be a remarkably friendly place to ride if you take the time to meet town folk like Hap, the 84-year-old retired pilot who refused money after he gave the slower members of our group (yes, I was in the truck) a 31 mile lift in his pickup to catch us back up with our faster friends after we were delayed by sheets of rain and delicious triple berry pie at the Stockholm Pie Company. Thanks again Hap. Can we at least buy you and your wife a slice of your choice next year when we pass through town?
This trip reminded me once again why I love cycling and why I honestly believe that Wisconsin truly is America's Best Ride. You can view (and purchase) lots more photos at the Bike Fed's Photoshelter website here.
You can see our route for each da by clicking on the Garmin links below:
Day 1: http://connect.garmin.com/course/3540556
Day 2: http://connect.garmin.com/course/5467348
Day 3: http://connect.garmin.com/course/5467502
This article was originally published by the Bicycle Federation of Wisconsin.