Pink Banana's "Dark Play"
A story so true, you'll never believe it
The play, about a teenage boy who gets caught up in a web of lies after pretending to be the girl of another guy's dreams, runs through Nov. 16.
//end headline wrapper ?>
Get a daily rundown of the top stories on Urban Milwaukee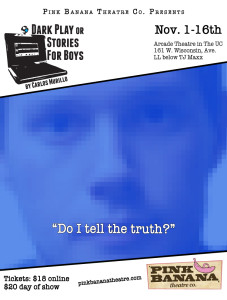 The only thing crazier than learning the plotline of Pink Banana's latest, Dark Play or Stories for Boys, is learning that the story it tells really happened – and is even more unbelievable than the version playwright Carlos Murillo has brought to the stage.
"It's a true story," Pink Banana's artistic producer Matt Kemple says, before seemingly doing his best to convince me otherwise. "To be honest with you, I read this article on the original, and there was way more messed-up stuff in the real story than there is in the play."
Kemple says Dark Play, and the real-life events it's based on, center around Nick (Nolen Borne), a teenager who starts exploring internet chatrooms in the early 2000s, where he takes on alternate personalities to troll unsuspecting users. All fun and games – until he meets Adam (Nate Press).
"[Nick] convinces this kid that he meets in an online chat forum that he's a 15-year-old girl," Kemple said. "And the boy ends up falling in love with this girl, and Nick, he starts to fall in love with the guy, in real life. … And then there's these different characters Nick creates, so Adam is in this other world and he doesn't realize that everybody he's talking to, that are validating things that other people are saying, are all the same guy."
Those personalities are all played by the remainder of director Luke Erickson's cast: Brenna Kempf, Kelly Coffey and Tim Palacek, who switch between real-world and virtual-world characters multiple times over the course of the play. Kempf, for instance, portrays both Rachel, Nick's fictional female alter ego, and his present-day college girlfriend, who incites the play's action by sparking Nick's memories of first encountering Adam online – and the tragic results of his many deceptions.
Kemple admits the conceit sounds confusing to stage – it was his own first thought after Erickson brought him the script – but Erickson's strong initial ideas gave him the confidence to greenlight it, and its staging has only reaffirmed that trust. "Luke has done just an incredible job," Kemple said. "Just reading the play, it's really difficult … once you see it and you hear it, it all makes a lot more sense. A lot of it's with the lighting and with the blocking; it's taken on this really awesome theatricality."
One of those blocking elements Kemple particularly likes is that Borne, as Nick, is left on stage the entire time – but not always as an unseen observer. Occasionally, he'll move from his voyeuristic post to pace around conversations, creating an intimidating unease, and even when he is at a distance, his alter egos will direct glances his way, subtle reminders of who they really are. And throughout the play, at uneven intervals, Coffey's silhouette lights up from behind a scrim, speaking a chilling sentence that unnerves even out of context: "Now when you do it, I need you to promise me that you'll tell him that you love him."
"It's so messed up, it's hard to be like, "Wow, I love this play,' but I do," Kemple said. "It's scary because it's so realistic, and it's something that could happen again and again. It's more realistic now than it was 10 years ago. … The reason we wanted to do this show is because it's extremely relevant to – unfortunately – a lot of people's everyday lives.
"You have no idea how insane it all is."
Pink Banana's production of Dark Play or Stories for Boys runs through Nov. 16 at the Underground Collaborative's Arcade Theatre, in the basement of Grand Avenue Mall, with performances Fridays and Saturdays at 8 p.m. and a pay-what-you-can night Monday, Nov. 11. Note that this play features violence and sexual situations and is recommended for mature audiences only. Tickets are $18 online or $20 at the door, and can be purchased online.