"The Burden of Being"
It's not that easy being green
Robby McGhee's ambitious new show at the Alchemist Theatre doesn't always get the tone right, but the puppet musical's successful moments are very good indeed.
//end headline wrapper ?>
Get a daily rundown of the top stories on Urban Milwaukee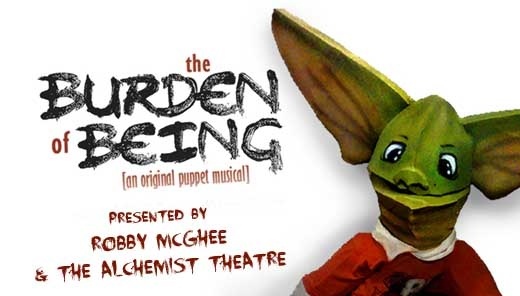 Young Aaron Bradway has everything going for him: He's set to go off to college to make his mark on the world, he's about to propose to his sweetheart, and he's just arrived at his high school graduation party. But life has some rude surprises in store for him. His dad, a local politician, preempts the party for a press conference, and his passive mom won't even back him up! Then his girlfriend dumps him! Then, when he seeks solace with his friends, they've been corrupted by a local drug dealer, who's caught Aaron's dad on video beating up a hooker! They blackmail the vulnerable Aaron into carrying, and before you can say "controlled substance," the kid is sharing a prison cell with a burly cross-dresser named "Doll."
Oh, and one more thing: Aaron is a monster. He's green, has foot-long ears, no legs, and is made of foam rubber. For this is The Burden of Being, an original puppet musical by Robby McGhee and some of his cohorts from TIM: The Improvised Musical.
As we enter the theater, graffiti informs us the "monsters" are a minority in this world, and — Aaron's father notwithstanding – they generally inhabit the lower rungs of society. McGhee's script doesn't really run with this premise to create a counter-logic, like 
Who Framed Roger Rabbit
 did, and the fact that the puppets were built by three different designers leads to some odd disparities: Aaron and his dad are the only ones distinctly monster-like; the others just look like standard humanoid Muppets. But never mind; one senses that McGhee's goal wasn't world-creating, or satire, but 
feeling
. The script takes its characters' emotions very seriously, and, if the story is soap-opera-ish, the problems are as recognizable as an after-school special.
The show lightens up from time to time with goofy non sequiturs, which never quite reconcile with the overall melodramatic tone. The songs, accompanied by a live band under the capable direction of Colleen Schmitt, are unexceptional music theater fare, but tuneful — and they were composed improvisationally, pretty impressive itself. The cast, directed by Jared Stepp, throws themselves into the act with gusto, though not all of them have mastered the art of projecting body language into a puppet while acting with voice and facial expressions. Michael David Stoddard, as Aaron, manages considerable poignancy, while, as his human ex-girlfriend, Rachael Zientek skillfully registers the emotional changes within her song. And as Aaron's cellmate, Doll, Zak Keil gives an over-the-top comic performance that brightens up the whole second act.
There's fun to be had in The Burden of Being, but as the title suggests, fun might not have been entirely the point. It's no easy thing to create a musical from scratch, not to mention one with so many concepts, but group creation tends to yield ideas in quantity, rather than burrowing down for in-depth exploration. Such is the case here. McGhee and company are to be congratulated for all their hard work – and watched to see if they can mine their rich premises more fully in future projects.
The Burden of Being runs at the Alchemist Theatre through Aug. 31, with shows Thursdays, Fridays and Saturdays at 7:30 p.m. Tickets are $17 and can be reserved online.