Local actor Robby McGhee makes his writing debut with "The Burden of Being"
The Alchemist Theatre will open McGhee's puppet musical, about finding self-acceptance, this Thursday in Bay View.
//end headline wrapper ?>
Get a daily rundown of the top stories on Urban Milwaukee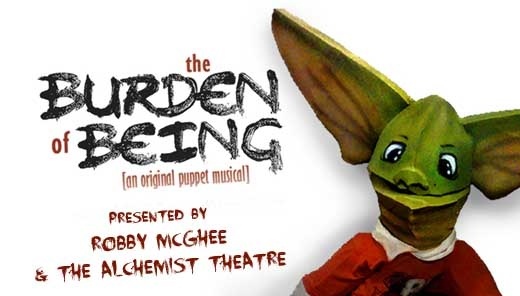 The thing about The Burden of Being that gets your attention isn't that it's written by a local Milwaukee actor, Robby McGhee. That's certainly cool, but it's also not uncommon – creatives of all stripes frequently dabble in more than one method of expression. The uncommon thing about McGhee's debut? It's a puppet musical, and one that seeks to blend comedy with serious subject matter.
McGhee's tale of monsters and men opens tomorrow night (Thursday, Aug. 15) at the Alchemist Theatre, but it's a story that's been in the works for months. "A year ago, Aaron Kopec from the Alchemist came to me and asked me if I wanted to do a show, if I had anything in mind," McGhee said. "And I didn't. But I did have a story I wanted to tell."
That story would eventually become
The Burden of Being
, but only after a series of workshops gathered by McGhee, which included a variety of improvisers, actors and musicians, many from among McGhee's cohorts in
TIM: The Improvised Musical
. At one point, during a cabin retreat on Lake Sinissippi, in Dodge County, McGhee's team even surpassed his own expectations: the 
TIM 
band, assembled to put together just a few of the songs, ended up composing the entire score in one night.
"I was blown away," McGhee said. "It wasn't only their ability to compose it so fast, but their ability to remember it too. We didn't have the resources to transpose everything so we had to do it all off of recordings."
The Burden of Being focuses on Aaron Bradway, a half-monster, half-human teenager who begins the play having just graduated as the valedictorian of his high school, located in a human-majority small town. It's a great place for him to start, but he doesn't stay there long. "His life is going perfect, completely laid out for him, and slowly it falls apart right before he goes to college." McGhee says the first act ends with Aaron at his absolute lowest point, but embarks on a new trajectory after the intermission, with Aaron working on finding himself and reconstructing his life.
McGhee's placed that story in the hands of director Jared Stepp, who he says has done an excellent job of finding McGhee's vision in the play while still making it his own. "Jared is incredibly patient and thoughtful. … I love being able to see how he interprets my script. It's even more exciting to see how actors interpret his interpretation of my script," McGhee said. "And if I ask nicely, he lets me offer feedback."
While Stepp may be bringing the musical to life, it's Brian Bzdawka, Jessica Bradway and Andrew Parchman who've brought the puppets to life. The collection of puppets featured in The Burden of Being are designed in the style made famous by Sesame Street and The Muppets, primarily single-rod puppets, where puppeteers operate the head and mouth with one hand and move one of the puppet's arms with the other – although they've got a more vibrant paint job.
McGhee is understandably anxious to see how his first foray into writing is received by the Milwaukee community, but says the whole process has already been fulfilling enough for him – thanks to the hard work and dedication of the play's developers, cast and crew. "These people really took a risk. They auditioned for a show they've never heard of before. They agreed to be in it without ever reading the script or hearing any of the music. I'm so fortunate. I'm so full of joy."
The Burden of Being runs Aug. 15 to 31 at the Alchemist Theatre in Bay View. Cast members include Michael David Stoddard, Beverly Sargent, Zak Keil, Nevin Langhus, Erin Hartman, Rachael Zientek, Hayley San Fillippo, Tim Backes, Marcus Beyer and Mary Kelly. Performances are at 7:30 p.m. Thursdays through Saturdays, and tickets are $17; to order, visit the online box office.