Bike Czar
All I Want For Christmas
Why I like to get and give my gifts from local companies.
//end headline wrapper ?>
Get a daily rundown of the top stories on Urban Milwaukee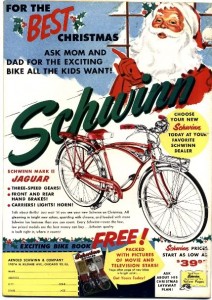 Part of the reason I have made most of my bike purchases at Ben's Cycle on Lincoln Avenue is Polish pride in my nasally south-side Milwaukee accent. There are other great local bike shops in town, but beyond the sentimental pleasure of shopping in my old neighborhood, I also get a good deal. Vince Hanoski, like most small business owners, rewards loyalty like mine by giving discounts to his regulars. Could I get a better price at some online mega store?  I never check, but probably.
I also know I pay a bit more at the farmers market than if I bought produce from the grocery store, and I ride right past McDonalds to pay more for a burger at Oscar's down Pierce Street from our office. My personal purchase hierarchy goes neighborhood first, Milwaukee second, Wisconsin third, and USA fourth. Beyond the bottom line, I see a lot of economic reasons behind the movement to buy locally produced goods. I think of myself as a local job creator because my purchases help employ people in my community. Supporting local, one-of-a-kind businesses also keeps neighborhoods unique, vibrant places to live.
When it comes to bicycling, Wisconsin residents have a huge advantage in the buying local because our state is really the national epicenter of the bicycle industry.  The problem is most people only know about Trek, but there are many others like Answer, COG Magazine, Hayes, Manitou, Saris, Fyxation, Milwaukee Bicycle Company, Cognition, and many others.
I think we need to market Wisconsin bicycle products in the same way we do our cheese, so that when people go into a bike shop, they can look a "Product of Wisconsin" label. While it is certainly true that in our globalized bicycle industry, many things sold by Wisconsin companies are made overseas, but they still have lots of employees here who do design, marketing, distribution and sales. And in addition to employing your neighbors, those companies pay taxes into our state and local economies.  So even if you buy a Taiwanese made Schwinn, most of your money stays at the parent company Pacific Cycle, which has offices in Madison.
In 2013, the Bike Fed will be working with the state's bicycle industry leaders and retailers to develop a label or logo to better market our Wisconsin products.  Until that happens later next year, this holiday season we encourage you to ask for Wisconsin products as you check off your gift list at your local bike shop.  To help get the procrastinators started, the short video below shows Selle Anatomica saddles being made in Elkhorn. I have one on my Koga Miyata Excersizor and not only is it one of the most comfortable places I can think of to put my butt, it comes in Santa Cycle Rampage red!

This story was originally published by the Bicycle Federation of Wisconsin.