Bike Czar
Sidewalk Cycling Can Kill
Motorists don't see bicyclists on sidewalks, which can lead to accidents at intersections. What is the solution?
//end headline wrapper ?>
Get a daily rundown of the top stories on Urban Milwaukee
It was another bicycle death, this time in Madison, Wisconsin. As Tom Held reported at The Active Pursuit, the driver of the car that struck and killed a bicyclist on Oct. 3 told investigators he hit the gas pedal instead of the brake when the rider suddenly appeared in front of his car, from the sidewalk, according to a preliminary report released by police.
"No citations have been issued in the death of Tyler Knipfer, 21," Held reported. "Madison Police Capt. Sue Williams wrote in an email sent Tuesday that the crash remains under investigation, and criminal charges are possible.
"The accident report provides some detail on the crash, which took place on Aberg Ave. at Huxley St., about 3 o'clock on a Wednesday afternoon. Knipfer was bicycling westbound on the sidewalk on the south side of Aberg Ave. The motorist, a 53-year-old man from Sun Prairie, was stopped at a stop sign, facing northbound on Huxley, preparing to make a right-hand turn to travel east on Aberg."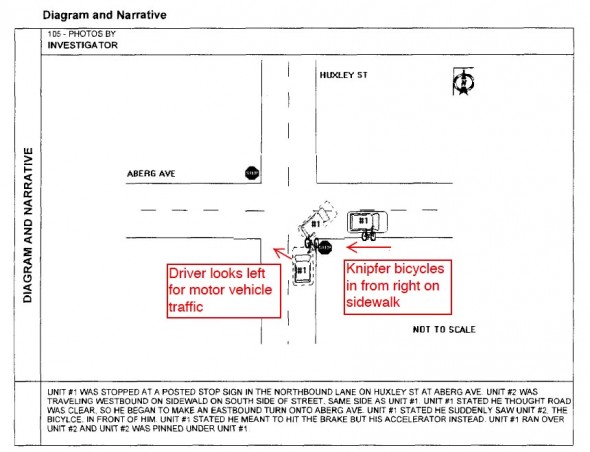 It is no excuse, but this tragic crash illustrates why riding bicycles on sidewalks is typically more dangerous than riding in the street, even though some people feel safer away from motor vehicle traffic. Getting hit from behind is an extremely rare type of crash on an urban roadway because statistics show the vast majority of crashes happen at conflict points where two vehicles are moving in different directions and must negotiate the right of way. Intersections are the biggest conflict point on our roads. The risk of riding a bicycle on through an intersection on the sidewalk is compounded because when driving up to an intersection, people often only use their peripheral vision to scan for people on the sidewalk.
Most of us drive cars, ride bicycles and walk. Imagine you are driving a car and think about your behavior and expectations prior to making a right turn at an urban intersection. As you drive up, you are braking in order to stop at prior to the sidewalk and stop sign.  As you slowly approach the intersection, you can see anyone walking on the sidewalk who might cross the street. You stop behind the sidewalk and stop sign and look to your left for any approaching motor vehicle traffic. Assuming there is a safe gap, and knowing there was no pedestrian traffic within walking distance on the sidewalk as you approached the intersection, you begin to take your foot off the brake as you turn to look forward and then right as you begin forward motion and make your right turn.
Depending on how quickly that all happens, a person on a bicycle might have time to ride into the intersection from a block or two away, far out of sight when the car initially approached the intersection. Suddenly the bicycle is in front of a moving car.
So even though many people feel uncomfortable riding in the street with motor vehicle traffic, unless they move at near pedestrian speeds and take great care going past every driveway and intersection, it is usually safer to ride in the street than on an urban sidewalk. Given that studies show the majority of people who ride bicycles are uncomfortable riding in traffic, how do we get people to stop riding on sidewalks?
Even very people who are very traffic intolerant report that they feel more comfortable riding in the street after they take an adult cycling class. The Bike Fed offers these classes throughout the year, you can call one of our offices to find out when the next adult cycling class will be held in your area. As a society we certainly need to reduce inattentive driving and better educate people about sharing the road with bicycles.
Better education and enforcement are part of the solution, but roads that have been engineered with bike lanes tend to have much lower numbers of people who ride on the sidewalk, and encourage more people to ride. While bike lanes have been proven to improve safety, the majority of people who ride bicycles report they still feel uncomfortable in bike lanes, especially on roads with high traffic volumes or higher speeds. If we want that bigger slice of people to ride more, we need to build roads with bicycle facilities that appeal to the majority. Bicycle boulevards and cycle tracks, sometimes called protected bike lanes, are the answer.
Bicycle boulevards are lower volume side streets that include traffic calming and intersection treatments that reduce speeding and cut through traffic. This makes them more attractive, comfortable places to ride bicycles without reducing access for residents or businesses on those streets. Even people who don't ride bicycles but live on bicycle boulevards often report they feel safer letting their kids play in the front yard due to the reduction in traffic in front of their house.
Cycle tracks are bicycle facilities separated from motor vehicle travel lanes, parking lanes and sidewalk by pavement markings or coloring, bollards, curbs/medians, raised pavement or a combination of these elements. Installed primarily on major arterial roadways, people report "protected bike lanes" offer a similar experience to riding on a separated path. Even in cities with extremely heavy traffic, like Chicago, New York and Washington, D.C., protected bike lanes have proven to dramatically increase the number of people riding bicycles for transportation.
The Bike Fed would like to see many more cities in Wisconsin building bicycle boulevards on the residential streets and looking to install cycle tracks on arterial streets. Once only found in places like Copenhagen or Amsterdam, because of their effectiveness, these comparatively inexpensive facilities are becoming much more common in urban centers in the US.
Until we get more attractive and convenient bikeways, those of you who don't like riding on busy streets, please take great care when riding bicycles on sidewalks where it is legal.
This story was originally published by the Bicycle Federation of Wisconsin.