Bike Czar
Death By Auto
Bicyclists are getting killed by negligent drivers. A proposed law could address the problem.
//end headline wrapper ?>
Get a daily rundown of the top stories on Urban Milwaukee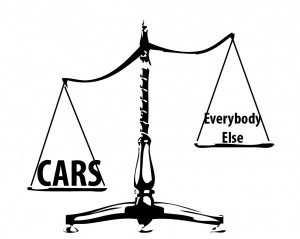 Recently two people riding bicycles were killed by drivers who had fallen asleep. In Dane County Carrie J. Pete, 37, was killed in the crash while riding on the right shoulder of Highway M on Oct. 8 when 21-year-old Timothy J. Grulke fell asleep while driving and hit her with his pickup truck. Earlier this summer Robert Gunderson was killed by 20-year-old Andrew S. Yang, 20, when he fell asleep and drifted across the centerline on Woods Rd. in Waukesha County.
Yesterday Tom Held reported on The Active Pursuit that Waukesha County District Attorney Brad Schimel decided Yang should be cited for traffic violations, but he will not be charged with any criminal offense.
Schimel told Held "In order to sustain a criminal charge for causing the death with the motor vehicle, I would need to demonstrate that Mr. Yang engaged in some criminally negligent or reckless conduct. This requires more than just ordinary negligence, but rather an awareness that his conduct was practically certain to result in great bodily harm or death to another. Under the circumstances here, given that Mr. Yang had adequate sleep the night before, did not engage in unreasonably exhausting activities during the day and had not been awake for an unreasonable period of time prior to driving, it would not be possible to obtain a conviction for criminally negligent or reckless conduct. Thus, it is not possible to proceed with criminal charges."
Held notes that Schimel reached similar conclusions in the fatal crashes that killed Brett Netke and Jeff Littman, both in 2010. Both Littman and Netke were killed while riding properly and legally along the far right hand side of the road when they were hit. Unless the ongoing investigation in the recent crash that killed Carrie Pete uncovers some new evidence, criminal charges seem unlikely in that case as well.
I asked James Scoptur, blogger, Tosa Spokesman rider and attorney with Aiken and Scoptur, if he agrees with the Waukesha DA's decision not to seek criminal charges. I was curious if a more aggressive or "bicycle friendly" prosecutor might make a different decision.
"The hardest part for the is that his burden of proof is just so high that the reality is that it would probably be a waste of his time and the taxpayer's money to try the case," Scoptur told me this morning. "The problem is we have this huge gap between civil and criminal negligence. In a civil case, I only need to prove a person was negligent, but in a criminal case the prosecutor has to prove a much higher level of negligence."
The way our current laws are written, that is very difficult unless a person was chemically impaired (drunk, stoned, high, etc.) or intentionally tried to hit someone with their motor vehicle Scoptur went on to explain. I then asked if he thought District Attorneys might be more likely to seek criminal charges if Wisconsin had a Vulnerable User law of some kind.
"I have reviewed the Bike Fed's proposed VU legislation as well as looked at other state's VU laws. It is definitely a gap filler that would bridge the gap between civil and criminal," Scoptur replied. "While relatives in these cases can still seek civil damages, that really does serve as much of a deterrent in these cases. You are less likely to commit a crime again if you spend four years in jail than if your insurance company forks over some money."
To that end, the Bike Fed is currently working with members of the Wisconsin Legislature to draft a Vulnerable User law that provides a level of punishment beyond a traffic ticket and  better fits the crime when an innocent person is killed. We believe that we need a law that better protects people riding bicycles, walking, law enforcement officials who have someone pulled over and other the vulnerable users of the road to put the scales of justice a bit more in balance.
Stay tuned to this blog for updates on the legislation, and be sure to come to the State Bike Summit to help us put reasonable protections for people on bicycles into law.
Driving offers great freedom, but it should come with equal levels of responsibility for the risk to others if not done with great care. In our busy drive-thru culture, piloting a motor vehicle has become something people do almost without thinking. That needs to change.
This story was originally published by the Bicycle Federation of Wisconsin.