HMI Doors Open 2011 Recommendations
//end headline wrapper ?>
Get a daily rundown of the top stories on Urban Milwaukee
Imagine this for a moment — you're a kid in a candy store, and as things go, this candy store is opening for the first time ever and only for one weekend. Oh gosh. You've dreamed of this cornucopia of confections so many times before, you know every name and shiny wrapper in the store… but your eyes are bigger than your stomach. How can you pick just a choice few, knowing your slight allowance won't let you have all that you want? It's the best and worst kind of agony.
HMI's first annual Doors Open Milwaukee
is this candy store.
One hundred sites to explore
but only one short weekend to satisfy your Milwaukee-built-environment sweet tooth. To make this amazing event slightly easier to dive into, I decided to reach out to a handful of folks whose perspectives and relationships with the city I really respect, and ask them to be experts on their own curiosity. Of course, because the Milwaukee community is both panoramic and kaleidoscopic, there's no wrong way to approach Doors Open — we'd love you to post your own personal recommendations in the comments section.
Below, find a few ideas on how you can dig into Milwaukee during the first annual Doors Open Milwaukee:
Nik Kovac is the Alderman of Milwaukee's 3rd District.
Nik's Picks: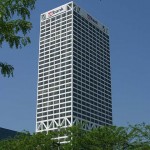 US Bank Observation Deck
If you're looking for panoramic views of our lake on one side, city on the other, there are a couple of great opportunities this weekend – the US Bank Observation deck 601 feet in the air and the Discovery World Pilot House right on the water – and if you haven't been to either of those vantage points before, do not miss them. It's a great way to orient your curiosity as you scan the nooks the crannies, alley and elbows, rooftops and courtyards that fit together in our downtown.
Jones Island Water Reclamation Facility
I'll leave it for you to decide from there which of Milwaukee's prominent structures you most want to see from the inside. Instead I will recommend a couple of back of the house tours, where you will get to pull up the hood on our town and look at some of the machinery that makes us go. The Jones Island Water Reclamation Facility will be giving motorcoach tours of the 75-acre peninsula on our harbor where our wastewater is separated into waste and water – and then the waste is converted into a best-selling fertilizer.
Milwaukee County Transit Fleet Maintenance Building
If you think it's hard some days keeping your old car running, imagine what it would be like if you had hundreds of buses that collectively put millions of miles on the odometers each year. The Milwaukee County buses are repaired and reshaped every day – at 1525 W Vine Street, just northwest of downtown at the intersection of Fond du Lac and Walnut, but you are allowed to watch only this Saturday. It's a ten-minute ride to there from Water Street downtown on the #57 line.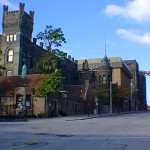 Best Place at the Historic Pabst Brewery
From there, it's a quick and scenic walk south on 13th Street, east over the freeway on Vliet, and the south again down 10th street through Milwaukee's most surprising newest-oldest neighborhood – the Brewery – for a stop at Milwaukee's best bar – Best Place at the Historic Pabst Brewery. You can get a tour or a beer – or both – here at 917 W Juneau. If you have not yet been inside this new old bar, make sure to get there this weekend to see a 360 degree mural explaining how to make beer – lots of beer – and read snippets of German wisdom that should not be forgotten no matter how much beer you've had.
Ian Abston is the event coordinator at OnMilwaukee.com & founder of Newaukee.
Ian's Picks:
Great Lakes Distillery
Not your average spirits. This place houses Milwaukee-bred Rehorst Vodka and some of the best bartenders this side of the Kinnickinnic River. Don't be scared when you see these guys crack an egg white into your martini and top it off with a blue cheese stuffed olive. Be sure to try all the samples, ask lots of questions, and of course… try all the samples. Wow this stuff is good.
Hotel Metro
Upgrade your tour of this Milwaukee gem. Hop in the elevator and let it take you as far as it can go.   You'll arrive at the surreal rooftop patio, one of the best kept secrets in our fine city. The running fountains will set the tone as you sip a local craft brew from the best seat in the city. Avoid the temptation to toss the sampler peanuts at the birds below you. They'll realize you've got food and your tranquil fountain will turn into a bird bath for these little scavengers.
John Gurda is a longtime Milwaukee historian.
John's Picks:
For people who haven't been downtown in a while, I'd recommend seeing some of our civic icons, including City Hall, Central Library, and the County Historical Society. I'll be visiting as many buildings as I can this weekend, but three are highest on my list:
US Bank Observation Deck
The observation deck at the top of Wisconsin's tallest building used to be open every weekday, but that practice ended years ago. Short of renting a helicopter, there's no better view of central Milwaukee, and Doors Open makes it possible this weekend. I'm looking forward to the elevator ride, and to updating some slide-show photographs I've been using for years.
Milwaukee River bridge houses (Kilbourn, State, Wells)
These little structures are unsung grace notes in downtown's landscape. Each has a different architectural theme, and I'm curious to see if they're as interesting inside as they are outside.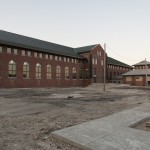 City Lights
The old gas works in the Menomonee Valley had been vacant for decades, and its current restoration is a welcome sign of the Valley's rebirth. It seems entirely fitting that a complex designed by one of the most prominent architects in the city's past — Alexander Eschweiler — is now the home of a prominent contemporary practice — Zimmerman Architectural Studios.
Pegi Christiansen is an arts organizer, writer, performance artist, & chair of In:Site.
Pegi's Picks: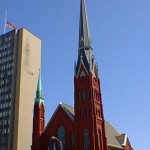 Calvary Presbyterian Church
I have been on a quest to find all of the labyrinths in the city, and haven't gotten over to Calvary to walk this one. I am fascinated by the different designs that can be used and their capacity for community meditation.
Jones Island Water Reclamation Facility
I want to see how they make Milorganite. It's iconic Milwaukee.
Northwestern Mutual
You get to go inside the guest dining room! I can't pass up this opportunity to feel grand.
Michail Takach is PR & social media consultant for Historic Milwaukee.
Michail's Picks:
Pritzlaff Building
For decades, this tired old building stood empty, coal-stained and brokedown on a forgotten corner of downtown, virtually the last man standing in a long-vanished industrial neighborhood. Since it was long-surrounded by fast-moving, one-way streets, and cut off from our pedestrian downtown by the freeway, the Pritzlaff Building wasn't the easiest building to access, and it certainly wasn't the prettiest thing to look at. Nowadays, it's no longer the grave marker for Old Milwaukee, but instead the gateway to a reborn and revitalizing Fifth Ward community. Within the past two years, the building has come alive, opened its doors and become an urban adventurer's dream venue. In the past two years, I've seen everything from fire-dancing floorshows to pissed-off punk bands to high-concept art shows in this space. And through it all, this old-time hardware emporium retains its gritty 1880s mercantile feel, one that really brings you back to the rough-and-rugged roots of Milwaukee in an authentic way. See it now, before someone cleans it up and makes it "respectable."
Best Place at the Historic Pabst Brewery
Ask any Milwaukeean over the age of 30 what they remember about touring the brewery, and they'll definitely mention three things: the Old World Guest Center, the iconic statue of King Gambrinus, and of course, the beer. But most Milwaukeeans don't realize they can still enjoy this experience — 15 years after Pabst ceased production here — at the last outpost of Old World hospitality on the west side, Best Place at the Historic Pabst Brewery. Best Place has done an amazing job of preserving not only the architecture and history, but the emotional connection to a brand that we used to call our own. Beer lovers will be wowed by the amazing collection of retro memorabilia that decorates the gift shop, and the fact that they can still enjoy an ice cold Pabst right on the spot. Following the return of King Gambrinus after 15 years away, visitors can once again take photos with him (and Captain Pabst) — and share them on the Best Place website. It sure beats the Bronze Fonz!
US Bank Observation Deck
Okay, okay, I know. This seems like the obvious choice. But once you've taken a panoramic look at our city from the 41st floor of Wisconsin's tallest building, you'll understand. It's a humbling paradox to see all three of Milwaukee's original settlement points at the same time, from 600 feet above Wisconsin Avenue, and realize how far and wide we've sprung from those birthplaces. Whether you're admiring our wide open, emerald lakefront, the spires and peaks of downtown buildings, or just the sheer amount of life happening all around you, your breathless view from the top will really change your idea of "Milwaukee" forever. Make this your first Doors Open Milwaukee stop, not your last. You never know when you'll have a chance to reach these heights again.
Guest post by: Adam Carr
A lifelong Milwaukeean, Adam Carr is a storyteller and radio producer. After two and a half years as producer at 88Nine RadioMilwaukee, he's currently freelancing and looking for new ways to explore narrative.
Displaying political contributions between people mentioned in this story. Learn more.