Sign-up for the Urban Milwaukee daily email
In an attempt to broaden our horizons, we reached out to other city-focused blogs across the Midwest. Our goal is to provide a quality tour guide for city-lovers in each large Midwestern city. We asked each of our writers recommend around 10 things that can be done in their city and to orientate the guide around someone staying at a downtown hotel without a car (including transit options if anything was outside of walking distance). Each guide author took things in a slightly different direction, and the resulting collection of articles has something for everyone.

Our third profile is of Chicago, and is written by Aaron Renn who authors the excellent blog Urbanophile.
Aaron M. Renn is an opinion-leading urban analyst, consultant, speaker, and writer on a mission to help America's cities thrive and find sustainable success in the 21st century.
Chicago
Chicago is a summer city.  I never understood the desire of some Chicagoans to have a country home or lake home for the summer.  A Florida condo in the winter perhaps, but why leave Chicago on the weekends during the short time of the year the weather is nice?  Of course, if you're in Milwaukee, you already get this.
Entertainment
Summer is festival season in Chicago.  There are events literally every weekend, from the large scale to the neighborhood.  Most of these are frankly not that much different from what you can find in your own town, but a standout is the Pitchfork Music Festival (July 16-18)
The summer is the traditional vacation period for the arts, but a few things are going on.  One is the
Grant Park Music Festival
, which features one of the only free municipal orchestras in the US.  The Grant Park Symphony performs in the magnificent Pritzker Pavilion in Millennium Park, designed by Frank Gehry.  Perhaps you can take in a concert after visiting Millennium Park and checking out the new Renzo Piano designed Modern Wing at the
Art Institute of Chicago
.  While famous for its Impressionist collection, the Art Institute also has the best modern art collection in the US after MoMA's.
Of course summer is baseball season, and if you've never been, a visit to the friendly confines of Wrigley Field to see those perennial losers the Cubs is a must (Red Line to Addison St.)
I mentioned Pitchfork earlier. Chicago is deservedly well known for its music scene and has some of the best indie rock clubs in America.  Among them are Schubas at Belmont and Southport (Red Line to Belmont, then walk or use #77-Belmont west).  Further west on Belmont at Hoyne is the Beat Kitchen, which features punk and other acts, including many all ages shows (be sure to check listings first).  Newcomer Lincoln Hall (Red Line to Fullerton), from the folks behind Schubas, is just a few doors down on Lincoln from where the storied Lounge Ax used to rule Chicago's musical roost.
For a full listing of the best events happening when you plan to visit, check out Flavorpill Chicago.  In particular, be on the lookout for what will be showing at the Gene Siskel Film Center downtown on State St.
Architecture
Chicago is known for its architecture, and that is the highlight of nearly any visit.  The first place to stop is the Chicago Architectural Foundation at 224 S. Michigan. They have a wealth of information about Chicago, and offer many, many guided tours.  The famous boat tour is a must, and in the summer advance ticket purchase is highly recommended.
One highlight is the campus at the Illinois Institute of Technology (Green Line to 35th St./IIT).  The campus itself was largely designed by Mies van der Rohe, but there is also a student center by Rem Koolhaas and a dormitory building designed by Helmut Jahn.
Millennium Park contains not just the previously mentioned Pritzker Pavilion, but may other artistic and architectural gems, including Anish Kapoor's Cloud Gate sculpture (aka, "the bean").  Nearby is Studio Gang's new Aqua Building at 200 N. Columbus, which is possibly the best contemporary skyscraper in the city.
And if you haven't been in a while, it might be time to revisit the Skydeck in the Sears Tower.  It has been upgraded with "the ledge", a glass enclosure that is cantilevered off the side of the building. Freaky.
Food
Chicago has more good restaurants than anyone could possibly hope to sample in a lifetime.  Chicago style pizza is of course a calling card, and my favorite is the stuffed spinach and mushroom at Bacino's Lincoln Park, at Lincoln and Webster (#11-Lincoln or taxi).
In the greater downtown area,
Avec
on Randolph St. in the West Loop combines amazing décor with fabulous small plates and incredible value priced wines (no reservations).  It's the sibling of next door
Blackbird
, which is also excellent if a bit higher end.
Sushi Wabi
is another favorite on the Randolph St. strip.  To the north is
The Drawing Room
at Le Passage on Rush just south of Oak St.  Amazing (and deadly) pre-Prohibition cocktails made from only the finest ingredients, with excellent food in swank surroundings.
Wicker Park has tons of places to choose from. Rodan is a sleek restaurant/lounge on Milwaukee (Blue Line to Damen). Tuesday nights at 10:30, a who's who of Chicago's most amazing jazz musicians plays, including people like Jeff Parker and John Herndon. A bit west in Humboldt Park is Bonsoiree (best reached by taxi), a small BYOB with five star tasting menus that just might be the best price/performance restaurant in the city, albeit still not cheap.
Shopping
The economy has done fearsome damage to Chicago's retail scene, with many of its best boutiques biting the dust. So I'm hesitant to recommend any specific places lest I jinx them, but State St., Michigan Ave, and Oak St. will no doubt have many places happy to take your money.  Design aficionados may want to check out the high end furniture retailers along the greater Franklin St. corridor in the River North area. Even the ground floor stores in the Merchandise Mart are now mostly open to the public, though the upper floors are still to the trade only.
Accommodations
Since I sleep in my own bed, I'm perhaps not the best source of hotel info. But as a fan of architecture in a city known for it, I'll suggest three ideas for you. The first is the Wit Hotel at the corner of State and Lake. This brand new tower features a signature zig-zagging streak of yellow glass projecting from its front facade and is also home to one of Chicago's hottest rooftop bars. Hilton point collectors will be happy to know this is a DoubleTree property.
Just down the street at Washington and State is the Hotel Burnham, which inhabits Burnham's fabled 1894 Reliance Building, one of the first high rises to feature large windows made possible by steel frame construction.  The facade is a terra cotta delight.  And at 230 N. Michigan Ave is the Hard Rock Hotel Chicago, housed in the imposing Carbide and Carbon Building, a black granite art deco gem.
Getting There
One word: Amtrak
Thanks again to Aaron for putting our Chicago guide together. Make sure to check out Urbanophile.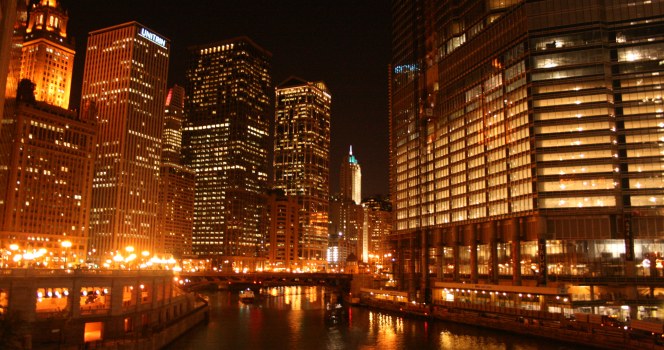 Other Guides