Fares vs. the Economy
What Explains the Decline in Bus Ridership?
//end headline wrapper ?>
Get a daily rundown of the top stories on Urban Milwaukee
An interesting debate was covered by the Journal-Sentinel the other day about why bus ridership in Milwaukee County was dropping.
Politics are at work, given the election season.  Milwaukee County Executive
Scott Walker
blames the economy and is downplaying his decision to raise fares over the past several years, and transit advocates are saying that the drop is due to large fare increases and service cuts (fewer routes).
It's a finger-pointing situation I really hate, so I decided to go straight to the data, presented for you here to make up your own mind.
First, here's data associated with Walker's argument: that the declining economy explains the downturn in ridership.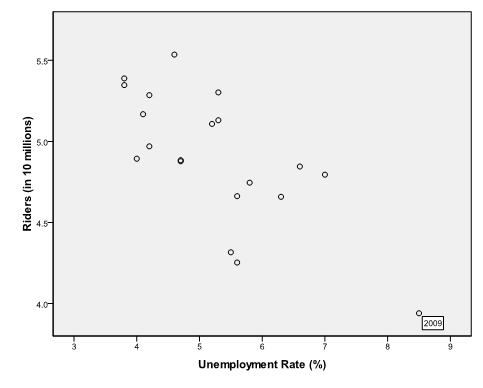 Stats geeks will want to know that the correlation is indeed significant and negative. But taking a closer look at the data makes me wonder if unemployment really drives less ridership. Take a closer look at the graph. There's a pesky outlier on the bottom right hand side of the graph. That's the 8.5% unemployment rate in 2009, and it's most likely skewing the correlation.
Translation: while there might be a relationship, Walker's overemphasizing the impact of the economy on bus ridership. More on this point later in the post…
Next, take a look at the relationship between fare prices and ridership. Here, we're testing the assertion that fare increases and service cuts lead to drops in ridership.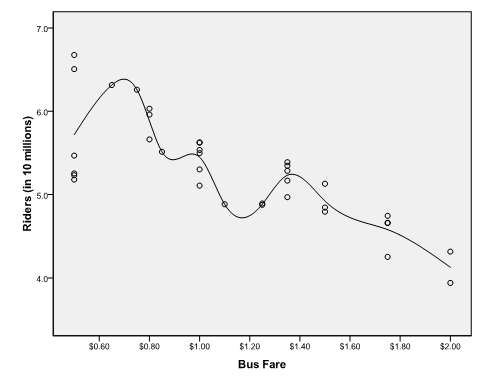 As evident from the graph, the relationship between fares and ridership is significant and negative. That is, as fares go up, less people decide to ride.
While both the economy and fares have a statistically significant relationship with how many people decide to ride the bus (even in the regression models I ran), if I had to bet on either I'd bet on fares as the major factor in play here.
Why fares? It's because when you look at the historical data, there's a massive spike in ridership in 1979 and 1980 (see graph below).
Remember in 1979 the Iranian Revolution led to an energy crisis and recession – high gas prices, long lines at gas stations, cats and dogs living together, etc. If Walker's argument is correct, then bus ridership in 1979-80 should have dropped precipitously. Instead, during hard times, people turned to public transportation.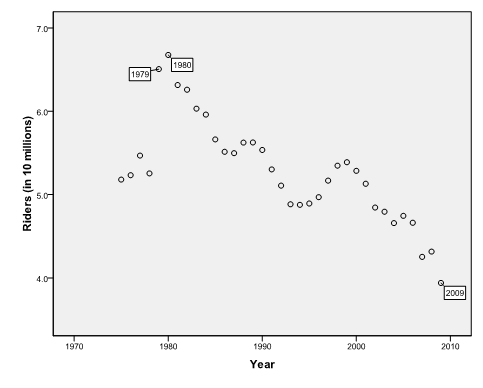 Today, during hard times, people might be using transit more if County government reduced fares.
Of course, this doesn't mean we should slash prices either. If we look again at the graph with fare prices (the middle graph), it shows that there is an ideal price at which to charge riders, around $0.75-$1 (the point at which ridership peaked). In theory, this price should maximize ridership, and bring in additional revenue to the transit system to cover costs.
Bottom line: Walker has evidence to back up his bad economy claim, but he shouldn't be ignoring the fact that fare prices have a more important relationship with ridership totals. In other words, Walker's budgeting decisions have led to less ridership.
Guest post by: John Kovari
John Kovari is a Ph.D. student in political science at the University of Wisconsin-Milwaukee and the 2008-2009 Norman N. Gill Fellow at the Public Policy Forum.  Additionally, he has served as a legislative assistant to city of Milwaukee Alderman Michael Murphy.