Lower East Side Grocery Store To Open
//end headline wrapper ?>
Get a daily rundown of the top stories on Urban Milwaukee
John and Anne Nehring will open Nehring Family Marketplace in a building owned by New Land Enterprises at the intersection of Brady and Water Streets.  At 15,000 square feet the store will be the largest the husband and wife team own.  The location has been the longtime home of Habhegger Wheel & Axle shop.  New Land Enterprises acquired the lot in 2005.  They plan to offer a flower shop, liquor store, and catering service as well as groceries, and hope to be open in late 2009 or early 2010.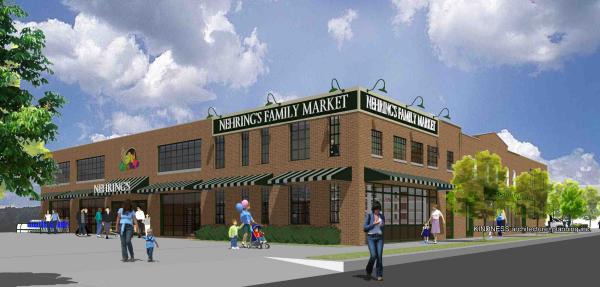 The husband and wife team also owns Nehring's Sendik's, 4027 N. Oakland Ave., in Shorewood, V. Richards store at 17630 W. Blue Mound Road, Brookfield,  and G. Groppi Food Market, at 1441 S. Russell Ave., in Bay View neighborhood.
The location of the store certainly signals that the Pleasant Street Market plans for the end of Commerce Street in the Beerline neighborhood are on hold.  The development had slotted a grocery store by the Nehring's as the anchor tenant.  Brewery Works, Inc has not been able to break ground on the project, and it appears the Nehring's found a space that will allow them to serve the same, if not a bigger market.
The Nehring Family Marketplace will not be the only grocery store in the Van Buren Street corridor.  In fact the north-south corridor will now have three grocery stores within a half-mile stretch.  Metro Market, a 52,000 square-foot upscale super market, Pick 'N' Save, a 40,000 square-foot super market, and now Nehring Family Marketplace, a 15,000 square-foot upscale grocery store.  This is before including Glorioso's on the eastern half of Brady Street, whose owners are suing to complete their plans to expand in a building across the street.
This is  is the densest-populated area in the state of Wisconsin, and all of the existing stores seem to be constantly busy, so it does not appear the addition of another store over-saturates the market.  Furthermore, each store delivers something a little different than the others.
It will be interesting to see what the competition between stores brings for the area.  It should help to continue the positive redevelopment of under-utilized land in the area.