The Politics of Real Estate Development – Park East Edition
//end headline wrapper ?>
Get a daily rundown of the top stories on Urban Milwaukee
The tale of the Fair Market Development, LLC Park East development proposal is one already lined with intrigue.  Shortly after proposing the Eco-Square project, they weighed in on the MORE prevailing wage ordinance fight in support of prevailing wages. What wasn't said was that their proposed development was already subject to a prevailing wage requirement as part of the Park East Redevelopment Compact.  Now, it appears they're already asking for public money to make the project happen.
With development going so well in the Park East, it was certainly kind of Bob Schultz and Fair Market Development to advocate for more prevailing wage requirements on future projects elsewhere in the city.  It's not that prevailing wage requirements are killing all Park East development, but they're not helping.  Additionally, the shtick of developers acting like they're paying the wages out of their own goodwill in the Park East, as Gatehouse Capital unsuccessfully played with the Palomar project, is getting old.
Fair Market Development was the only respondent to a Milwaukee County RFP for a site bordered by North Broadway, North Water Street, North Milwaukee Street, East Lyon Street and East Ogden Avenue.  Their ambitious proposal of 350 apartment units was presumably partially dictated by the lot size (which as covered here before is simply too big), and what appears to be a desire to apply for public financing from the start.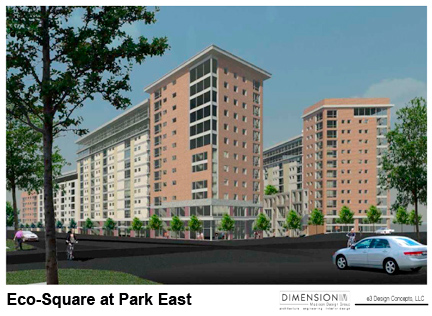 If Fair Market Development did intend to apply for public financing from the start, it comes as much less of a shock that they were advocating on the side of labor groups for the MORE ordinance.  The labor groups will definitely be welcome allies when they attempt to apply public pressure on the city for TIF dollars.  A strategy Gatehouse Capital would have certainly loved to play, had they not canceled the project prior to Milwaukee Common Council taking up the issue.
It should be interesting to see how Fair Market manages their push for public dollars.  Gatehouse Capital certainly made their push public.  Will Interim Mayor turned Lobbyist Marvin Pratt, retained by Fair Market Development, make their case as public?  He's certainly not someone you hire unless you think you're in for a fight.  How much will the labor groups come to bat for Bob Schultz?  How much are they asking for $1 million or $18 million?
The questions about this project leave some bigger questions to be answered.
How is Park East development going to work on lots this big?
The answer to the question is pretty clear.  Park East development on large lots will only work with big amounts of public money injected into the project.  This is going to be yet another example of a project that will only work with taxpayers helping out.
What are the real effects of prevailing wages?
They're certainly not helping get projects off the ground.  Every penny in cost they add to a project is going to come straight from the public money in the project.  It's basic business 101 that increased costs have to be passed on to the customer, and if they won't pay the government will have to.  And what's the government in this case?  A roundabout way to get at the wallets of the customer.
The MORE ordinance requires 40% of workers on applicable projects to be residents of the City of Milwaukee.  That's a positive as it is an incentive for individuals to live in the city.  What are the unions doing in response?  The International Union of Painters and Allied Trades District Council No. 7 is setting up shot on the edge of the metro area in the former Waynz World, and even putting a training facility in.  A lot of good that is going to do students in MPS looking to get jobs in construction.
What can we can expect in the future?
If the lots stay as large as they are (and under Milwaukee County control) in the Park East it appears the only way to get projects off the ground will be to hire lobbyists and ally with local groups in an attempt to apply pressure to elected officials to spend future property tax dollars on Park East projects.
This leaves Milwaukee with 16 acres of land that are going need public financing to be transformed from gravel to buildings.  Using the Palomar's request for a $18 million TIF for 6 acres as a baseline, it appears there would be an additional cost of $48 million that Milwaukee taxpayers have yet to pay for the Park East redevelopment.  Even worse, using the RSC numbers as a baseline, Richard Curto wanted $9.5 for 2 acres, would put the unrealized public financing cost of the corridor at $76 million.
The Park East lots need to be divided and transferred to city, not the county, management for this to work as a private market development.  Otherwise it's pretty clear that there isn't a developer that can pull off a development at requested scale on the Milwaukee County land without taxpayers shelling out more money.  As Department of City Development Commissioner Rocky Marcoux said "However, bigger is not automatically better when the downtown market for hotel, retail, and office does not allow for projects of this size and scale to move forward without significant City subsidy."
The need for public financing in the Park East can be stopped, lot sizes just need to start small and finish big.