Zweig Project Would Add a Twist to Milwaukee
//end headline wrapper ?>
Get a daily rundown of the top stories on Urban Milwaukee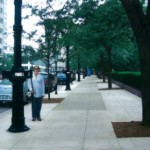 The debate swirling around the Janet Zweig art project got me thinking about the value of public art to our city and how other cities embrace opportunities to enhance their public places.  In Chicago the mix of architecture, and the hustle and bustle is in of itself valuable but public places like Millennium Park and the artwork that fills it add to the overall appeal of city life.
The most well know piece of public art work in Chicago's Millennium Park is surely Cloud Gate, which is more commonly referred to as "The Bean."  The way it distorts the view, creating a seamless connection between reflection and reality has adults acting like kids, and kids well being kids.  It fascinates people of all ages, it brings a little joy to people, and by doing so, it sets a tone.  By creating this fun and creative tone it encourages people to stop and enjoy, the work, the park, and the city.
Another intriguing work in Millennium Park, The Crown Fountain, is the large waterfalls with the video images that occasionally spout water.  These clearly draw and entertain a crowd, but what statement, purpose, or meaning beyond entertainment they have isn't immediately apparent.  Nor does the work strike you as especially "high-tech" or even complicated.  But the work draws you in, gathers a crowd, spurs laughter, and creates a fun environment for all ages.  See this work isn't the most famous draw to Millennium Park, or even the most creative but it adds another twist to Chicago.
Janet Zweig's work might not standout physically like either of these works, but the point remains the same.  To entertain, to draw people in, and to add a touch of enjoyment to the environment.  This encourages people to linger a little longer, to take a picture of our city, to stop and grab a coffee, to get a brat from a street vendor, or just say something positive about Milwaukee.  Each of these are again minor and might seem insignificant but as the little benefits add up they in totality create a uniquely vibrant place.  Quite simply, public art is one of the the unique twists that help make a city, a city.  Hopefully Zweig's, all be it small, project will be given the opportunity to add a new twist to Milwaukee.
If you haven't seen Chicago's Cloud Gate or The Crown Fountain I've added a gallery below: