Accents on the Interstate, Lipstick on a Pig
//end headline wrapper ?>
Get a daily rundown of the top stories on Urban Milwaukee
If accent lighting on the interstate isn't the perfect definition of lipstick on a pig, I don't know what is.  That said I'm not opposed to it.  In fact, I think dressing the Marquette Interchange for the prom was a positive step forward. There is, however, only one thing I wish would have happened differently.
More money should have been spent on minimizing the impact the interchange and Interstate 794's have in dividing the Third Ward from downtown.  This includes not only the obvious areas between East Town and the Third Ward near the Milwaukee Public Market, but the less obvious, but looming problem, the visually isolated Milwaukee Intermodal Station.
How could this be achieved?  Well, as mentioned previously, putting more lipstick on the pig ala better lighting under the interstate to encourage more pedestrian activity from one side to the other (and hopefully encourage more development).
As I said before…
The idea I like the most is the creation of a barrier between the streets and the parking lots with rotating public art from area students.  Mix that with upward shooting lights and more contemporary designed fixtures to achieve an experience under the freeway that is similar to walking along the Riverwalk.  Make the area as visually appealing as possible to reduce the negative impact the massive cement structure has on adjacent land.
WisDOT did seem to have some intention of doing something with the space under 794.  Hopefully they follow through with that, and do something other than generic surface parking lots and what they refer to as "architecturally-enhanced piers".  The "architecturally-enhanced piers" (pictured blow) were seriously what's mentioned on MChange.org as all it would take to make the area more appealing.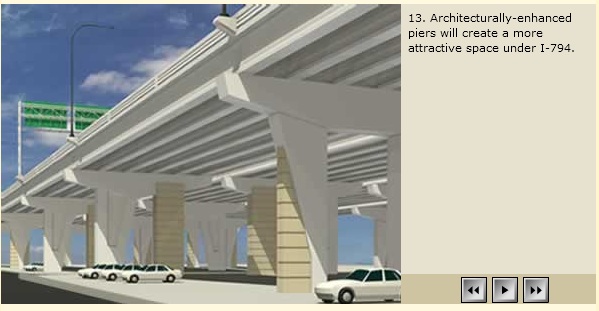 The other low-hanging fruit (concrete) is the removal of the temporary lanes separating the two portions of 794.  It appears in an effort to make the project come in under budget, WisDOT decided to just leave construction pieces at the site (a supposedly temporary concrete piece bigger than the Milwaukee Public Market).  Unfortunately, leaving the temporary lanes in place (pictured below) makes the space under the freeway completely dark, negating the "architecturally-enhanced piers".
The lights on the Marquette Interchange are a good thing.  They make driving through downtown more noticeable (if the skyline was failing to do that already) and will probably help the image of the city.  My concern is just that WisDOT should be spending more attention to the visual effect the freeway has on the land bordering it in the city.  More lighting under the freeway would help.
Ironically, the happy motorists living in the suburbs seem to have an issue with $815,000 being spent on lights, but not on the $810,000,000 cost of the entire project.  Ironic?  We think so.  The entire project did cost 1,000 times as much as the lights.  Penny-wise, pound-foolish comes to mind.