Yes, i CAN tell if a band sucks without hearing them, thank you.
Sign-up for the Urban Milwaukee daily email

Fig.1: "Are you as confused by my success as i am?"
Apparently there is this female singer by the name of—wait, let me check this again—Katy Perry? Yeah, that's her name. Apparently she's hot shit right now thanks to some single called "I Kissed a Girl," and another called "Ur So Gay" (note: uh, wow). Imagine my surprise when I found out that this "I Kissed a Girl" single actually wasn't a cover of "I Kissed a Girl" by Jill Sobule! Imagine the funny in my head—apparently people were discussing the supposed "shock value" of a girl singing about making out with another girl, while I'm sitting around thinking, "but, it wasn't shocking when it was a single thirteen years ago!" Not the same single! Oh, silly me, was my face red! Oh, goodness! Oh, my! And me, Mr. Self-Styled Pop-Culture Commentary Dude! Way to keep up on the latest haps, Deej!
To date, I have heard—I think—approximately 20 seconds of music by this Katy Perry person. I am fairly confident of this because during the season premiere of American Idol (it's an illness, back off), the background music at one point featured some song where "I kissed a girl" was being sung, and it wasn't the Jill Sobule tune. So, had to be her, right?
Here's where I'm going with this—despite only having heard about 20 seconds of her music, I am 100% certain that this Katy Perry person is completely, unquestionably worthless. How do I know this? Easy—I did some research. I read her Wikipedia entry (and yes, I'm self-aware enough to have intended referring to a Wiki entry as "research" as a joke):
After Steve Thomas and Jennifer Knapp signed Perry to their label Red Hill Records, she released her first CD Katy Hudson in 2001, a Christian gospel album. In 2004, Perry worked for the record production team The Matrix. Perry also began working on a debut mainstream album, writing with Glen Ballard, which was due for release in 2005.

* * *

After signing to Capitol Records, Perry began recording for her official mainstream debut album, working with Cathy Dennis, Greg Wells, Dr. Luke, Butch Walker, Max Martin, Dave Stewart and Ted Bruner.
Unless one of Katy Perry's childhood enemies has engaged in a Wikipedia hacking conspiracy and has edited her entry to make her just
look
like a careerist major-label pop artifice (and let's face it, attaching Alanis Morisette producer/co-writer Glen Ballard to anyone's name is enough to brand them as plastic phonies), the evidence all points to a musician whose work I would no doubt abhor, right down to her laughable inclusion on the Vans Warped Tour last year (pretty much stripping away any last vestigial claim to a "punk" association that package tour ever had).
I've been criticized in the past by overly-sensitive friends who were insulted for some reason by my tendency to dismiss wholesale something they like without even listening to it. "How can you rip on it when you've never heard it?" they ask. Please. If you consume enough pop culture (or hell, enough of any culture), eventually you are aware of your personal preferences and aesthetics enough to detect whether or not you will like someone's music just by seeing what they look like. Don't believe me? Here, let's take a photo quiz that I have decided just now to dub "AWFUL OR AWESOME?" (warning: to pass this quiz you may need similar taste in music to me. I know people who may have problems with this):
1. AWFUL or AWESOME?
ANSWER: Awful, obviously. The girls–whatever, nothing terrible there. A little Hot Topic maybe, but meh. But the dudes, oh god the dudes. The guy on the left has that unmistakable stink of ungracefully aging thirty-something who still wants to be attractive to high school girls.(Seriously, is that a wig?) Let's not even discuss the black nail polish on both those dudes. (Wait, there's a third dude? Oh, didn't see him back there. Is he the bass player?) Bottom line: when the band looks like they're sending their younger siblings into Hot Topic to buy their clothes because they don't wanna seem creepy, you know the music is gonna be some sort of hackneyed mall-punk trying to appeal to teenagers with disposable income.
The band is called Dot Dot Dot, and they're atrocious.
2. AWFUL or AWESOME?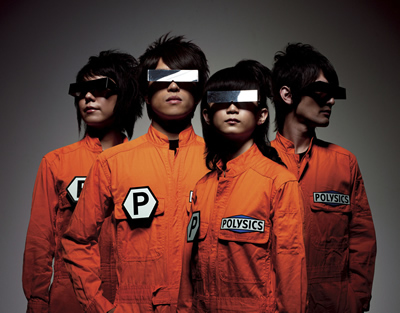 ANSWER: Awesome! First off, dig the theads–obviously these kids are strict disciples of DEVO. And while flagrantly ripping off another band is rarely all that cool, this band is Japanese. Japanese business culture is so weird and conservative that if you're gonna be in a friggin' punk band in Japan, you better be prepared to go all the fuck out. If a Japanese band is copping DEVO, you know they're probably doing it to a degree where they're out-DEVO-ing Mark and Co. to some degree.
This band, incidentally, is Polysics (if you couldn't tell by the big ol' obvious "POLYSICS" tags on their jumpsuits). And they are AMAZING.
3. AWFUL or AWESOME?
ANSWER: If you don't know that this band is called Mushroomhead, your first reaction should at least be, "Wtf, when did Slipknot start color-coordinating?" Anyway, unless you're KISS, if you're going to wear stupid "scary" costumes on stage, they'd better be made out of styrofoam and paper mache', and you'd better feed Jerry Springer to a huge vagina plant monster during your show. Otherwise, you are AWFUL.
4. AWFUL or AWESOME?
ANSWER: It's a little tricky, isn't it? On the surface, they're pretty much dressed like normal dudes and a girl, and that could go either way. God knows, any band that attaches some sort of statement of purpose to their intentional dressing-down, Pearl Jam style, is probably vanilla at best. Still, there's a distinct lack of pretension in the casualness of the appearance (you can usually spot affected dressing-down by the purposely disheveled hipster hair), and the girl is totally cute in a soooooo-not-trying-at all sorta way, so let's hazard a guess and say "awesome," OK?
Oh, hey, check it out! It's The Thermals! God damn are they awesome!
Fig.2: If you don't grin like an idiot after watching this, i don't think we're going to be able to make this relationship work
5. AWFUL or AWESOME?
ANSWER: Come the fuck on, what do you think?
6. AWFUL or AWESOME?
ANSWER: Remember what we said about Japanese punk bands? Seriously–it may be physically impossible for them to suck. And Japanese greasers? Fuck yeah, you cannot look this awesome and possibly suck. Only in the mirror universe where Spock has a beard and Sulu is mega-super-shamWOW gay instead of just regular gay is that possible. This band is Guitar Wolf and they will melt your face.
7. AWFUL or AWESOME?
ANSWER: The exception that proves the rule! These guys look like the worst kind of fashion hipster douchebag–garish colors, purposely…vacant? Confused? Apathetic? Stoned? I don't know!…look in their eyes, the Asian guy is wearing a plunging v-neck t-shirt, for fuck's sake, and for the love of Tarim, what is up with the hippie?
And yet, this band is HEALTH, quite possibly one of the most exciting new bands of the last three years. Pure noise doesn't sound this structured and musical without still being noise unless you know what the fuck you're doing. And these guys are on the frickin' ball.
(Seriously, check out their website and discover how difficult it is to reconcile their Los Angeles hipster douchery with their completely asskicking music. "Noise/disco/fashion?" Two out of three ain't bad, i guess. "YOU WILL LOVE EACH OTHER?" Gah, for fuck's sake. WHY MUST YOU PLAY AWESOME MUSIC. I WANT SO MUCH TO DISLIKE YOU.)
OK, one more:
8. AWFUL or AWESOME?
ANSWER: AWESOMELY AWFUL! Holy fuck, this is my favorite band photo of all time. Billy's standing like he just shat out the rest of the band, James and D'arcy look like they're trying to look cool while being shat upon, and Chamberlain just looks defeated and begging for his sweet heroin-soaked release. God god god DAMN i hate this fucking band. DID YOU THINK THIS MADE YOU LOOK COOL? WOW!
Tune in next time for "AWFUL or AWESOME: The Jam Band Edition!" (Hint: The answer is always "awful.")