Milwaukee Filmmaker Speakeasy
//end headline wrapper ?>
Get a daily rundown of the top stories on Urban Milwaukee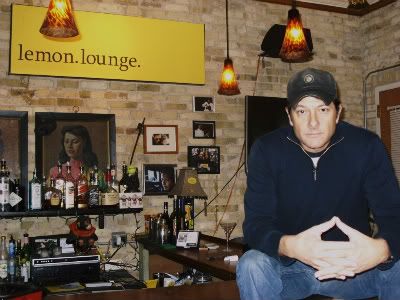 Michael Sotille of Lemon Lounge @ Oakland and Locust
… So I told Grandma I loved her and then Grandpa ambled onto the phone. We did the wife, dog, salon updates and I heard about the latest movies to sneak into at the budget cinema and how there will never be peace in Israel in his lifetime. I um-hmm along and the call (as always) ended with "Give Carly a big kiss and say hello to the boys in the back room." Kissing the wife is no prob, but the boys in the back room? That's kinda sick. I want a back room.
We are on the top of Mt. 2009, so cut me some slack and allow me to gently dissect one of the challenges I experience as a fringe filmmaker and late-night screenwriter in Milwaukee. There is no spot. No filmmaker's speakeasy. Bike messengers have the Swingin' Door on Michigan to talk about short-billed hats and fixed gears; fat cat lawyers and judges pop over for lunch at Jake's Deli on North to feel out pleas and city nominations. Filmmakers need that softly lit, sideways bar to hunch over and steal a look when the door creaks open to see if a comrade has entered. We need a place to drink in the anomalous delights of speaking the same, strange film language, a place to go to procrastinate, offer condolences for projects that die, do shots to films that spring to life, argue about this editor or that scene and just talk shit in general. A filmmaker's back room if you will. Will you? I thought you would. So then, the mission is set! And I think I gots it: Lemon Lounge on Oakland.
Owner/bartender Michael Sottile has been around the block of the independent film world. Since 1992, he has appeared in
Reservoir Dogs
,
Speed, Outbreak
and a few indie feature films starring opposite Julie Bowen (
ER, Weeds, Lost, Boston Legal
) and Traci Lords (amazing!). Sottile's latest appearance is in
Modus Operandi
(directed by Frankie Latina; trailer on
myspace.com/frankielatina
), which was shot on Super 8mm in Milwaukee on a self-proclaimed budget of CHEAP. For those keeping score, that is some dirt-under-the-nails filmmaking.
Walk into Lemon and shut the door quickly behind you, because chances are you'll let out all the heat. The place is tiny, the size of a forgotten box office more than a bar, sitting in the shadows of the Miramar Theater on Oakland. Dimly lit with candles and white Christmas lights, Lemon comes on like a Brooklyn cellar bar or a Parisian lounge with its own Hemingway story. Hanging from the exposed brick walls are sentimental paintings, a few old film posters and a framed Rolling Stone's Let It Bleed record. You can't fuck with that. Bottom line: you get the feeling that this is a place where stories are told and business gets done.
Lemon frequently hosts private screenings or showings of works-in-progress on their flat screen/DVD/stereo sound set up. In fact, walk-in, impromptu rounds on the DVD player are encouraged. Film industry or not, patrons become part of the same conversation, back-patting or critiquing the latest flickering film segments.
Pushing into 2009, the film community in Milwaukee needs a place like Lemon. The Filmmaking Life is a long love affair with moments from transcendent to ridiculous and, like a love affair, you romanticize the great moments – the things that drew you in and the things that keep you coming back for more. In the same conversation is bittersweet reminiscences and everything in between. What better way to experience it than over drinks at a Milwaukee-born place where you can size up and define your inspiration and meet like-minded people ready to do the same. Your back room. VS
On a side note: THANK YOU, ATOMIC RECORDS. The element of cool you brought to Milwaukee will be missed and impossible to replace. I remember trying to angle the inside artwork of the Smashing Pumpkins album Pieces Iscariot to figure out what shirt Billy Corgan was wearing. Yes, people, it was an Atomic Records shirt – in '94. You can't get much cooler than that.