//end headline wrapper ?>
Get a daily rundown of the top stories on Urban Milwaukee
I'm going to be in Kansas City in December and plan to stroll over to the Kansas City Art Institute to see "Political Persuasion" Street Posters for Barack Obama." The posters are from the private collection of a professor at the Institute. It's near the splendid Nelson Gallery of Art (with a splendid new addition described by Paul Goldberger of the New Yorker magazine as the best museum addition of this decade). A few blocks away is the Kemper Museum of Contemporary Art. MAM's current executive director, Daniel Keegan, was in charge there prior to his California sojourn.

Interior, Steven Holl addition, Nelson-Atkins Museum, Kansas City
People imagine K.C. as a big cow town, and yes, at one time it was home to some impressive stockyards, but it's way more than that these days. The Missouri river rambles through downtown, a downtown gripped in the condo craze, but also the site of the revival of a number of old venues. I'll be Amtrak-ing there via the Hiawatha to Chicago and then on to the Southwest Chief for a ride across Iowa and south to Missouri. Seven hours and twenty cups of bad coffee and I'll be in the grand old Union Station, and directly across from Liberty Memorial Hill where 175,000 Obama fans rallied recently.
Like all cities, K.C. has some really bad public art and some awful galleries with awful art: schmoozy florals, cowboys on horses, big eyed kittens, etc. The Nelson will certainly be on my list of places to view art worth viewing, and the new addition features contemporary art, plus a Noguchi sculpture garden. The landscaping surrounding the building was designed by Mr. Kiley, who also designed the gardens at MAM, as well as the Chestnut Grove adjacent to the Marcus Center for the Performing Arts.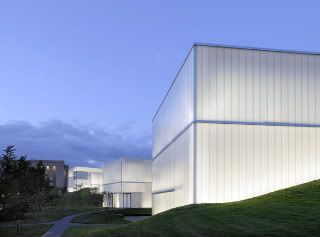 Exterior, Steven Holl addition, Nelson-Atkins Museum, Kansas City