//end headline wrapper ?>
Get a daily rundown of the top stories on Urban Milwaukee
By Erin Wolf
Photos by Kat Berger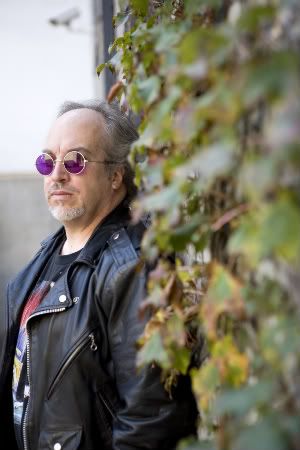 Receptiveness is a valuable quality in audio recording equipment – and an important trait in the person pushing the buttons. WMSE 91.7 FM's in-studio performance audio engineer Billy Cicerelli is receptive. He also possesses an innate know-how, provides a patient voice of reason, does his homework on every local and national musician he works with and uses his notes to create the optimal sound for everyone he comes across, from hip hop musicians to acoustic folkies. The age-old saying is "Those who can, do; those who can't, teach," but amazingly, Cicerelli is quite capable on both counts. A naturally curious thinker and problem-solver, Cicerelli has used years of absorbed knowledge to push ahead in his subject of choice – sound. Which came first, though – the music or the mechanics?
The mechanics
Cicerelli starts from the beginning. "I was bright and inquisitive when I was young, [and] I had an early draw to music. I started out with that little plastic flute-thing and moved on to clarinet. I had a teacher who was a Dixieland jazz player."
An inherent collector, Cicerelli graduated from the Marvel comics he loved as a kid to Marshall music. "When I was in high school, I started really getting into the whole listening part of music, and started to collect stereo equipment. I'd annoy my mom, because I would come home with parts and she'd be like, 'what do you need that for?'"
Collecting led to learning and utilizing with a fateful trip to Flanner & Hafsoos (now Flanners). Cicerelli, always on the lookout for new toys, fell in love with a pair of Klipschorn speakers, amazed by their 'wall-reinforced' sound capability. "When I finally got the salesman to give me the time of day, I asked him about the speakers. Next thing I knew, I was filling out a loan application! I had just been dreaming." Cicerelli's face lights up with a huge smile. "I come home from work one night … and the whole living room is consumed by these giant boxes. It was kinda like I was on a mission."
That mission lead Cicerelli to twiddling, tweaking and teaching himself – he'd fuss with mix tapes, compose music with his roommate and try his hand at home recording. Eventually, Cicerelli accrued enough experience and equipment to make professional-level recordings at home. Local bands started seeking him out. "I would do demo records for bands at home and was starting to do some really good things out of my house. I learned the ropes at Midwest Studios, but I was able to do stuff in non-studio situations that came out pretty well, and got me noticed.
"That tended to irritate people who recorded out of studios," Cicerelli says. But the gear and the know-how weren't what turned other audiophiles green. It was his effortless way of interacting with musicians. "You have to be a good people-person to be a good producer. You need to treat people as individuals and set different parameters."
The music
The musician-teacher relationship goes way back with Cicerelli, who remembers his days of piano lessons at the Wisconsin Conservatory of Music. "When I was 21 years old, I decided that I was going to buy a piano. I found a teacher, Tony King … [and] after I heard him play that first jazz chord, I knew exactly what I wanted to learn. I began taking private lessons and learned a lot – he was a very generous person, so teaching is big to me."
The piano kept Cicerelli's musician side satisfied. He played for local bands and did an "evil, twisted lounge show" at The Cactus Club in the late '80s with his pal, Jim Kane. "Jim 'Voice As Sweet As Sugar' Kane was what I used to call him … we were billed as Jim Kane and Billy Martini, [and] we did a mixture of standards and my original material. I would bring in my equipment and use it to show people what it could do." The Cactus Club gig opened the door to Cicerelli's work at WMSE, although it didn't seem like a likely lead-in at the time. "Tom [Crawford] was actually the one who told me to do [the lounge show]," he recalls.
"I was doing a couple of live remotes for the radio station from Brett's [now Points East]. [But] Tom always wanted to do live music at the radio station, and he bought the gear. As they were putting the new station together [in 1999], he went out and got all this new equipment, and said, 'This is what I want to do,'" Billy says. "He called me in, and I just started setting stuff up. I was pretty much jumping in the water."
Local/Live started to pick up speed with the station's bi-annual pledge drive in the spring of 2000. Billy was booking notorious Milwaukee bands by the handful – Evel, Dorian Gray, The Danglers, Rick Holmes and Zoot Suit Boogie, Terry Frank and the Bone Deluxe – and setting them up in an unlikely spot: the WMSE library.
"People would come up to me and say 'how did you know the room would sound this good?' I have a natural ability to size up a room … I'm lucky that way." But it doesn't always come easy, as every band – big and small – brings a fresh challenge to Billy's table.
WMSE Station Manager Tom Crawford, who's known Billy since grade school, has witnessed the magic that Billy works first hand.
"In 2000, we had Les Percussiones de Guinee [from the Republic of Guinea] in the studio … we had all these drummers and dancers and stringed instruments. Billy walked in and saw all these people … he was pissed. I had told him we'd just record a few people at a time, but their manager said that they only all played together, and that they were an orchestra. He was so angry," Tom says.
"[But] by the time they were done, the kora player was doing a solo, and he was singing a song about losing his lover, and it was a song he sang every night, hoping his lover would return … and it just hit us. Watching Billy transform this band and this band transform Billy was amazing. Everyone in the studio is listening and dancing, and Billy's got this huge smile on his face.
"It's one of the most amazing recordings we have."
The romance
Billy's job is a music lover's dream come true. "When I came to WMSE, there was so much out there that I knew so little of. Working with these bands, I learn so much. It's like going on a tour of the world and sampling different types of food. Obviously, you like some more than others, but honestly, if the music is done with an honest motivation, you have to like it."
True ambition and creativity are Cicerelli's favorite discoveries. "I love working with the young musicians especially, because they throw stuff at you that you never would have thought of. Some of the genius of these people – it's fricking amazing!
"Bottom line: if you don't love what you're doing at the end of the day, why are you doing it? If you love what you're doing, you're going to keep at it.
"Mechanics of Romance has this old tape thing that he has tracks on, and you can look at him and think either he's crazy, or he's a genius, and it's both. He does it with such a passion of belief of what's he's doing. And you get guys like Greg Koch who are just brilliant musicians, and that's satisfying, too." Music or mechanics? It's obvious that for Billy Cicerelli, it's a little bit of both – but mostly, it's the people behind it that matter. VS