//end headline wrapper ?>
Get a daily rundown of the top stories on Urban Milwaukee
By Eric Lewin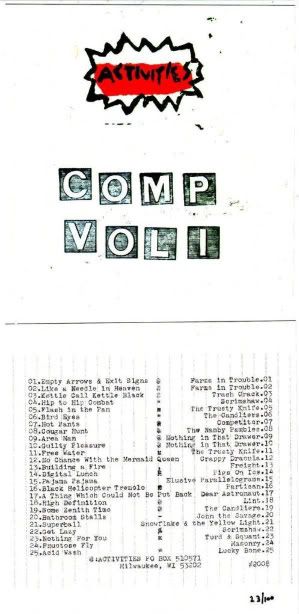 While college-rock (for lack of a better term) graduated into grunge and alternative-rock in the early '90s, Milwaukee has maintained an interesting relationship with the subgenre: the city's biggest export is still the Violent Femmes, its most popular record stores are the size of bedrooms and its independent radio stations maintain an army of devoted local listeners.
So while Activities Compilation: Volume 1 might play elsewhere as a futile effort to fit '88's sound into '08 in another market, its context makes it a refreshing throwback, echoing a citywide love of independent music and its roots – notwithstanding an uneven collection of tracks.
For a compilation that features more than 20 local bands, each contributing no more than two songs, Activities is sonically consistent: that is to say, lo-fi as it comes. Whether purposely as a production technique or the result of limited resources (common sense suggests the latter), the results are mixed as to which bands sound charmingly sparse and which just sound unfinished. Farms in Trouble's "Empty Arrows and Exit Signs" is a wonderful, psychedelic folk romp, and the male-female harmonies of the Candliers' "Bird Eyes" plays like The Vaselines-meet-Tom Waits' Rain Dogs. On the other hand, Crappy Dracula barely miss exceptional sleaze-rock with "No Chance with the Mermaid Queen" by cheating themselves with a too-small drum sound. And on the other other hand, "Area Man" by Nothing in that Drawer is simply unlistenable.
While the majority of the songs included are rather forgettable, most of them don't suck, and a few are actually pretty good. That might not seem like high praise, but it's a claim that most local scenes across the country can't make. Activities might not stack up against legendary Wisconsin/Milwaukee compilations like
Badger-a-go-go
, but it certainly holds its own.