Subversions
On Assignment
//end headline wrapper ?>
Get a daily rundown of the top stories on Urban Milwaukee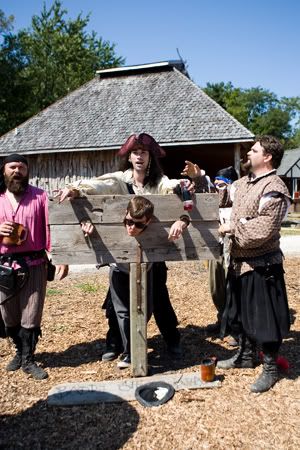 by Matt Wild + Photos by Kat Berger
I'm sipping a flat rum and coke at a place called El Bait Shop (Spanish for: The Bait Shop) in downtown Des Moines, Iowa, when I realize how much this town is like a Lou Reed record: difficult, frustrating and haunted by past brilliance. Sure, there's always something of worth to be found buried beneath the bright bars and non-existent music scene (or, in Lou Reed's case, concept albums about Edgar Allen Poe) but damn if you don't have to work for it. To explain: In late August, Vital sent me to cover the inaugural World Xtreme Boxing Challenge being held in Des Moines. Less than 48 hours before I was scheduled to leave, the tournament was cancelled. Figuring a weekend out of town might do me some good, I decided to make the trip anyway. My story would now be of the city itself, its similarities and differences to Milwaukee, its selling points and hidden treasures. It would also be a half-assed travelogue, one that would come to feature a failed Wayne Newton encounter, an appropriately geeky renaissance fair and me getting slapped in the face by a dwarf. And finally, like a Lou Reed album (I'm thinking something along the lines of Transformer now), it would be about how a road trip can be a bundle of blind hope, bitter disappointments and – given enough time and patience – something like a revelation. This is the story of that road trip. This is Des Moines.
DAY 1
Looking out the windows of the ultra-swank
Embassy Club
atop the 801 Grand building, you can see nearly everything there is to see of Des Moines, a city roughly a quarter the size of Milwaukee. It's a beautiful city, really, with the Iowa State Capitol – its 23-karat gold-plated dome shining in the sunset – overlooking downtown. I'm taking it all in with a glass of red wine in my hand, joined by Milwaukee's own Amy Elliott, Bridget Brave and Kat Berger. (A quick note to male readers: when making a road trip with three women, it takes less than 20 minutes before the conversation turns to tampons and Judy Blume books.) We've just driven seven hours and have barely made our dinner appointment with three members of the Des Moines Convention and Visitors Bureau. There are no prices on our menus and the ladies look amazing. I've managed to put on a shirt and tie. The similarities between Des Moines and Milwaukee are striking: both share a clean, compact downtown that has benefited from recent revitalization programs, and both have a contentious, newly-erected bronze statue to contend with (in the case of Des Moines, it's of recent Olympic gold-medalist Shawn Johnson). Other fun facts learned over our five-course meal: Des Moines is the insurance capital of America, it contains some of the most extensive urban biking/hiking trails in the world, and its four-mile downtown skywalk system is second-to-none. Later, a helpful Wikipedia search informs me that Des Moines is also home to not one, not two, but eight of the nine members of Slipknot. The mind reels. We leave the Embassy Club at dusk, saying goodnight to the CVBers and walking a few blocks – god, it sure is hot in Des Moines – back to our hotel, the
Renaissance Savery
. While the thought of four out-of-town, overdressed journalists from Wisconsin clanging around Des Moines must certainly be thrilling, the real buzz – as we soon discover over drinks at nearby El Bait Shop – is that Mr. Las Vegas himself,
Wayne Fucking Newton
, is in town to judge an Arabian horse competition, the
2008 Magnum Futurity
. Not only that, but he's rumored to be staying at our hotel. "What could Wayne Newton possibly know about Arabian horses?" Amy wonders aloud. It's a good question, and one we quickly determine must be answered by the man himself. Thus, we realize our purpose in Des Moines. We will meet Wayne Newton.
DAY 2
The next morning finds us nursing our first collective hangover – the 100 taps of beer at El Bait Shop having nearly done us in. We're at Java Joe's, a large, Alterra-like coffee shop on the outskirts of downtown Des Moines. The place is nearly dead; the only other patrons seem to be homeless, construction workers, or homeless construction workers. The girls drink coffee as I nurse a Corona. Bridget pokes at her Blackberry and suddenly gasps. "Oh no. McCain picked a female running mate. Her name is Sarah Palin. This is bad." It's a disheartening development, and one that will cast a strange gloom over the entire day. We leave Java Joe's in a daze and set out to find the nearest dive bar. Our search leads us across the river to the East Village, a funky little neighborhood littered with yuppie Brady Street-esque boutiques (it has an Urban Belly for chrisssake), as well as darkened, none-too-inviting gay bars with names like Blazing Saddles. Eventually, we settle on the wonderful Locust Tap, a place whose natty interior and extensive graffiti remind me of the old Globe East. The doors and windows are wide open and the sun is streaming in – god, why is it still so hot? We settle in and proceed to get drunk. While Kat indulges in a mean game of Buck Hunter, a creeping feeling of desperation begins to overtake us. What exactly are we doing here? What's the story? Des Moines? The road trip? Jesus, we haven't really done anything yet. Luckily, Vital's very own (and former Iowan) Jon Anne Willow soon shows up, brightening our mood. She's made the trip on her own, braving bad weather and a broken axel somewhere outside of Beloit. Her determination rubs off on us, and after a few more drinks, we decide to suck it up and give this road trip all we've got. We decide to press on. We leave Locust Tap and head back to our hotel in order to prepare for our fabled Wayne Newton encounter. The girls get dressed to the nines and Amy somehow produces a vinyl copy of Newton's "Danke Schoen" – the only song any of us can attribute to him. We stalk the halls of our hotel, and then, following a tip, the halls of the nearby Marriott. While Kat and Amy stage an impromptu photo shoot, I come across a nervous-looking doorman in the lobby. He's mumbling to himself and fidgeting with an unlit cigarette. Has he seen Wayne Newton? "Nope, no one can find him. He disappeared." "You mean he's left town? He's gone?" "No man, he's not GONE. He's MISSING!" It's this rather cryptic statement that sends the rest of our evening spiraling off into a blur. Eventually, we find ourselves at the Royal Mile, a busy, dimly lit bar that seems like Von Trier on anabolic steroids. We order shots and navigate the college-age crowd: Amy and Kat meet some nice chiropractors, while Bridget somehow comes into possession of an Italian beef sandwich. I make my way to an outdoor patio – still so hot here, even at night – and proceed to stick my video camera in everybody's face.
Hearing live music a few doors down, I ask a pretty girl standing next to me about the local scene. "Well, we don't get the big acts like we used to," she tells me. "You know, like Reverend Horton Heat." I'm about to say something foolish when the girl's boyfriend shows up. He's glassy-eyed and alarmingly short; in my somewhat inebriated state, I assume he's a dwarf. Without saying a word, he slaps me directly in the face – hard. Before I have time to react, he and the girl are gone, my only thought being: "Wow. I just got slapped by a dwarf! In Des Moines!" (Unfortunately, upon further video review, the dwarf in question turned out to be just a short, angry dude.) We stumble back to our hotel – thank god this city is so walkable – deciding we should quit while we're still somewhat ahead. Amy and Kat disappear into their rooms, and Bridget and I repair to the hotel bar, the
Speakeasy. We drink Bloody Marys and trade dirty jokes with the bartender until closing time. I tell him about my dwarf-slapping incident, that I'm here on "assignment," and ask him for any insights into the city he calls home. "The one thing I can tell you is that Las Vegas and Des Moines have something in common," he says. "In Las Vegas, what happens there stays there. In Des Moines, what happens here, well, you probably wouldn't want to remember anyway." I'm passed out, dreaming. Des Moines, Iowa. Des Moines Iowa. Duh moyn I owah. The words start to lose their meaning. I've been starting off all my video segments with the same shtick all weekend long: "Hi, this is Matt Wild in Des Moines, Iowa." Christ, after 30 or so of these even my name starts sounding weird. Hi, this is Matt Wild in Des Moines, Iowa. Hey, this is Matt Wild on assignment in Des Moines, Iowa. Hi, this is Matt Wild, what the hell am I still doing in Des Moines, Iowa?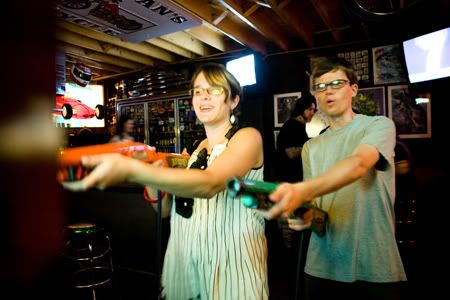 DAY 3
"Oh god. Farmer's markets are in the morning." This is the horrifying thought on all our minds (vocalized by Kat) as we wake up the next morning, the prospect of attending the renowned
Des Moines Farmer's Market
about as appealing as a back-alley colonoscopy performed by your mother. It's 8 a.m. and we're still drunk. But the Farmer's Market turns out to be almost unbearably pleasant – all locally-grown produce and artisan-crafted foods, music, babies and dogs strolling the charming Court Avenue – and serves as a pleasant memory when we find ourselves at the
Des Moines Renaissance Fair
a few hours later. Held in an unbearably hot, open field at – wait for it –
Sleepy Hollow Sports Park
– it's a prime example of what happens when geeks go bad. Lacking proper D&D sessions or Rocky Horror screenings, they dress up in period costumes and tend to use the phrase "Ye olde" a lot. Ye Olde Watering Hole, Ye Olde Blacksmith shop, Ye Olde Licensed Distributor of Miller Lite. The hours pass slowly. Bridget wanders off into some sort of "fairie glen" while Kat and I munch on turkey legs procured from "Ye Olde Turkey Leg Shoppe." ("Is this really turkey?" she asks after the first bite. "It tastes like ham.") Jon Anne and Amy try their hands at archery, and eventually a couple of uber-geeks lock me up in the stocks, forcing me to perform an Irish jig upon my release. As we're getting ready to leave – not a moment too soon – I hear a snippet of conversation that seems to sum up the event perfectly: "Good morn fair maiden! Might I trouble ye for a Diet Dr. Pepper?" We spend the rest of the afternoon at the hotel – nursing sunburns and lying in our beds – struggling with a heavy feeling of disappointment. A farmer's market? A fucking Ren Fair? This is what we've accomplished? We've learned so little about Des Moines, have failed in even our most modest missions; the whole Wayne Newton thing, we decide, was probably a sham. As the sun goes down on our last evening, we gather enough energy to make a return visit to El Bait Shop, but find it tiring. Des Moines, it seems, has finally beaten us. We've failed. Luckily, Jon Anne reappears and once again saves us from certain doom. She and a friend, Todd, agree to drive us to the
GT Lounge
, a sort of hipster/biker bar on the outskirts of town. It's a small, dark, and noisy place – kind of like Riverhorse/Foundation – and it's the first place we've been to all weekend that reminds us of home. We order round after round of shots and Kat plays some more Buck Hunter. During a trip to the frightfully dilapidated bathroom, I spot a sticker on the paper towel dispenser: "Sarah Palin is fucking hot." I step outside for a smoke. Todd is there, and he asks me how our trip has panned out. "We've been drinking a lot," I tell him. "It feels like we haven't done anything." "Trust me," he says. "If all you've been doing is drinking, you've done it all."
DAY 4
We leave on a Sunday morning, the day before Labor Day. Before hitting the road, however, we make a quick stop at the Capitol to get our last look at the city. The weather finally seems to have cooled, and we gaze out in silence as a father and son take pictures of themselves next to a bronze statue of Abraham Lincoln and his son, Tad. There's brief talk of driving an hour out of our way to visit the ballpark where Field of Dreams was filmed, but no. We're going home. On our way out of town, we stop for gas and pick up a copy of the Des Moines Register. There, on the front page, is this headline: NEWTON TROTS OUT HOLIDAY FUN Wayne Newton, a Las Vegas entertainment legend known for his love of horses nearly as much as his prolific stage shows, judges the colt class during the 2008 Magnum Futurity. Below the headline is a picture of Newton himself, hovering specter-like behind the weekend's prize-winning horse. There's a small, strange smile on his plastic face, a smile almost impossible to read, a smile that seems to say: You were so close. So close. VS Matt Wild would like to thank Des Moines for all the joy and pain. Danke Schoen.