Get a daily rundown of the top stories on Urban Milwaukee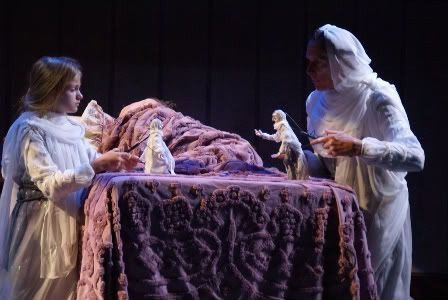 Casey Tutton and Mark Metcalf in Gossamer
Gos·sa·mer (n): a light and delicate touch.
These words define this coming of age story that confronts sensitive social issues with light touches of humor, imagining the nature of dreams against the realities of domestic abuse through this credible ninety-minute production that deftly uses puppets to portray delicate concepts. First Stage Children's Theater, in collaboration with Oregon Children's Theater, opens their season with Gossamer, a world premiere play adapted by Lois Lowry from her young adult novel.
The story centers around Littlest, the youngest member of a community of 'dream givers,' who is being initiated and trained in the trade of delivering dreams to humans. Littlest is charged with delivering dreams to a vulnerable young boy named John. Removed from a foster home because of abuse, John explores the stories of his life through his bad and good memories. In the foster home, Littlest and her mentor, Thin Elderly, fight off the terrifying nightmares that diminish John's self-esteem while giving him dreams that strengthen his spirit and offer the promise of emotional healing.
Credit the considerable talents of the entire company, along with the creative puppets fashioned by Mark Hare, to bring Lowry's innovative novel to life. As part of the Saturday evening cast, Casey Tutton (a girl of 11 with numerous acting credentials) delights with both believable innocence and concern while she struggles to voice her own intuitions. The superb Mark Metcalf, sharing a genuine affection for fellow actor Tutton, tenderly develops Littlest's abilities playing Thin Elderly while making every night a dream to treasure. Richard Halverson is distinctly enjoyable as Most Ancient, a role that gracefully touches on respecting the wisdom of older generations. And puppeteer Alexis Block, playing the dog Toby, impressively imbues a marionette with personality.
Every technical contribution — including white flowing costumes, underground staging, and artistic lighting — substantially develops Lowry's lofty ideas into a tangible theater presence. The author puts fantastical events into three dimensions, which First Stage admirably captures.
While this premiere script could benefit from minor tweaking, the performance provokes questions that require attention. If either the novel or the play educates one child or adult about abuse, the story will have served an even greater purpose. This production gives children a voice that allows them to picture surviving this delicate but critical reality in contemporary life. After the performance representatives from Children's Services Society of Wisconsin, an organization that works to eliminate these tragedies, provides opportunities to answer questions regarding domestic violence and abuse.
Where do dreams really come from? Lowry presents her audience with one otherworldly answer: that nightmares haunt the mind with recrimination and fear while dreams pervade the ordinary with courage and confidence. Who could survive life without imagining wonderful dreams during the days or nights? First Stage's Gossamer reveals this forgotten and fragile insight that ultimately fosters enduring hope.
First Stage Children's Theater presents Lois Lowry's Gossamer until October 5 in the Todd Wehr Theater at the Marcus Center for the Performing Arts: www.FirstStage.org