At a Moment's Notice
Photographs by John Heymann
//end headline wrapper ?>
Get a daily rundown of the top stories on Urban Milwaukee
At a Moment's Notice: Photographs by John Heymann
Charles Allis Museum
August 6 – September 21
Opening Reception: Wednesday, August 6, 5:30 – 8:30 pm

John Heymann, "Lantern, Antelope Canyon, Arizona." 1999.
What a month for admirers of fine photography! The Milwaukee Art Museum unveils a major exhibition August 14 – Unmasked and Anonymous – with a run until November 30. Now through September 28, 100 prints by Stephen Shore will be at the Haggerty Museum of Art, and if that isn't enough, John Heymann's show of photographs opens August 6 at the Charles Allis Museum and runs until September 21 as part of their on-going Wisconsin Masters Series.
I met with Heymann, who was in town to oversee the installation of his photographs, but the email information he forwarded gave me a generous preview: born in 1947 in our town, he graduated from UW-Madison in 1970 with a degree in comparative literature, intending to shape a career as a poet. A course in photography at UW-Milwaukee set him on a new path. It's wasn't long before he departed for Boston to begin an internship with a weekly politically-oriented newspaper.
Basically, he learned his craft by hanging out with other photographers, looking at the work of established photographers, and (perhaps most importantly) by "taking photographs every day for years." Teaching photography in the Boston Community Schools and at shelters for homeless teens heightened his interest in his chosen profession. He keeps that interest fresh by meeting for critiques with two groups of photographers.
Decades have passed since his student days. Would the "poet" in him speak through the 50 photographs at the Charles Allis? I already knew that he admired the work of photographers Bresson, Weston, Lange, Winogrand and Friedlander, plus other photographers he knows personally. Heymann's work has been published in the New York Times, the Boston Globe, Downbeat Magazine, and various other media venues. He's certainly not just another chap roaming about with a camera.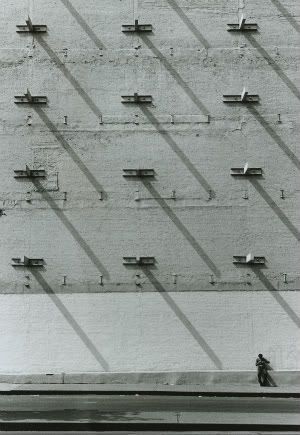 John Heymann, "Shadows on a Building, New York City." 1986.
John Heymann is as cool and crisp as his elegant photographs. He came in out of the heat of a blast furnace day and walked me through the Great Hall and floor two where his work is displayed. Friendly and open, he talked about his abstractions – none more lovely than the outstanding "Boatjacks," a lush color slice of a Maine boatyard. It reminded me of a masterful painting by Klimt. He told me he often studies paintings and extracts from them what he wishes to express in his photographs. Indeed, several of his black and white minimalist depictions recalled paintings of Motherwell or Kline, but are distinctly Heymann. On floor two, an 8" x 12" black and white photograph of a skylight blew me away. On Sunday, you can hear him talk about his work (yes, it is poetic) during a gallery walk-around at 2 pm. It will begin in the Great Hall on the first floor, where his larger abstractions are installed. The exhibit also includes figurative works as well as a generous sampling of work focused on light and shadow.
At the foot of the mansion's grand curving stairway is a case filled with Japanese ivory and wood Netsukes. Sitting on top is a small photograph of Sarah Allis, taken at the Waldorf Astoria in New York. In the entry lobby is a large photograph of her spouse, Charles Allis – two fitting reminders of the couple who gifted our community with their many treasures. VS