//end headline wrapper ?>
Get a daily rundown of the top stories on Urban Milwaukee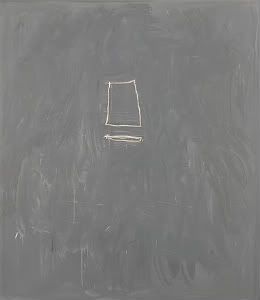 Cy Twombly, "Untitled" (1967)
There it hangs in Gallery 18 at the Milwaukee Art Museum: Cy Twombly's "Untitled" (1967). I first saw it three decades ago, and it's still a thrill. It's been moved here and there over the years, most recently during the re-hanging of the contemporary galleries. I had a moment of panic when I found it missing from the east wall of the Flagg Gallery, replaced by a really bad painting. "How could they?" I wondered. Was "Untitled" stored in the bowels of the museum?
In 1968, the museum purchased this particular Twombly from the great abstract painter's first solo retrospective at MAM. In those days, I had yet to visit the museum because I was busy raising three kids, studying for a degree in Art Education, and trying out French and Greek recipes on my suburban friends. Years later, around 1980, I decided to leave my tri-level and work as a museum volunteer. Russell Bowman was chief curator, and my assigned space at MAM was in the Cudahy Gallery of Wisconsin Art, tucked into a small room on the first floor of what I now call "the old museum."
I must have discovered "Untitled" during a lunch break. My Art Education training was just getting started and most of the images I'd experienced were in my History of Art book and/or slides projected on a screen in a stuffy lecture room at Carroll College, where I frequently fell asleep wondering if I'd made a mistake in career choices. Only one piece of art hung in my tri-level: a big blue moonscape which I purchased at an art fair. The artist delivered it to my home and together we hung it over my gold brocade couch, a room full of faux Country French furniture and windows draped in fussy brocade drapes. I wonder what ever happened to that painting. The artist died a few years ago, but what I remember about him isn't the moonscape, but rather the fact that he strolled around summertime art fairs wearing a leopard skin bikini. His work was the total opposite of Twombly's.
By the mid-80s, I had divorced and moved to an 800-sq-ft. home on some Kettle Moraine acreage. I started trying my hand at making paintings and took a modest job as an art teacher in Pewaukee, where the idea of "art" was to give the kids something to take home to hang on the family fridge. When I suggested to the confused administrator that art could be taught to elementary kids, not as a brief cut-and-paste session, but rather by teaching them how to "see" at an early age, he turned pale and replied, "Oh, the parents wouldn't like it if the kids didn't bring something home."
"Untitled" was, and still is, the best teacher I ever had. No fuss, no nonsense, no glued-on artifacts dangling, or gold leaf applied to bring on some dazzle. I doubt if there are many viewers who would tap Twombly as their favorite artist; in fact, I've often overheard folks remark as they approach the painting I admire, "My Kid Could Do That." It's hard to admit, but in my Milwaukee studio days, I bought a 5'x5′ canvas and tried to duplicate (albeit with acrylics rather than oils) the "erased blackboard look" that Twombly had perfected. Instead of the graffiti-like rectangular shape that centers "Untitled," I chose to draw, in white crayon, a stick figure walking across the canvas on a slender thread. It was a turning point for me. I christened it "Stick Walker," and sold it to a friend. Shortly after that, I devised a "Twombly" lesson plan for high school art students. The point was to use no more than four lines to create a drawing. Their eyes glazed over.

Judith Ann Moriarty, "Rope Walker (an Attempt to Paint Like Twombly)," Acrylic paint
What is it about "Untitled" that I continue to find so fascinating? Am I reminded of my elementary school days when blackboards were signals to step forward and make a mark, perhaps the perfect Palmer Method "A", or "1 plus 3 = 4"? Is it the memory of being chosen by the teacher to erase the boards, or is it all the boards I myself erased before posting the next day's lessons? Nostalgia is dangerous territory to explore, and really what's the point of trying to connect past experiences with a great work of art? Try as I may, there's no explaining my fatal attraction for "Untitled."
At one time I actually owned a small Twombly drawing, though the memory of it is barely there because I sold it to a gallerist in order to partly cover costs involved in repairing the leaking roof on my tiny home. Sometimes I wake at night and remember that the drawing had all the simple elements of the much larger (79″x68″) Twombly at MAM. In my head I see the scrawled word "Roma" marching across the paper surface.
At age 80, he just completed a major exhibition at Gagosian Gallery in Rome, so I thought it odd that he has Myspace page. I went there and the page was blank….perhaps to teach visitors a lesson.VS