//end headline wrapper ?>
Get a daily rundown of the top stories on Urban Milwaukee
Smoker's Paradox: Photographs by Mike Brenner
Annual Members Show
June 20 — July 25
Walker's Point Center for the Arts, 911 W. National Avenue
Opening reception: Friday, June 20, 6-9 pm
Mike Brenner, former proprietor of Hotcakes Gallery, has emerged from that grave, and, at age 34, is busy re-inventing himself, most recently in the annual Members Show at Walker's Point Center for the Arts (WPCA). He sent me notice and a link to his "Smoker's Paradox" series wherein he seems to be wearing a hunk of pink fluff on his pate while smoking cigs around town. Three of his 8.5"x l1" photographic images (priced to sell @ $20 each, unframed, and $40 framed) will be available. You don't have to be a smoker to buy them. Last year around this time, 67 artists participated in the exhibition, so Brenner won't be flying solo.
From what I saw online, Brenner's entire series (three selected for the exhibit) fill two of my basic three rules for what art is: content and consistency. As for the craftsmanship in his photographs, Brenner emailed this to me:
"Overall, I'm not super happy with the quality of the final product, but I think an important part of the process is to put ideas out there and get feedback. My camera was stolen when the gallery was robbed a few years back, so the images were taken with a cheap-ish point and shoot digital and I just printed them out on a printer at home because I'm broke right now and couldn't afford to send them out to be done."
Brenner studied art for a year and a half at Colorado State University, then went on to study photography at MIAD before graduating in 2000 with a degree in graphic design. WPCA – housed in a building that once belonged to Mr. J.L. Burnham, creator of cream city bricks – is a good fit for him. People like to hang out on the front steps smoking cigs and soaking up the local color. Early issues of Art Muscle magazine were produced in the ballroom on the third floor, and over the years, many artists have lived in its apartment spaces. A few have continued to work in the arts. In many ways, the historic venue is like Brenner himself, who is also a gritty survivor.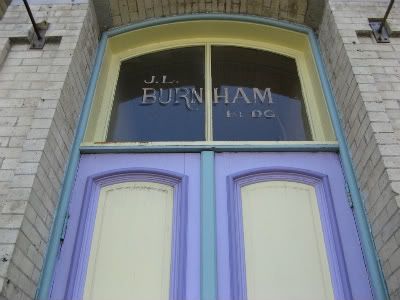 His "Smokers Paradox" photographs set off lyrics from Tex Ritter's 1947 tune (written by Merle Travis) … I light up a cig and listen to this wafting through my head:
"But nicotine slaves are all the same at a pettin' party or a poker game; everything gotta stop while they have a cigarette."
This past December, Brenner sold out the photographs he exhibited at Miami Aqua. Using the alias "Samuel Baxter," he even earned a mention on artinfo.com. "What a coup for a kid from Wisconsin to get a blurb for selling $5 photos in Miami," Brenner says.
But whoa, is Brenner really smoking cigarettes these days? He told me he can "hardly smoke even one per day." That's okay; Tex Ritter died of lung cancer after escalating to three packs per.
If you can't make it to the Friday opening, the gallery hours are Tuesday — Saturday, 12-5 pm. For more information, call 672-2787 or visit the Walker's Point Center for the Arts online.