Summer days, summer nights with De La Buena
Get a daily rundown of the top stories on Urban Milwaukee
By Amy Elliott and Amber Herzog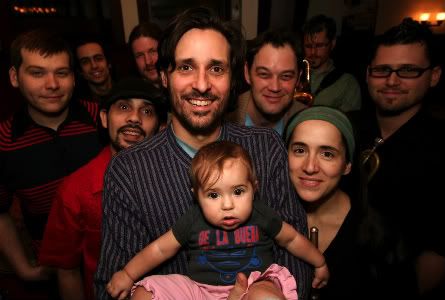 De La Buena is: David Wake, Cecilio Negron Jr., Andy Noble, Julio Pabon, Aaron Gardner, Eric Jacobson, Mike Pauers, Jesse Sheehan, Holly Haebig, Elladia Regina James Wake (De La Baby). Not pictured: Jeremy Kuzniar, Jamie Breiwick.
Ready for festival season? We sure are, especially because it inevitably means the return of De La Buena, one of Milwaukee's most distinctive party bands. We sat down with band leader David Wake waaaaay back in February after they played a smashing set at the City of Milwaukee Birthday Party. We thought you might like to hear more about them now, though, since it's sunny, hot, and everyone's ready to salsa. Viva De La Buena! And read on … Ed.
Describe the sound of De La Buena.
In simple terms, De La Buena is a sophisticated dance band. First and foremost, we're a Latin Jazz band, but we are no doubt influenced by the traditions of Salsa and Samba infused by the great bands of the 1960s and '70s coming out of New York, Puerto Rico, Brazil and Cuba. We have a big sound that includes a four-to-five-piece horn section, Hammond organ, bass, and three percussionists (one of which is a kit drummer). The instrumentation we employ stretches beyond tradition and allows us the freedom to step into other realms of musical and artistic expression.
Obviously, De La Buena is a large band full of musicians from eclectic backgrounds. Where do they come from, how did they come to De La Buena, and what do they bring the project?
The band shares a very strong family bond and we're family people who take their art and their craft seriously. Most of us inherited a deeply rooted love of Latin music from our families, and have the ability to stay true to that history and those traditions without becoming predictable. We love to have fun and make music, but we also want to put out music that has integrity and taste.
What's the appeal of the music you play – for you and for your fans?
We bring something for both body and mind. People come to the shows to listen, and people come to the shows to dance. Folks really seem to love a big band with a big sound and they know that when they come to a De La Buena show, it will be a culturally diverse scene, especially in a town so infamous for its segregation.
For the band, our appeal lies somewhere between tradition and innovation. We learn about and share the history of Latin music, but always leave room for innovation and new ideas.
How has the band grown and changed over the past five years?
We started as a trio. Adding a drummer, a tenor saxophonist, and a trumpet was another, more improvisational phase of the band—a period of discovery. Our songs consisted of much less organized ideas and grooves that we would use as launch pads for improvisational explorations. Our album, En Vivo Y Directo, though released in 2005, is more reflective of this side of the band.
In 2003, I moved to Brooklyn, and since I was always the organizational force behind the band, particularly when it comes to booking and writing, De La Buena was put on a bit of a hiatus. New York allowed me time to sink into composing and gain a more specific vision of writing tighter arrangements while still preserving areas within the song dedicated to improvisational expression for individuals, sections, and on occasion, the entire ensemble. Though my time in New York was tragically cut short by the passing of my father to cancer in 2004, returning to my hometown to be with my family made me realize how much family I had here. When I came back to Milwaukee on a more permanent basis, the band almost immediately hit the scene with a new hunger and aesthetic.
How do you select/compose and arrange your material? Is it a collaborative process?
We have had many different methods of composing and picking material for De La Buena. One way we pick and write material is repertoire based: we set out to write songs that fit a certain feel. For the most part, the bigger the band has gotten, the more I end up doing on the writing end. I will have an idea of a working arrangement, but like to play the song a few times with the whole band first. We do have sectional rehearsal that focuses on different sections of the band, allowing more freedom of expression within a given section of the group. Songwriting is more of an organic taking shape than a conscious collaboration. Most of the originals are my compositions, but they wouldn't be what they are without the input of the rest of the band.
What's next for De La Buena?
Though the band has many commitments in Milwaukee as parents, home and business owners, and teachers, we hope to plan some regional touring in the next year. The sound of the band has really changed since our first effort, and our next studio effort is long awaited and much anticipated. We've had a couple different recording sessions this spring and are looking forward to the busy summer festival season. VS
Catch De La Buena at the North Avenue Summer Soulstice on June 21, July 5 at the Summerfest Briggs stage, July 31 as part of the Alterra Lakefront Musica del Lago concert series, and August 3 at the Wisconsin State Fair. For a full show listing and more information, visit De La Buena online.