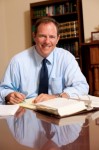 Press Release
Rep. Richards Proposes Requiring Background Checks for All Wisconsin Gun Sales
Madison—Today, Rep. Jon Richards (D-Milwaukee) announced he is drafting legislation to require background checks for all gun purchases in Wisconsin.
Under current law, guns sold by licensed dealers require a background check. Richards said his bill would impose the same requirement on private guns sales, with an exception for transfers between family members.
"About 40% of all gun buyers escape a criminal background check because they're going through unlicensed dealers," Richards said. "Because of a loophole in the law, people who cannot legally possess firearms are getting their hands on guns. I believe most people would agree that the law should apply equally to everyone."
Richards started working with law enforcement, domestic violence victim advocates and others to tighten Wisconsin's gun laws in response to the tragic Oct. 21 shooting rampage at a Brookfield spa that left three dead and four injured.
He said last week's horrific massacre at a Connecticut elementary school that killed 26 children and adults only heightened the urgency to enact measures to help prevent gun violence.
According to the Centers for Disease Control by 2015 gun-related deaths will outnumber traffic fatalities
People:
Jon Richards