Press Release
What's Happening This Week At Black Husky
March 17th - 24th
Starting on Sunday, March 17th and running through the 23rd, we will be doing a school supply drive to benefit Riverwest Elementary School. Everyone who brings in school supplies to donate will receive $1 off of a pint. The most needed supplies are Sharpies, Clorox wipes, and dry erase markers, but all supplies are appreciated.
On Wednesday, March 20th at 7pm we will be having Quizmaster Trivia, and Ian's Pizza will be on site selling slices of pizza.
On Thursday and Friday, March 21st and 22nd from 4-7pm, those who have registered for the Shamrock 5K Beer Run can stop in to pick up their race packet. While they're in, they can try out the beer we brewed especially for this event – O'Harry's Irish Red! Hot Tamale 414 will be on site both nights. Registrants receive their first pint of O'Harry's for $3 and a free dessert tamale!
We will also be having our weekly Flannel Friday deal on Friday from 3pm-5:55pm (wear a flannel, get $4 pints, first pint is free with a Black Husky flannel!).
On Saturday, March 23rd, the Shamrock 5K Beer Run will begin at 2pm. Runners will be able to try a different one of our beers at every kilometer of the race, and get a full pint of their favorite at the finish line! After the race, they can head over to the taproom for the race after-party.
Swing by the taproom at 1:30 on Sunday, March 24th to paint a unique sign that you can take home the same day! This event is to benefit Canine Cupids Dog Rescue. Anyone who wants to support the rescue but doesn't want to paint can join in on the fun by entering a raffle!
Mentioned in This Press Release
Recent Press Releases by Black Husky Brewing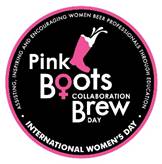 Feb 24th, 2020 by Black Husky Brewing
International Women's Day – Sunday March 8, 2020 8:00 AM – 8:00 PM