Press Release
URBAN WOOD ENCOUNTER, November 9-January 25
Exhibition Features Fine Furniture Made from Urban Wood
Urban Wood Encounter introduces the public to the environmental value of urban wood within the context of an exhibition of fine furniture. Urban wood comes from the trees that line our streets, shade our homes, and define our parks–trees that are not harvested for their timber value but instead often find their way into landfills when they succumb to age, injury or disease. The exhibition opens with a reception on Sunday, November 9, 2014 from 3 to 5 pm and remains on view through January 25, 2014. The reception is free and open to the public. The Lynden Sculpture Garden is located at 2145 West Brown Deer Road, Milwaukee, WI 53217.
The landscape at Lynden is dotted with more than 600 trees. There were, at one time, many more: the majority of the elms on the grounds were lost to Dutch elm disease. Now, with the emerald ash borer making its way into southeastern Wisconsin, we think a lot about how to turn our ash trees into a sustainable resource. These trees have shown up in everything from the temporary art installations on the grounds to the lintels in our parking lot.
The fate of urban wood is not always subjected to this kind of imaginative scrutiny. According to the US Forest Service, the wood "waste" generated in this country's urban areas, if processed, could produce approximately 3.8 billion board feet of lumber annually. When Dwayne Sperber, who has organized Urban Wood Encounter in a variety of locations over the years, proposed bringing the exhibition to Lynden in 2014, the topic resonated. Sperber, who founded Wudeward Urban Forest Products to fill the void between the urban tree supply and the needs of builders, has been an urban wood advocate for a decade. He was recently appointed to the Wisconsin Urban Forestry Council, having previously received their "Innovations in Urban Forestry" award.
In an effort to advance the sustainable recovery and the best use of the products of urban forests, Urban Wood Encounter challenges furniture makers and designers to create inspiring, thoughtful, and beautiful furniture from this regionally abundant and underutilized natural resource. It also serves as a platform for promoting the use of urban wood in construction, and for educating the public about the value of the resource.
Participants in the exhibition include Dan Barsch, Andrew Black, Lisa Ehrmantraut Brobst, Gretta de Parry & Mike Jarvi, Michael Doerr, Fabian Fischer, Aris Georgiades, Kevin Giese, Joseph La Macchia, Aaron Malinowski, Joseph Murphy, Charles Radtke, Dwayne Sperber, and Andrew Yencha. Recent MIAD alumnus Miguel Ramirez is organizing a functional project room in the enclosed porch. He is working with fellow alumnus Erich Moderow and current MIAD student Linh Hoang. Urban Wood Encounter is organized by Dwayne Sperber and Polly Morris.
The exhibition will be accompanied by "tree to table" educational programs that follow the life cycle of an urban tree and that explore possibilities for the use of urban wood. Urban Wood Encounter is supported, in part, by a 2014 Urban Forestry Grant from the State of Wisconsin Department of Natural Resources Forestry Program.
About the Lynden Sculpture Garden
The Lynden Sculpture Garden offers a unique experience of art in nature through its collection of more than 50 monumental sculptures sited across 40 acres of park, lake and woodland. The sculpture garden is open to art and nature lovers of all ages on Mondays, Tuesdays, Wednesdays and Fridays from 10 am to 5 pm; and Saturdays and Sundays from 12 noon to 5 pm. Closed Thursdays. Admission to the sculpture garden is $9 for adults and $7 for students and seniors; children under 6 and members are free. Annual memberships are also available.
Mentioned in This Press Release
Recent Press Releases by Lynden Sculpture Garden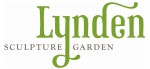 Dec 13th, 2018 by Lynden Sculpture Garden
Expect performances from former Nohl Fellows, Suitcase awardees, their families, and friends.

Nov 21st, 2018 by Lynden Sculpture Garden
In December, the Lynden Sculpture Garden is open from 10 am to 5 pm every day except Thursdays (closed).

Sep 20th, 2018 by Lynden Sculpture Garden
Admission is $9 general, $7 for students and seniors. Members and children under 6 are free.