Press Release
The Reeve Foundation to Sponsor Milwaukee Ballet's Tour de Force
Classes for children with disabilities begin Sunday with support from national foundation
MILWAUKEE – October 12, 2018 – Milwaukee Ballet's Tour de Force program enters its fifth year this Sunday, bringing the transformative power of dance directly to 23 children with disabilities. This year the program will have the support of the Christopher & Dana Reeve Foundation.
Started with five children in 2014, the award-winning Tour de Force program is evidence that quality of outreach through dance can be more important than quantity.
"This Tour de Force program truly demonstrates the power of dance in transforming lives. It may seem like it's 'only' 23 children, but the impact of this class on the children and their families is life-changing," explained Milwaukee Ballet Director of Community Engagement, Alyson Chavez.
Milwaukee Ballet created the program to offer ballet classes to those who once thought dance would be impossible for them. It's part of Milwaukee Ballet's commitment to providing 'ballet without boundaries'.
Artistic Director Michael Pink explained "whether the boundary to accessing ballet is geographic, economic or physical, we are striving to ensure more community members can experience and access this artform firsthand."
Pink explained Tour de Force is currently hosted at Milwaukee Ballet School & Academy's Brookfield branch since their historic home at the Jodi Peck Center (504 W. National Avenue) does not have an elevator or ADA access.
Pink cites this as a significant advantage of their new location, which is currently being constructed in the Third Ward.
"Our new headquarters, the Baumgartner Center for Dance, will provide an ADA-compliant home for our Tour de Force Program closer to the city's center and our daily operations," Pink said. "I'm hopeful these changes will make these classes possible for even more families."
Pink notes the new support from foundations such as the Christopher & Dana Reeve Foundation confirm the incredible outcomes of this program. The Reeve Foundation is dedicated to curing spinal cord injury by funding innovative research and improving the quality of life for people living with paralysis through grants, information and advocacy.
Tour de Force, defined as "an arresting or vital step" in ballet terminology, pairs children with a Milwaukee Ballet dancer and a doctor/physical therapist in adapted ballet classes.
"Our goal has always been to create an environment where children can try ballet in a way that empowers them rather than excludes them. It's an inspirational moment for children with limited mobility," said Chavez.
Chavez noted that many of these students must perform a variety of stretches as part of their physical therapy. By pairing the child with a dancer, another person who must stretch for a living, the program transforms this often tedious, lonely task into a positive interaction with a partner.
She explained, "These students have direct access to our professional and Milwaukee Ballet II dancers and they create special bonds and friendships. The kids light up when their dancers work with them."
The program is equally as inspirational for Milwaukee Ballet's dancers. Last year, Milwaukee Ballet II dancer Kendra Woo was paired with six-year-old Everett. She will return to teach classes on Sunday.
"I love to work with these children as they discover that movement and dance is possible for them, even with their challenges. It's so rewarding", said Woo. "Last year, Everett needed stretches on his left-hand side, and I happen to be left-handed, so I'd joke with him that we would use our special 'lefty' powers in class. I could tell he was using his left side more as classes went on. It was a great experience and I'm excited to be involved again this year."
This fall, Tour de Force will meet for five Sundays through November 18, 2018 at Milwaukee Ballet School & Academy's Towne Center in Brookfield, Wis.
Tour de Force is proudly supported by the Heil Family Foundation, Helen Daniels Bader Fund, Christopher & Dana Reeve Foundation and Project ADAM.
About Milwaukee Ballet
Milwaukee Ballet was founded in 1970. Led by Artistic Director Michael Pink, Milwaukee Ballet's mission is to create a rich and diverse community through its inspiring dance performance, education and engagement. Milwaukee Ballet hosts an international company of dancers and is one of the few companies in the nation to maintain its own orchestra. Milwaukee Ballet School & Academy is the only professional dance school in the Midwest accredited by the National Association of Schools of Dance. Milwaukee Ballet's award-winning Community Engagement department servers nearly 40,000 people in Southeastern Wisconsin each year through original, interactive programs. Milwaukee Ballet celebrates its 50th Anniversary next year in the 2019-20 season.
Mentioned in This Press Release
Recent Press Releases by Milwaukee Ballet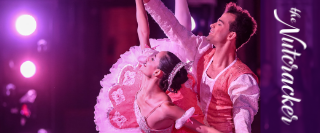 Nov 25th, 2019 by Milwaukee Ballet
Company gives back to community with new, free performance for children
Oct 16th, 2019 by Milwaukee Ballet
World-famous work takes centerstage at the Marcus Center Oct 17-20
Oct 4th, 2019 by Milwaukee Ballet
New Baumgartner Center for Dance enables the program to deepen impact in the community