Press Release
South Milwaukee Performing Arts Center proudly presents 15th Anniversary Variety Show & Fundraiser
Featuring more than 100 performers! With Prof. Pinkerton Xyloma as Master of Ceremonies - Friday, May 15 • 6:00 pm Pre-Show Fundraiser/Social/Raffle • 7:30 pm Performance
(South Milwaukee, WI) – South Milwaukee Performing Arts Center (SMPAC) is proud to announce the featured acts for our 15th Anniversary Variety Show & Fundraiser set for Friday, May 15. The show will bring together almost 20 different acts and more than 100 performers from the greater Milwaukee and southeastern WI area to create an energetic and memorable night.
"The purpose of this show is to commemorate South Milwaukee Performing Arts Center's 15th Anniversary by featuring a mix of genres, talent and experience that represents the breadth of performing arts we have within arms reach. All of the acts have a love of performing, their own unique personality and boundless creative energy," says Rachel Sorce, Executive Director of SMPAC. "We can't wait to present this show!"
The featured acts will share the stage with Master of Ceremonies, Prof. Pinkerton Xyloma, an aficionado in magic, juggling, break dancing, sideshow, early American roots music, and who knows what else! His work as ringmaster for Dead Man's Carnival has made him a much-loved local eccentric. South Milwaukeeans will remember Prof. Pinkerton for the unique performances he brought to South Milwaukee's Evening on the Avenue street festival, and for his performances with his band, The Magnificents, in the South Milwaukee Heritage Days Parade.
Preparation for the event began last fall with three rounds of open auditions and a collaboration with Prof. Pinkerton to uncover unique talents that represent a snapshot of the breadth of performing arts in our community. This highly anticipated event was preceded in 2010 by SMPAC's
10th Anniversary Gala: An Extravaganza of Local Talent.
The 15th Anniversary Variety Show follows a similar approach and will feature music, theatre, dance, comedy, variety, several South Milwaukee alumni, two former SMPAC directors, plus a few surprises! The 15th Anniversary Show is sponsored by our community partner,
Molthen-Bell & Son Funeral Home.
It will include a pre-show fundraiser and social hosted by the South Milwaukee Performing Arts Council, the 501c(3) non-profit organization that helps SMPAC with charitable contributions.
FUNDRAISER & SOCIAL
The South Milwaukee Performing Arts Council Fundraiser & Social will include raffle prizes, silent auction items and hors d'oeuvres for purchase from SMPAC season sponsor, Skyline Catering, starting at 6:00 pm. The show will start at 7:30 pm. All proceeds benefit the South Milwaukee Performing Arts Center for help with programming, equipment and student performing arts education.
FEATURED PERFORMERS
Anna Belle, Aerialist
Brenda Lee Johnston, Singer, Founding SMPAC Director
Cantare Chorale, Community Choir
Valentine 5 (Chad Piechocki), Fringe Theatre, Former SMPAC Director
Easy Days Quartet, Barbershop Quartet
The Hungry Williams, New Orleans Jump Blues & Swingin' R&B
James the Magician, Interactive Comedy Magic
Ton Ko-Thi Children's Performing Ensemble, African-Based Dance & Music
Mariachi Monarcas, Mariachi Band
Mark Hayward, Variety Arts Performer
Matthew Davies, Acoustic Singer Songwriter
Mike Berg, Stand Up Comic
Milwaukee Flyers, Tumbling Team
Milwaukee Irish Dance Company, Irish Dance Ensemble
Professor Pinkerton, Vaudeville Mastermind and Master of Ceremonies
Quasimondo Theater, Physical Theater
Sarahflow, Hula Hoop Flow Artist
Sorce Martial Arts Demo Team, Martial Arts Demonstration Team
Sweet Sheiks, Antique Pop & Bayou Jazz
ABOUT THE PERFORMERS
Anna Belle – Aerialist, Anna Belle Aerial
Anna began studying the circus arts at a young age and at 19 began to center her life around it. Starting as a juggler, face painter and clown, it wasn't long before she found herself taking to the air. At 22, she moved to the Chicago area, where she began practicing aerial acrobatics in earnest at the Actor's Gymnasium and Aloft. At 25 she realized she wanted to make it her career, and began the professional training program at Frequent Flyers Aerial Dance in Boulder, CO. Upon moving home to Milwaukee in 2015, Anna Belle Aerial was created. Over the years, with a bit of "fly by the seat of the pants," a little grit, and always a quirky demeanor, Anna Belle Aerial has grown into a significant dedicated circus space and performance company. Anna strives to create a welcoming environment by incorporating as many languages as possible and training with neurodivergent individuals to be as accommodating as possible. https://annabelleaerial.com/
Brenda Lee Johnston – Singer, Former SMPAC Director
Brenda Lee Johnston received her Bachelor of Arts in Arts Management with an emphasis in Dance and a minor in Theatre Arts—Drama from the University of Wisconsin-Stevens Point. She worked for Milwaukee Repertory Theatre, First Stage Children's Theatre, and Skylight Opera Theatre prior to becoming the Founding Director of the South Milwaukee Performing Arts Center (SMPAC). Following her tenure at
SMPAC, she pursued a dual Master's degree in Arts Management from Carnegie Mellon University and Innovation and Organization of Culture and the Arts from Universita di Bologna in Italy. Her graduate thesis research was conducted at the Santa Cruz Museum of Art and History under the guidance of Nina Simon. Her thesis is entitled, "The Roles of Museums in Communities: Social Inclusion & Community Engagement." She joined the Arts Administration faculty at Butler University after serving as the Executive
Director of the Schauer Arts Center and teaching as an adjunct lecturer at UW-Stevens Point. She has performed with Skylight Opera Theatre, Wild Space Dance Company, Katie Sopoci and Michelle DiMeo for DanceWorks Performance Company's "Art to Art", Cantare Chorale, and others. https://www.butler.edu/BUFirst/brenda-lee-johnston
Cantare Chorale – Community Choir
The Cantare Chorale, under the direction of Gary Aubry, is celebrating its 40 th year of singing on the
south side. The Chorale was formed in 1980 by a group of South Milwaukee High School choir alumni
who wanted to continue singing in a public setting. With those South Milwaukee roots firmly in place, the group now has members from all over the greater Milwaukee area and presents concerts in December and May at the beautiful St. Stephen Church in Oak Creek, performing a varied repertoire of sacred and secular
music. The Cantare Chorale is open to any adult singers who have a love of performing choral music. http://www.cantarechorale.org/
Easy Days Quartet, Barbershop Quartet
Easy Days Quartet has been entertaining audiences throughout the midwest since 2008. Easy Days is the 2009 Land O'Lakes District's Senior Champion and has represented the District in the International Seniors Quartet Competition in Sacramento, CA. Enjoyed by audiences of all ages, Easy Days has established a reputation as a professional, polished, full-of-fun quartet. With 150 performances annually, Easy Days presents a fast-paced show featuring Big Band music of the 30s and 40s as well as traditional Barbershop-style selections. Their breezy style and banter with audiences sets Easy Days apart from other a cappella entertainers, making them an audience favorite. Easy Days is proud to represent The Barbershop Harmony Society and The Midwest Vocal Express Greendale Chapter while partnering with many Milwaukee area corporate entities such as Johnson Controls, Kohl's Corporation and Pepsi Cola, among others. Easy Days is frequently featured at The Milwaukee County Museum's Streets of Old Milwaukee exhibit for corporate events at. Quartet members are Bill Kilbourne (Tenor), Matt Nagel (Lead), Dick Riege (Bass) and John "Bo" Gibson (Baritone). http://www.easydays.info/Easy_Days_Home_Page.html
The Hungry Williams, New Orleans Jump Blues & Swingin' R&B
Joined together by a love of early swingin' rock and roll, The Hungry Williams play music that puts a smile on your face and a spring in your step. A local pro for 30+ years, drummer and leader John Carr found like-minded spirits who wanted to recreate the youthful energy that folks of all ages love to hear. Kelli Gonzalez brings attitude and charisma with her powerful voice, while the rest of the core group including Mike Sieger on bass, Joe Vent on guitar, and Jack Stewart on keys make it jump all night long. With a sax section adding grease to the skillet, The Hungry Williams rock, swing, jump, and stroll at every show, making sure everyone takes some time to leave their worries behind and have some fun. https://hungrywilliams.com/
James the Magician, Interactive Comedy Magic
James the Magician performs an interactive comedy magic show. James' magic has won several awards over the years for his humor and for his skill as a magician. James believes that joy is contagious, and the best part of performing is the reciprocal relationship between the audience and himself. http://www.jamesthemagician.com/
Ton Ko-Thi Children's Performing Ensemble
, African-Based Dance & Music
Ton Ko-Thi Children's Performing Ensemble, translated as "Little Ko-Thi", is the vanguard of Ko-Thi Dance Company's education outreach programming. It identifies, nurtures, and develops young artistic talent as they explore African based dance and music idioms. Established in 1983 by company alumna Linda Lacy Hodge, she understood the importance of sharing the rich cultural traditions of performance art to younger generations. The ensemble aims to provide its members with educational, leadership, & performing opportunities centered around the principles of Artistic Development, Cultural Awareness, Self-Discipline and Teamwork. With members ranging in ages from 6-16, the Ton Ko-Thi Children's Performing Ensemble boasts an impressive resume performing for Congresswoman Gwen Moore, Summerfest with Ko-Thi alumna Naima Adedapo, and the Ravinia Festival Park. The ensemble has also mounted its own full-length concerts. Many of its former members have gone on to pursue a multitude of professional endeavors from education to performing arts. https://www.ko-thi.org/
Mariachi Monarcas, Mariachi Band
Mariachi Monarcas is a group primarily formed of college students who are committed to enriching the community by keeping alive Mexican tradition. Each of us have been trained classically since a very young age, and we are thrilled to continue sharing our talent with our growing audience through the means of Mariachi Music. To us, it is very important to emphasize our immigrant roots, hence the name Monarcas. We look towards the future with hope of growing opportunity. https://mariachimonarcas7.wixsite.com/mariachimonarcas-1
Mark Hayward, Variety Arts Performer
Mark Hayward has been a variety arts performer since 1990. He is a World Yo-Yo Champion, a member of a World Champion Juggling Team, and a Spin Top Champion. His mom is proud. Mark has traveled the world with a yo-yo on his finger (well, mostly in his pocket), and has made appearances on The Late Show with David Letterman (twice), The Late Late Show with James Corden, America's Got Talent, and the NBC Nightly News (without committing a crime). Someday Mark hopes to perform for both the President and the Queen. Not being a convicted criminal should help with that. http://markhayward.net/
Matthew Davies, Acoustic Singer Songwriter
Matthew Davies' music rustles with an aura of mysterious familiarity—like stories, tones and melodies broadcast from a never-to-be-finished map of America. Born and raised in Wisconsin, son of a small-town lawyer, Matthew Davies is a road-tested musician and singer-songwriter. He's driven the blue highways of America and played his music in rusty northern factory towns—places like Davenport, Duluth, and Ashtabula. New York and Chicago too. His fifth record, Flowers and Ticket Stubs, tells tales of common and uncommon folk—faces seen in windows, sentimental dudes with metropolitan style, all visible across an unseen borderline mining the emotions and alchemy of unwritten traditions. "Matthew Davies is a man of insights and stories that trace back further than your grandfather's facial stubble. His tales are akin to those of rustic ramblers who've seen, up close, far too many sawdust covered bar floors and way too many of America's dirty crevices." (Radio Milwaukee) "Davies continues down his own path taking the primitive building blocks of the poetic Northern Mid-West of Americana and taking it further on up the road." (Common Folk Music) "Davies' style follows the tradition of the great folk-influenced singer/songwriters from Dylan down through Neil Young and right up to today." (On Milwaukee) https://matthewdaviesmusic.com/
Mike Berg, Stand Up Comic
Mike Berg is a stand-up comic currently residing in Milwaukee, WI. His comedy focuses on personal stories about growing up in the Midwest, working in customer service, and his favorite types of food. Mike crafted his unique style in comedy clubs, bars, and basements across the country. He's been a featured performer for the Alternating Currents Festival in Iowa, the Cream City Comedy Festival, and he opened for Todd Barry at the 2019 Milwaukee Comedy Festival. https://milwaukeecomedy.com/mcdb/comic/mike-berg/
Milwaukee Flyers, Tumbling Team
The mission of the Milwaukee Flyers is to assist the Milwaukee community by guiding youth in a positive direction. They focus on training youth with the skills to achieve success on the tumbling team as well as preparing them for a bright future. https://www.facebook.com/The-Milwaukee-Flyers-328932493937073/?ref=page_internal
Milwaukee Irish Dance Company, Irish Dance Ensemble
The Milwaukee Irish Dance Company (MIDC) was created by Elyse Transon in 2014 to provide performance opportunities for adult Irish dancers in the Milwaukee area and beyond. The goal of MIDC is to present Irish dance in new and exciting ways while pushing the limits of traditional Irish dance. We welcome anyone with prior Irish dance experience to join the company! https://www.facebook.com/milwaukeeirishdancers/
Professor Pinkerton Xyloma, Vaudeville Mastermind and Master of Ceremonies
Prof. Pinkerton Xyloma is an aficionado in magic, juggling, break dancing, sideshow, early American roots music, and who knows what else! His work as ringmaster for the Dead Man's Carnival where "Prof. Pinkerton presents every act you can imagine…. and some you can't!" has made him a much loved local eccentric.  https://www.facebook.com/Professor.Pinkerton.Xyloma
Quasimondo Theater, Physical Theater
Quasimondo Physical Theatre is an ensemble of interdisciplinary artists with a commitment to creating challenging and inspiring theatrical works. We celebrate the diversity of the world we live in and the humanity that binds us through innovative and original arts programming. Our mission is to make theatre that communicates in a shared physical language, to inspire audiences through movement, and to enrich the community with cross-cultural perspectives and performance traditions. Founded in 2012, Quasimondo Theatre was recognized by Milwaukee Magazine as "Best Physical Theatre" (2012) and received the Footlight Award for "Best Performance" ("Zie Magic Flute" 2017). http://www.quasimondo.org
Sarahflow, Hula Hoop Flow Artist
Sarahflow is a performing flow artist born and raised in the Milwaukee area. She has been performing and hula hooping for 10 years. Sarahflow is inspired by her dream of combining hula hooping with different variations of dance such as contemporary, hip hop and ballet. She has performed at many street festivals, music festivals such as Summerfest and South Milwaukee's 10th Anniversary Extravaganza. https://m.facebook.com/Sarahflow414/
Sorce Martial Arts Demo Team, Martial Arts Demonstration Team
Sorce Martial Arts is a privately owned, independent martial arts school in South Milwaukee specializing in Taekwon-Do, Inayan Eskrima and Danzan Ryu JuJitsu. Founder and head instructor, Sabumnim Peter Sorce is a Certified Instructor and Katulungan Guro in Inayan of Eskrima, a 7th Degree Black Belt in Taekwon-Do and 3rd Degree Black Belt in Danzan Ryu JuJitsu. He was previously an electrical engineer at GE Medical Systems and taught martial arts at the South Milwaukee Recreation Department, GE Medical Systems, US Army Reservist Medical Trainers Unit, PPG Industries, MIAD and more. His training began at the age of six, when he suffered from severe asthma and allergies. Taekwon-Do helped build his strength, confidence, concentration and discipline. He now travels as a guest instructor at martial arts schools around the country. The Sorce Martial Arts demo team is comprised of youth and adult students, and is led by Larry Simons, 3rd Degree Black Belt and Certified Instructor. The team competes annually at the Taekwon-Do United Nationals where it placed in the top four each of the past three years. https://sorcemartialarts.com/
Sweet Sheiks, Antique Pop & Bayou Jazz
Bringing a little bit of the Big Easy to the Brew City, Sweet Sheiks is a Milwaukee based band inspired by music of the teens, twenties, and thirties. With a mix of early jazz, vintage pop tunes, delta blues and originals, they shake the dust off the antiquated sound they've revived. Resonator guitar, banjitar, tuba, trombone, clarinet, washboard and musical saw are instruments you will see at one of their performances. https://www.facebook.com/sweetsheiks/
Valentine 5, Fringe
Valentine recites John Donne's 17th century poem Death Be Not Proud with help from his band, The Valentine 5, then tops it off with a poetic twist. Valentine 5 includes Milwaukee artists Josh Backes, Steve Peplin, Neil Davis, Cedric Gardner, and Chad Piechocki. https://www.linkedin.com/in/chad-piechocki-ab295a4/
TICKETS
Tickets: Adults $35-45, Seniors (ages 60+) $32-42, Students (4 years through college) $10-20. Purchase tickets online at www.southmilwaukeepac.org, through our box office at 414-766-5049 or in person at 901 15th Avenue. Box office hours are M-F (by phone 10-4 and walk-up 10-1). If purchasing in person, use door #7 and show ID. Box office opens one hour before the show, while tickets last.
ABOUT SMPAC
South Milwaukee Performing Arts Center (SMPAC) has been providing the greater Milwaukee and southeastern Wisconsin communities with creative, innovative and diverse performing arts for 15 years. Located inside of the South Milwaukee 6-12 campus, it serves the families of South Milwaukee and provides professional performing arts services for hundreds of events annually.
Past performances on our stage include the Soweto Gospel Choir, Celtic Nights, Big Bad Voodoo Daddy, The Vienna Boys Choir, The Violent Femmes, Flamenco Vivo Carlotta Santana, Tommy Emmanuel, Legends Roundtable to Honor Da Crusher, Ex Fabula, Cirque Alfonse, The Official Blues Brothers Revue, John McGivern, Lindsey Buckingham, George Watsky, Donny McCaslin, Robert Glasper, The Zombies, Jean Luc Ponty, Jon Anderson, Arlo Guthrie, The Red Green Show, Slim Goodbody, George Winston and many, many more.
SMPAC was named as a top five Best Theatre in City Voter's Milwaukee A-List Best Of contest in 2016 and 2017, receiving customer reviews such as "Great venue with fabulous events for all ages!" "Excellent and diverse touring artist performances showcased in a comfortable, friendly theatre away from the downtown crowds." "There is not a bad seat in the house." SMPAC was named the tri-city South Shore Chamber of Commerce Outstanding Business Award for 2017.
The SMPAC Performing Arts Series is sponsored in part by Classic Cargo International Inc., Courtyard Marriott Milwaukee Airport, Skyline Catering & Express Deli, TASC Services LLC., Molthen-Bell & Sons Funeral Home, West Bend Mutual Insurance Company and Ken Cook Co. Performances are supported in part by a grant from the Wisconsin Arts Board with funds from the State of Wisconsin and the National Endowment for the Arts.
SMPAC is located inside of the South Milwaukee School District 6-12 campus, at 901 15th Avenue in South Milwaukee between College and Rawson Avenues. It is easily accessible from I-94 and 794. Free parking is available in the northwest parking lot. For events, patrons should enter door #9. For tickets or more information, visit southmilwaukeepac.org or call (414) 766-5049.
Mentioned in This Press Release
People
:
Cedric Gardner
,
Chad Piechocki
,
Gwen Moore
,
John McGivern
,
Jon Anderson
,
Mike Sieger
,
Naima Adedapo
,
Neil Davis
,
Peter Sorce
,
Rachel Sorce
,
Steve Peplin
,
Todd Barry
Recent Press Releases by South Milwaukee Performing Arts Center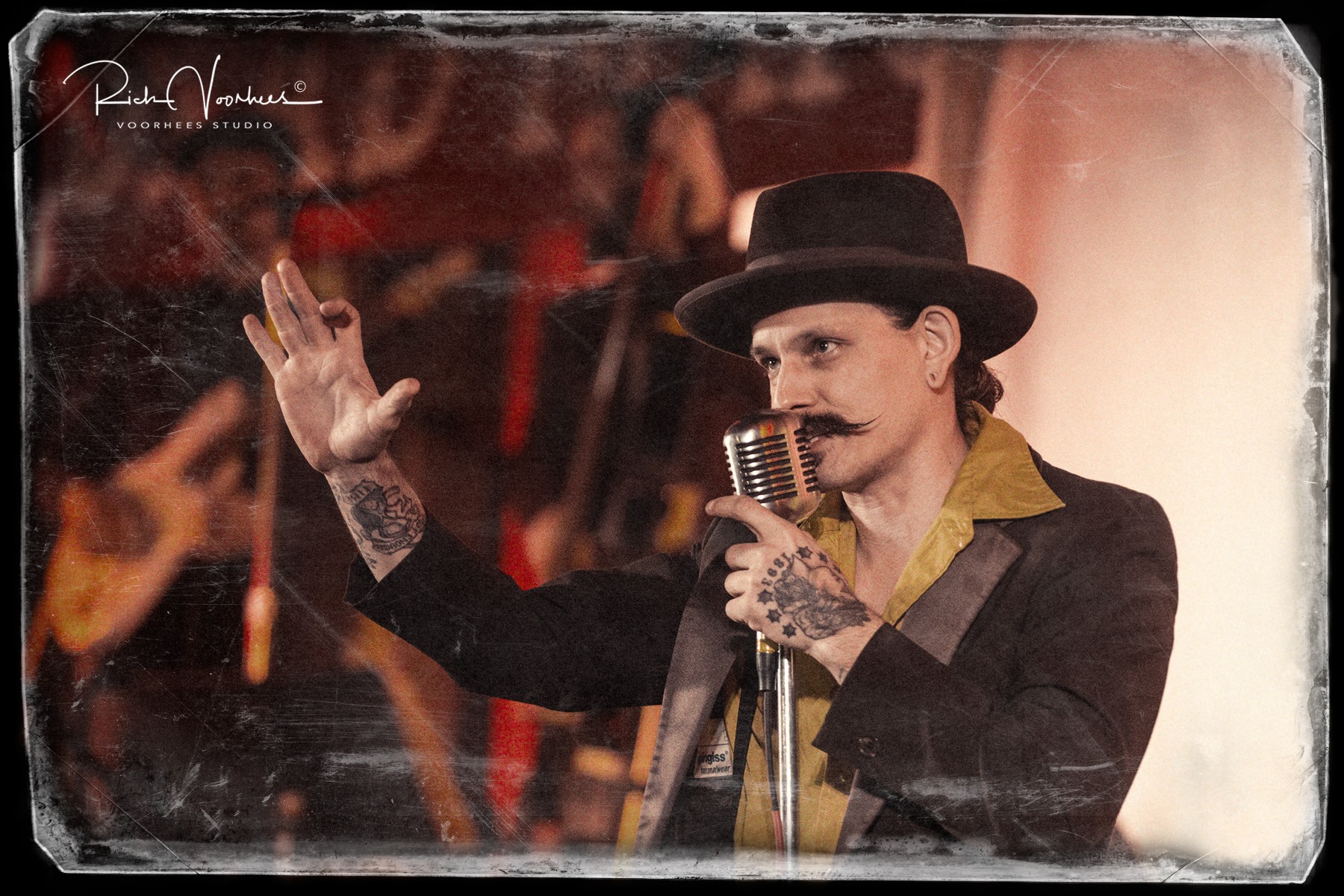 Mar 9th, 2020 by South Milwaukee Performing Arts Center
Featuring more than 100 performers! With Prof. Pinkerton Xyloma as Master of Ceremonies - Friday, May 15 • 6:00 pm Pre-Show Fundraiser/Social/Raffle • 7:30 pm Performance