Press Release
South Milwaukee Performing Arts Center Announces "Restart the Arts" Fall Shows for the 2020-2021 Arts Season Reopening Plans & COVID-19 Health Guidelines
(South Milwaukee, WI) – South Milwaukee Performing Arts Center is excited to announce "Restart the Arts," fall programming for the 2020-2021 arts season. These new, limited capacity shows include a silly and educational family show, a one-man Prince music piano show and a Las Vegas style swing concert. Additional shows may be added as they are confirmed.
"The shows were carefully selected to appeal to the various segments of our audience and to align with our theatre's greatly reduced capacity to allow for physical distancing. We're thrilled to welcome patrons back to our theatre and restart the arts in our community," says
Rachel Sorce
, Executive Director. "Our staff and facility are ready to provide arts experiences while adhering to health and safety guidelines. Patrons who are comfortable returning to the theatre are encouraged to do so, and others will be welcomed back when they are ready," she adds.
Friday, October 2 at 7:00 pm
Rock 'n' Roll Science Show (For families with young children)
What happens when a pair of bumbling 80's rockers show up at the wrong venue to perform a rock 'n' roll concert – only to find out they are on the set of a science show performance?  Well, the "show must go on," as this goofy duo does their best to entertain the crowd with science, despite their limited experiences in the laboratory!  This family-safe show is a fun look at science, especially physics, and includes fun big-stage experiments, clean humor, and of course a lot of ROCK 'n' ROLL music! Approximate run-time 60 minutes. Tickets go on sale September 15 and are $10 for students and $20 for adults/seniors. Artist Website
Thursday, November 5 at 7:00 pm
Piano & My Voice (One- man show featuring Marshall Charloff from Purple xPeRIeNCE)
Performing your favorite hits: Purple Rain, Little Red Corvette, Kiss, Pop Life, and many more! From fronting the greatest Prince tribute show in the world, working with the Atlanta Rhythm Section and writing and producing the Commodores, Marshall Charloff embarks on a solo journey, performing all of your favorite Prince songs in this one-man show. His solo performance delivers Prince's catalog of hits with only a piano, his voice, and his mastery of audience engagement. The only show of its kind, and licensed directly by the Prince Estate. Approximate run-time 90 minutes. Tickets go on sale September 15 and are $29 for students and $39 for adults/seniors. Artist Website
Saturday, November 21 at 7:00 pm
Swing Explosion: We've Got a World That Swings (Full swing band with vocals)
Imagine being in Las Vegas and seeing a show with Frank Sinatra, Dean Martin, Sammy Davis Jr. or the swinging music of Count Basie and Louis Prima. You'll get that and more as we recreate the fun and excitement of a Vegas show from the 50's as we pay tribute to some of the greatest entertainers of that era. Approximate run-time 90 minutes. Tickets go on sale September 15 and are $25 for students and $35 for adults/seniors.
Other Upcoming Shows & Events:
Thursday, October 1 – Sunday, October 4
SMPAC at the NEW European Beer Garden, Farmers Market Plaza Downtown South Milwaukee
Join the South Milwaukee Performing Arts Center staff, SMPAC Council and SMPAC volunteers as we meet up at the NEW European Beer Garden for music, food and of course, beer! Located at 1010 Madison Avenue in South Milwaukee, the beer garden is scheduled to run September 18 – October 31. Hours are Thursdays 3-9 pm, Fridays, 4-9 pm, Saturdays, 12-9 pm and Sundays 12-7 pm.
Friday, October 23 and Saturday, October 24 (Shows at 7:30 pm)
South Milwaukee High School Theatre Co. presents
Vintage Hitchcock: A Live Radio Play by Joe Landry
Spies, murder, love, and other trademarks of Alfred Hitchcock come to life in the style of a 1940s radio broadcast of the master of suspense's earlier films. With The Lodger, Sabotage and The 39 Steps, Vintage Hitchcock: A Live Radio Play is a triple feature, complete with vintage commercials and one that recreates a daring train chase, a serial killer's ominous presence, and a devastating explosion through the magic of live sound effects and musical underscoring." Tickets will go on sale October 1.
Friday, November 13 & Saturday, November 14 (Shows at 7:30 pm)
South Milwaukee High School Theatre Co. presents
An Evening With Sherlock Holmes
This original live radio play features three classic Holmes and Watson short stories told in radio play format, as broadcast by CBS Radio in the 1930s and 1940s: The Musgrave Ritual, The Case of the Dead Adventuress and The Adventure of the Tolling Bell. Selected from the public domain and tied together into a single performance by SMHS theatre director Tim Backes, these stories showcase the variety and cleverness found in radio-edition Holmes tales. Tickets will go on sale October 1.
Saturday, December 5 at 2:00 and 7:00 pm
Studio K Flamenco presents
The Flamenco Nutcracker

Studio K Flamenco presents
The Flamenco Nutcracker,
an exciting new twist on the beloved holiday classic. Celebrate the season with an unforgettable evening filled with the beauty and passion of Flamenco dance. Follow the Matador Prince as he charges into the enchanted forest filled with intoxicating rhythms, clicking castanets, and staccato footwork. Award winning flamenco guitarist Marija Temo will perform her amazing score live. Join us for a magical holiday celebration like no other in this family friendly performance directed by internationally acclaimed choreographer Kerensa DeMars. Tickets will go on sale October 1.
Friday, December 11 and Saturday, December 12 (Shows at 7:30 pm)
South Milwaukee High School Theatre Co. presents
It's a Wonderful Life: A Live Radio Play by Joe Landry
This beloved American holiday classic comes to captivating life as a live 1940s radio broadcast. With the help of an ensemble that brings a few dozen characters to the stage, the story of idealistic George Bailey unfolds as he considers ending his life one fateful Christmas Eve." Based on the classic Frank Capra film, this is a great way to get into the holiday spirit! Tickets will go on sale October 1.
BOX OFFICE
Purchase tickets online 24/7 at www.southmilwaukeepac.org or by phone at 414-766-5049. Please leave a detailed message, since our staff may be working remotely. Walk-ups by appointment only.
Re-Opening & COVID-19 Statements
We understand that the health and well-being of our students, audiences, volunteers, artists, renters and staff is vital. And, we believe that live performances can enhance one's well-being and contribute to a meaningful and enjoyable life.
That's why we're taking steps to reopen the theatre following guidelines provided by municipal and county health organizations. To help ensure good health for all, we'll continue to monitor and reevaluate the latest COVID-19 information and update our policies as needed. We'll post updates on our website and social media pages. Everyone who visits our theatre will be asked to follow these policies. We know that by working together, we can keep our environment healthy for everyone who wants to keep performing arts in their lives.
Due to capacity restrictions and physical distancing requirements, seating will be limited and look different this season. Here's how we'll be working together to maintain a healthy environment:
Calendar of Events – Performances and events will continue as scheduled unless otherwise directed by public health officials or school district administration. Please check our website, southmilwaukeepac.org, and Facebook page for updates.
Tickets, Cancellations & Refunds – Advance tickets will be general admission and will be sold via our website, southmilwaukeepac.org or by phone, (414) 766-5049. Tickets may be purchased at the Box Office one hour before show time. Please call ahead for wheelchair reservations or assisted listening devices. Tickets are non-refundable except when a show is cancelled and not rescheduled. If a show must be cancelled due to community health or other unplanned reasons, patrons will be notified by phone and email.
Physical Distancing – Audience capacity is restricted to every other row and attendees are asked to leave 2 empty seats between parties to allow for physical distancing. Capacity may change in accordance with health department requirements. Signage will be posted and announcements will be made periodically asking patrons to maintain physical distancing.
Masks – Wearing a mask will be required for all visitors and staff. A limited number of masks may be available for $1 at the box office while they last.
Hand Sanitizer – Sanitizer dispensers will be available in the lobby and throughout the theatre offices and backstage areas.
Cleaning and Disinfecting – Theatre, restrooms and backstage areas will be cleaned and sanitized before and after each event.
Show Programs – Programs will be single use only. Renters may provide a digital program to be uploaded to our website.
Concessions – Food may not be sold or carried in. Bottled water is allowed.
Doors – Theatre doors will open approximately 45 minutes before show time to allow for more seating time. Patrons will be encouraged to take their seats upon arrival.
Live Streaming – A live streaming option is being considered to accommodate patrons who are unable to attend in person. Live streaming may not be available for all performances. Renters who choose to livestream events will be required to ensure that their content has the appropriate licensing needed.
SMPAC staff appreciates your cooperation and support as we navigate through this challenging and uncertain period. Please feel free to contact us with any questions or concerns.
ABOUT SMPAC
South Milwaukee Performing Arts Center (SMPAC) has been providing the greater Milwaukee and southeastern Wisconsin communities with creative, innovative and diverse performing arts for 15 years. Located inside of the South Milwaukee 6-12 campus, it serves the families of South Milwaukee and provides professional performing arts services for hundreds of events annually.
Past performances on our stage include the Soweto Gospel Choir, Celtic Nights, Big Bad Voodoo Daddy, The Vienna Boys Choir, The Violent Femmes, Flamenco Vivo Carlotta Santana, Tommy Emmanuel, Legends Roundtable to Honor Da Crusher, Ex Fabula, Cirque Alfonse, The Official Blues Brothers Revue, John McGivern, Lindsey Buckingham, George Watsky, Donny McCaslin, Robert Glasper, The Zombies, Jean Luc Ponty, Jon Anderson, Arlo Guthrie, The Red Green Show, Slim Goodbody, George Winston and many, many more.
SMPAC was named as a top five Best Theatre in City Voter's Milwaukee A-List Best Of contest in 2016 and 2017, receiving customer reviews such as "Great venue with fabulous events for all ages!" "Excellent and diverse touring artist performances showcased in a comfortable, friendly theatre away from the downtown crowds." "There is not a bad seat in the house." SMPAC was named the tri-city South Shore Chamber of Commerce Outstanding Business Award for 2017.
The SMPAC Performing Arts Series is sponsored in part by Classic Cargo International Inc., Courtyard Marriott Milwaukee Airport, Skyline Catering & Express Deli, TASC Services LLC., Molthen-Bell & Sons Funeral Home, West Bend Mutual Insurance Company and Ken Cook Co. Performances are supported in part by a grant from the Wisconsin Arts Board with funds from the State of Wisconsin and the National Endowment for the Arts.
SMPAC is located inside of the South Milwaukee School District 6-12 campus, at 901 15th Avenue in South Milwaukee between College and Rawson Avenues. It is easily accessible from I-94 and 794. Free parking is available in the northwest parking lot. For events, patrons should enter door #9. For tickets or more information, visit southmilwaukeepac.org or call (414) 766-5049.
Mentioned in This Press Release
Recent Press Releases by South Milwaukee Performing Arts Center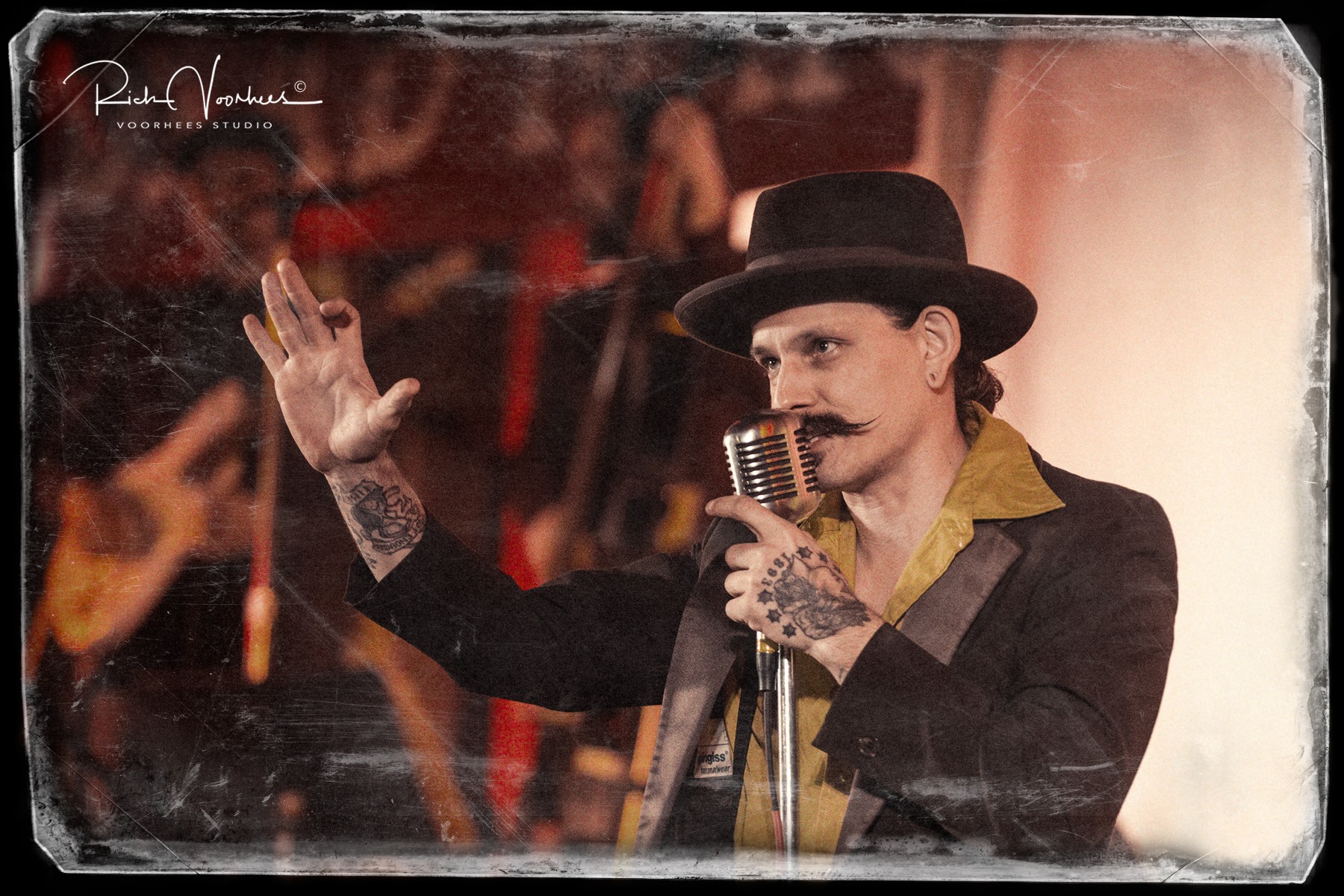 Mar 9th, 2020 by South Milwaukee Performing Arts Center
Featuring more than 100 performers! With Prof. Pinkerton Xyloma as Master of Ceremonies - Friday, May 15 • 6:00 pm Pre-Show Fundraiser/Social/Raffle • 7:30 pm Performance