Press Release
Rite-Hite completes 9.5-acre headquarters project in Milwaukee's 5th Ward
Employees move into North building this week; Campus will house 300+
MILWAUKEE, Wisconsin (March 10, 2023) – Three years after announcing its plans to build, Rite-Hite's new corporate headquarters project is now complete. This week, approximately 230 employees moved into the company's North building, joining the 70 who began work on the campus last June when the South building and adjacent parking structure opened. The new Rite-Hite complex spans 9.5 acres in Milwaukee's 5th Ward.
"With the completion of the North building, all remaining corporate employees who were working remotely since the pandemic have a place to return," said
Sara Everts
, Rite-Hite's Director of Corporate Marketing and Communications.
Located at 195 S. Rite-Hite Way, just across the Menomonee River from the Harley-Davidson Museum, the four-story North building is connected by a skybridge to the South building and parking structure. Built and designed to accommodate the growing enterprise, the building's work spaces optimize natural light and reflect current office layout trends such as collaboration areas, focus rooms and a variety of meeting room set-ups. The North building also includes a highly specialized and one-of-a-kind Customer Experience Center. This 8,500-square-foot space is devoted to customer education and demonstration of the company's product solutions. Rite-Hite expects to bring hundreds of customer groups into the facility, as well as the "live dock" area in the South building. The North building also incorporates a full-service employee cafeteria.
The two-story South building opened in June 2022, along with the four-level parking structure. It houses the engineering and light industrial operations for one of Rite-Hite's divisions, as well as the Southeast Wisconsin office of Arbon Equipment Corporation, the sales and service arm of Rite-Hite. The South building also includes a technical training center that will host over 500 technicians annually for weeklong, hands-on equipment training and a live dock environment for customer visits and additional training space for employees. The 119,000-square-foot South building also boasts an employee exercise facility with full locker rooms.
"The Technical Training Center, Customer Experience Center and live dock are like no other facilities in our industry," said Everts. "We are very excited to bring them to life and we know our customers and employees are going to get a lot of value from their time here."
Several green building products were used throughout the new Rite-Hite campus. On the roof of the South building are 900 solar panels. Designed to help offset the company's energy costs for years to come, the panels are expected to generate about 500,000 annual kWh, which can prevent 391 tons of CO
2
emissions entering the atmosphere annually. The building also incorporates fabric ductwork and under-floor air dispersion systems made by Rite-Hite's DuctSox subsidiary. Both products compare favorably to traditional metal ductwork and air dispersion systems in terms of energy use and solid waste creation. DuctSox recently received Environmental Product Declaration (EPD) certification from Underwriter's Laboratories.
Rite-Hite partnered closely with Eppstein Uhen Architects and C.D. Smith Construction on the project.
"It has been an intense but fulfilling undertaking for all of us and we are so grateful for the expertise and strong partnership we have with our architect and general contractor," said Everts. "The entire Rite-Hite organization has followed the project's progression and we are thrilled to be working at this beautiful campus and to be part of the vibrant neighborhood and city."
About Rite-Hite
Rite-Hite, headquartered in Milwaukee, Wisconsin, is a leading manufacturer of material handling systems designed for maximum safety and productivity. The company has more than 2,500 employees worldwide. Principal product lines include vehicle restraints, dock levelers, dock seals and shelters, software solutions, industrial power doors, HVLS fans, industrial curtain walls, snow removal machines, barrier safety systems, machine guarding products, dock accessories and services. Additional information can be found at ritehite.com or 1-800-456-0600.
Mentioned in This Press Release
Recent Press Releases by Rite-Hite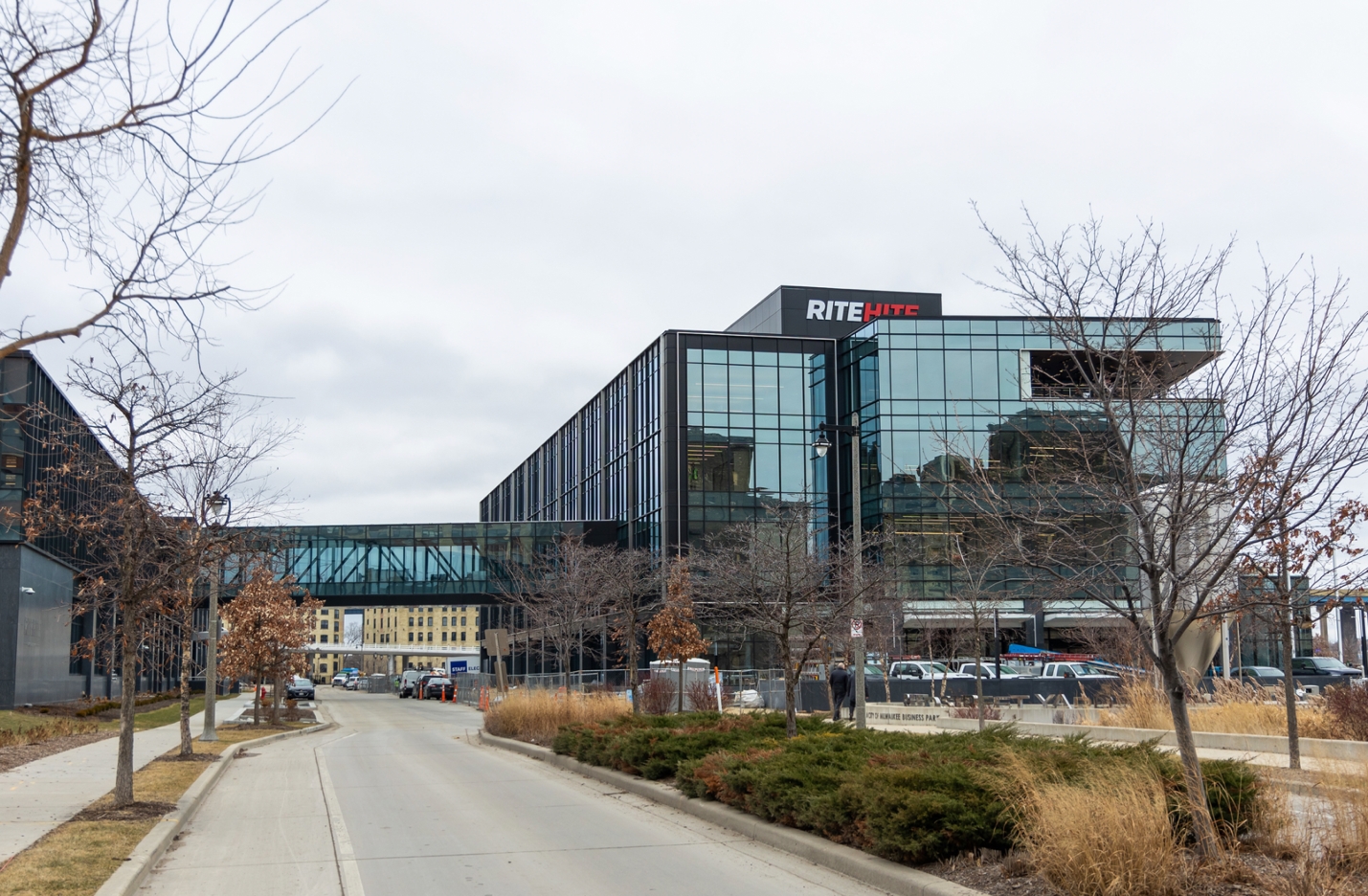 Mar 10th, 2023 by Rite-Hite
Employees move into North building this week; Campus will house 300+
Feb 16th, 2023 by Rite-Hite
New Design Debuts on Signage at Global Headquarters