Press Release
Rep. Mark Spreitzer opposes elimination of SRDs
"Nothing good happens at 2 a.m. in the legislature."
MADISON- Around 2 a.m. this morning, Assembly Republicans voted on an online voter registration bill that eliminated Special Registration Deputies (SRDs), election officials who help register people to vote. In response, State Representative Mark Spreitzer (D-Beloit) issued the following statement:
"Nothing good happens at 2 a.m. in the legislature. Although I generally support online voter registration, the bill passed by Republicans only works for those people who have an up-to-date Driver's License or State ID. SRDs help a variety of people register to vote, especially those who may not have a Driver's License, such as the elderly or college students.
"Republicans were only willing to allow online registration if we eliminated SRDs. Instead of what could have been a bipartisan bill on online voter registration, Republicans insisted on again making it harder for people to vote. I strongly support SRDs and voted against the bill because it will make it harder, not easier, for many people to register to vote."
Mentioned in This Press Release
Recent Press Releases by State Rep. Mark Spreitzer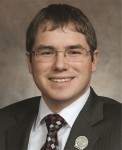 Jun 4th, 2019 by State Rep. Mark Spreitzer
"As an out gay man, I am proud to stand by my fellow LGBT legislators today to present the Equality Agenda in honor of Pride Month."