Press Release
Nnamdi Ogbonnaya Headlines Pabst Milwaukee Brewery & Taproom Street Fest
May 19 show part of 1st anniversary event from noon to 7 p.m. on Juneau Ave
MILWAUKEE (May 7, 2018) – The Pabst Milwaukee Brewery & Taproom is tapping the talents of ascending rapper Nnamdi Ogbonnaya to headline its 1-year anniversary Pabst Street Festival on May 19. Ogbonnaya's "let gO Of my egO" might just be the "catchiest song of 2017 you still haven't heard," according to Fader.

"Nnamdi is a rising star in the Chicago music scene," says Pabst Milwaukee Brewery and Taproom General Manager Adam Powers. "When Nnamdi's on stage, his story, his lyrics, his style grab hold of you. He's the perfect Pabst Street Festival headliner to build on the success of last year's event."


Ogbonnaya's recently released album
DROOL
 is a mashup of influences that create a sound the musician describes as a little hip-hop, reggae, jazz and various styles of Nigerian music. In addition to Ogbonnaya, the Pabst Street Festival will feature outdoor musical performances presented by
Cactus Club
, including
Platinum Boys
,
Zed Kenzo
,
Mary Allen and The Percolators
,
Ric Wilson
,
Caroline Smith
, and
No Stress Collective
. The festival will feature a marketplace of local artists and artisans, along with local food trucks and Pabst Milwaukee Brewery beer. Admission is free or a donation to the brewery district.
The Pabst Street Festival will run from noon to 7 p.m. on Juneau Avenue between between 10th and 11th streets. A limited-edition craft beer will also be released at the street festival to commemorate the 1-year anniversary of Pabst's return to Milwaukee. Beginning at 9 p.m.,
The Get Down
 afterparty will take place inside the Pabst Milwaukee Brewery and Taproom. This popular Milwaukee funk and soul dance party will keep the celebration going inside the 145-year-old church-turned-brewery space.
Additional event information can be found on the Pabst Milwaukee Brewery and Taproom Facebook
event page
. Beer patrons must be at least 21 years old.
ABOUT PABST BREWING COMPANY
Since 1844,
Pabst Brewing Company
has been American-owned and operated, and is North America's largest privately held brewing company. Pabst's portfolio includes iconic brands with deep ties to America's heritage, such as its flagship Pabst Blue Ribbon as well as Lone Star, Rainier, Ballantine IPA, Schlitz, Old Style, National Bohemian, Stag, Stroh's, and Old Milwaukee. In 2016, Pabst Blue Ribbon won the Gold Medal in the American lager category at the Great American Beer Festival for the 4th time in a decade. Pabst Brewing Company was also named Large Brewing Company of the Year. For more information about Pabst, please visit
www.pabstbrewingco.com
<
http://www.pabstbrewingco.com/
>.
ABOUT PABST MILWAUKEE BREWERY AND TAPROOM
Pabst Milwaukee Brewery and Taproom is located in a historic 145-year old building on the original Pabst Brewery complex – the former First German Methodist Church at 1037 W. Juneau Ave. The facility houses a 4,000 barrel per year microbrewery on its first floor, with a taproom area and performance stage on the second floor. It also has an outdoor beer garden and a mezzanine area. Pabst Milwaukee Brewery and Taproom is a strong supporter of the Milwaukee community and local civic organizations. More information can be found at
www.pabstmkebrewery.com
<
http://www.pabstmkebrewery.com
>.
Mentioned in This Press Release
Recent Press Releases by Pabst Milwaukee Brewery and Taproom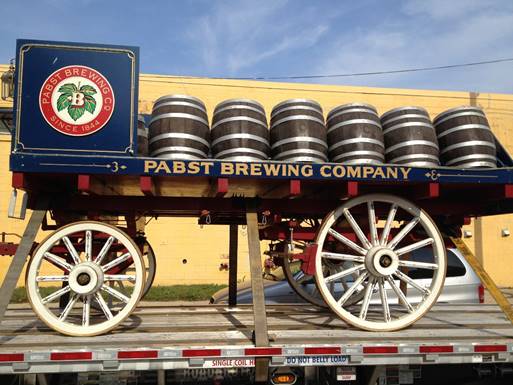 Sep 26th, 2019 by Pabst Milwaukee Brewery and Taproom
Highlights include live music, limited-edition beers and breweriana, brat eating and stein holding contests, Hammerschlagen for charity and a 1920s-era horse-drawn beer wagon