Press Release
New Marquette Law School Poll finds Trump and DeSantis drawing similar support, but each trailing Biden in possible 2024 presidential matchups; election confidence, COVID topics also surveyed
Please note: Complete Poll results and methodology information can be found online at law.marquette.edu/poll
MILWAUKEE —A Marquette Law School Poll survey of adults nationwide finds that Florida Gov. Ron DeSantis and former President Donald Trump run equally well against Democratic President Joe Biden in hypothetical 2024 matchups, although Biden leads both Republicans.
In a head-to-head matchup, DeSantis is supported by 33%, while Biden is supported by 41%. A substantial 18% say they would support someone else, and 8% say they would not vote. In a Trump versus Biden rematch, Trump receives 33% to Biden's 43%, with 16% preferring someone else and 6% saying they would not vote.
The survey was conducted Jan. 10-21, 2022, interviewing 1000 adults nationwide, with a margin of error of +/-4 percentage points.
While the election is substantially into the future, these results show that while Trump remains popular among Republican voters, another GOP candidate performs at least as well against Biden. There are similar patterns of support for both Republicans by party identification, as shown in Tables 1 and 2. In both pairings against Biden, there are significant percentages of all partisan categories saying they prefer someone else, not in the pairing, or wouldn't vote. This is especially pronounced among independents.
A majority of Republicans, 63%, would like to see Trump run for president in 2024, whereas 37% do not want him to run. Among independents who lean Republican, 51% would like Trump to run and 49% would prefer he not run. Very few Democrats wish him to run. Among all adults in the survey, 29% would like Trump to seek the presidency again, while 71% do not want him to attempt a return to office. The full results by party are in Table 3.
Favorability to DeSantis, Trump and Pence
DeSantis is much less well known than Trump. For DeSantis, 44% of all respondents say they haven't heard enough to have an opinion, while 22% have a favorable view and 34% have an unfavorable opinion. For Trump, only 1% lack an opinion, whereas 32% hold a favorable view and 67% view him unfavorably.
Former Vice President Mike Pence is better known than DeSantis, with just 17% saying they don't know enough about him, while 28% have a favorable view and 55% have an unfavorable view.
Favorability toward DeSantis, Trump, and Pence differs dramatically by party, as shown in Tables 4, 5, and 6.
Republicans remain doubtful of the outcome of the 2020 presidential election. Among Republicans and independents who lean Republican combined, 27% are very or somewhat confident that the votes were accurately cast and counted, while 73% are not too confident or not at all confident in the accuracy of the election vote totals. The divide is sharply partisan, as shown in Table 7, with over 90% of Democrats and of Democratic leaning independents confident in the election and 60% of independents with no partisan leaning expressing confidence in the election result.
Favorability to Trump, Pence, and DeSantis varies among Republicans depending on their confidence in the election. Views of Trump are most strongly associated with election confidence as shown in Table 8.
Favorability toward Pence is not linked to election confidence, unlike Trump. Table 9 shows Pence favorability by confidence in the election among Republicans and those who lean Republican.
As with Trump but unlike the case with Pence, favorability to DeSantis is strongly associated with confidence in the election, although a high percentage of those Republicans and Republican leaners who are confident in the election say they haven't heard enough to have an opinion of DeSantis. Table 10 shows favorability for DeSantis by election confidence.
Biden approval rating
Biden's job approval rating has declined since July. In January, 46% approved and 53% disapproved of how he is handling his job as president, down from 58% approval and 42% disapproval in July. The trend in Biden's approval rating is shown in Table 11.
Mentioned in This Press Release
Recent Press Releases by Marquette University

Jan 25th, 2023 by Marquette University
Please note: Complete Poll results and methodology information can be found online at law.marquette.edu/poll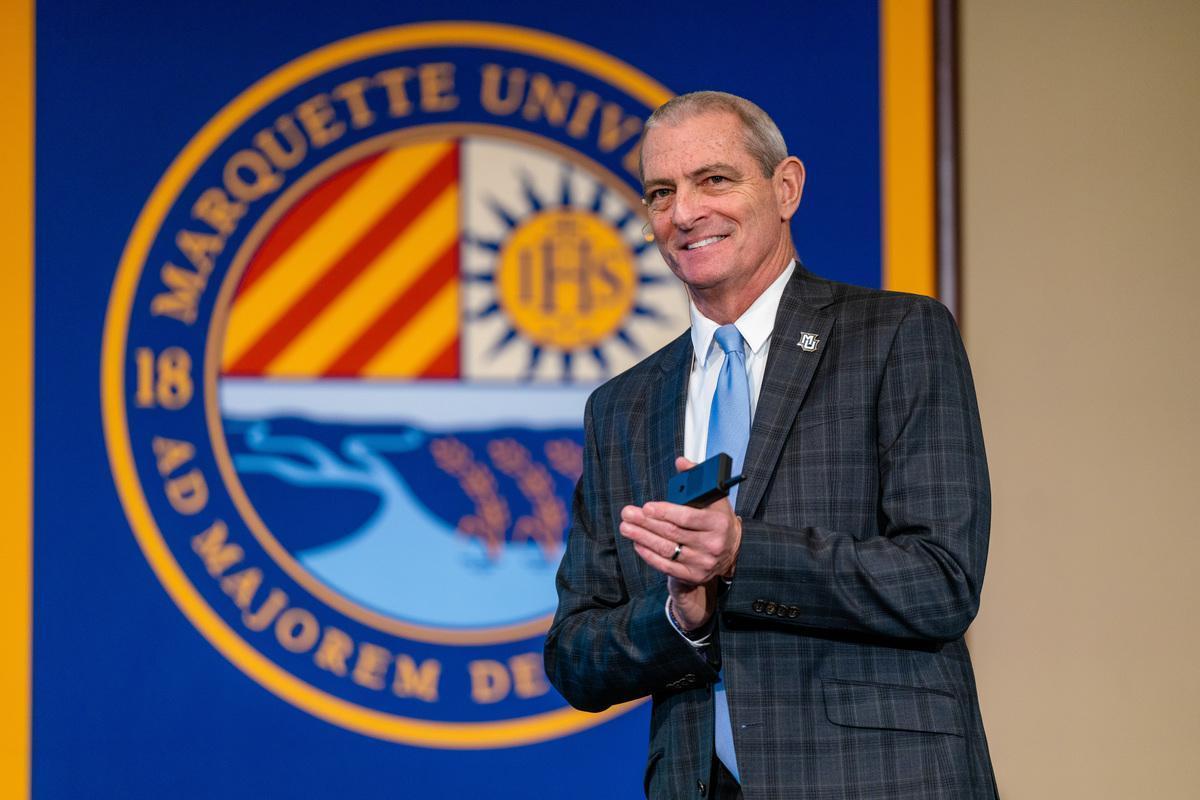 Jan 24th, 2023 by Marquette University
Please note: Complete Poll results and methodology information can be found online at law.marquette.edu/poll