Press Release
Milwaukee Public Theatre Celebrates 40 Years
"Steampunk Circus of Metamorphosis – Magic, Mystery and Marvel"
2014 marks Milwaukee Public Theatre's (MPT) 40th year of humorous, socially-conscious, visually evocative outreach through the arts. To celebrate, the public is cordially invited to The Steampunk Circus of Metamorphosis the evening of Friday, September 19.
The company was founded in 1974 by Barbara Leigh and Michael J. Moynihan. Among other honors, Dr. Leigh was named Artist of the Year in 2014 by the City of Milwaukee Arts Board. According to Barbara, "The Steampunk Circus of Metamorphosis combines MPT's extensive circus arts experience with the whimsy and invention of Steampunk. It also recognizes MPT's metamorphosis, keeping pace with changing social issues and remaining relevant to Milwaukee's increasingly diverse population. Plus, it's going to be a blast!"
Don your most fashionable Steampunk, circus, or time-traveler costumes and join the fun. The extravaganza swings into gear at 6:00 pm on Friday, September 19, 2014 at MPT's space in the historic Plankinton Arcade, 161 W. Wisconsin, Shops of Grand Avenue. The setting features some beautiful examples of Victorian/Edwardian architecture. Entertainers will perform on stage, roam through the crowd, and in sideshow tents. Sweets and savouries will provide refreshment to guests bidding in the silent auction. Victorian-era and classic carnival games for all ages are included with every ticket purchase. Tickets are $40 for adults ($35 before July 31), $10 for children and are available online at www.milwaukeepublictheatre.org/40th-anniversary.
Performers and entertainment include:
Steampunk Fashion Show, produced by the Milwaukee Steampunk Society
Musicians such as Peasants Abroad, featuring members of Madison's Dark Circus
Stelliamani Dance Company
Stiltwalkers Devora and Jahmes Finlayson
Circus Performers Oh! No! the Miltown Clown, Violet the Clown, and Mimes
Magician Jim Mitchell
Fortunetellers Adekola, Azeeza and Baba Jean
Time tunnel of puppets and memorabilia from MPT's archives of past productions and adventures.
Face Painters, Craft Artists and other Milwaukee Public Theatre/Friends Mime Theatre artists from the past 40 years.
MPT aims to raise $40,000 in honor of their 40th year.
Company Producing/Artistic Director Barbara Leigh welcomes phone calls or emails from those who have worked with MPT throughout the years. Contact her at 414-405-4309 or mptheatre2@gmail.com.
Mentioned in This Press Release
Recent Press Releases by Milwaukee Public Theatre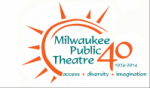 Jul 5th, 2016 by Milwaukee Public Theatre
Previously, Carolina served as the Executive Director of The Southside Community Justice Center.