Press Release
Milwaukee County Falls Prevention Coalition Brings Community Together as County Executive David Crowley Proclaims Falls Prevention Awareness Week
MILWAUKEE—The week of September 20-24 is Falls Prevention Awareness Week, a nationwide effort to raise awareness that falls are preventable. One in four people aged 65 and older have a fall each year, making older adult falls a growing public health crisis as Baby Boomers enter the ranks of higher-risk age groups. The Milwaukee County Falls Prevention Coalition (MCFPC) is working to increase awareness of this issue during Fall Prevention Awareness Week with a Facebook Live kick-off event and other in-person events. More information can be found on the MCFPC website.
"Falls among older adults occur far too often in our state," says DHS Secretary-Designee Karen Timberlake. "They can take a toll on a person's physical, emotional, and financial well-being. And they are preventable."
The MCFPC will be holding a series of events to raise awareness among older adults virtually and at Senior Centers. The events will focus on helping older adults complete fall risk assessments, both in person and via an online screening tool to better understand their risk factors.
"This week is a great opportunity to learn about simple steps that can be taken at home to reduce fall risk and the many resources available within our community" said Suzie Ryer, Physical Therapist Advocate Aurora Health and Co-chair Milwaukee County Falls Prevention Coalition.
"Milwaukee County is proud to be a part of the Milwaukee County Falls Prevention Coalition and work with great partners in healthcare, emergency responders, health departments and community-based organizations to prevent falls among older adults in our community," said Shakita LaGrant-McClain, Director, Milwaukee County Department of Health and Human Services. "Working together we can better connect members of the community with local programs and interventions, investing in prevention and creating healthier communities for all."
"Falls are a preventable public health problem that can be addressed when the community and health care come together. For older adults, completing a fall risk assessment is an important step to receive the most effective interventions, like physical therapy or an evidence-based falls prevention program," said Dr. Michael Malone, Medical Director, Aurora Senior Services & Aurora at Home.
WHAT:
MCFPC will be bringing fall prevention to the community in a hybrid format including a Facebook Live kickoff and two in-person events held outside at local senior centers. The focus of the events will be to provide access to fall risk assessments and practical solutions to reduce fall risk factors. Events will feature local experts in fall prevention, home safety, and public health.
WHEN:/WHERE
Monday September 20, 11:00-11:30am
Falls Prevention Week Kick-off
https://www.mcfpc.net/eventsclasses
Tuesday September 21,10am-12pm
Free From Falls Resource Fair
Hart Park Senior Center
7300 W Chestnut St
Thursday September 23, 10am-12pm
Free From Falls Resource Fair
Clinton Rose Senior Center
3045 N Martin Luther King, Jr. Dr.
About
Milwaukee County Falls Prevention Coalition is an interprofessional group of community members, health systems, and government agencies that aims to increase collaboration and a promote fall screening and prevention in Milwaukee County.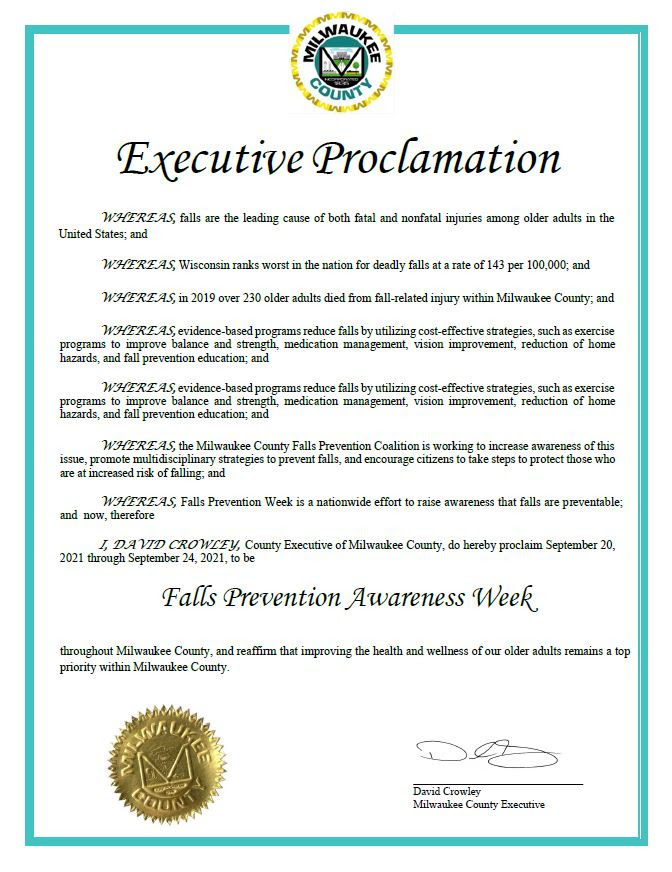 NOTE: This press release was submitted to Urban Milwaukee and was not written by an Urban Milwaukee writer. It has not been verified for its accuracy or completeness.
Mentioned in This Press Release
Recent Press Releases by Milwaukee County Department of Health and Human Services