Press Release
Jazz Gallery Center for the Arts Latchkey Artist Residency — Call For Applicants!
Deadline April 10, 2015
The Jazz Gallery Center for the Arts Latchkey Artist Residency objective is to provide artists with needed studio space, artistic support, and the opportunity for a Gallery exhibition.  The Jazz Gallery welcomes artists to use the Gallery studio space for a period of 3 months.  This Residency provides artists an alternative learning opportunity to engage with practicing artists and make lasting connections across the city.  Therefore, the ideal candidate must value collaboration, have good social and communication skills and be interested in generating creative partnerships across disciplines. The purpose of the JGCA Residency is to foster an atmosphere of inventive and creative activity that extends throughout the Milwaukee community.
The artist will use the provided space for their sole studio work and agree to be present in the gallery 12 hours a week, broken into 2-3 consistent periods of time to be arranged with Jazz Gallery Staff.  For the duration of the residency, the Artist must be willing to give an artist talk on their studio practice and have an exhibition of work completed during their time at the Jazz Gallery. We are happy to collaborate on projects and/or assist with building/installing of work. Artists are also encouraged to create educational outreach or artist workshops, performances and other forms of public engagement during their time at the Jazz Gallery.
Alice Waraxa is our inaugural Artist in Residence.  Alice brings a strong commitment to the community through her artwork and is presently the editor at the Riverwest Currents.  Please stop into the Jazz Gallery to meet Alice and to learn more about her work on Sundays from 12-5 pm or Thursdays from 10-3 pm.
Residencies Dates:
February 15 to May 14, 2015—Alice Waraxa
May 15 to August 14, 2015—TBD
August 15 to November 14, 2015—TBD
November 15 to February 14, 2016—TBD
February 15 to May 14, 2016—TBD
Applications must consist of:
Name and contact information
Preferred residency dates
Current Artist Statement
Web site information (if available)
500-word proposal of what you would like to accomplish during your residency at JGCA
Visual artists: provide 10 artwork examples
Writers: provide 2-3 writing samples/plus links
Musicians: provide any web links to examples
Email applications and attachments to riverwestart@gmail.com by April 10, 2015.
If possible, please compile all documents into one (1) PDF.
If you have questions or need assistance with the application, please do not hesitate to contact The Jazz Gallery for help at riverwestart@gmail.com or 414-374-4722.
Mentioned in This Press Release
Recent Press Releases by Riverwest Artists Association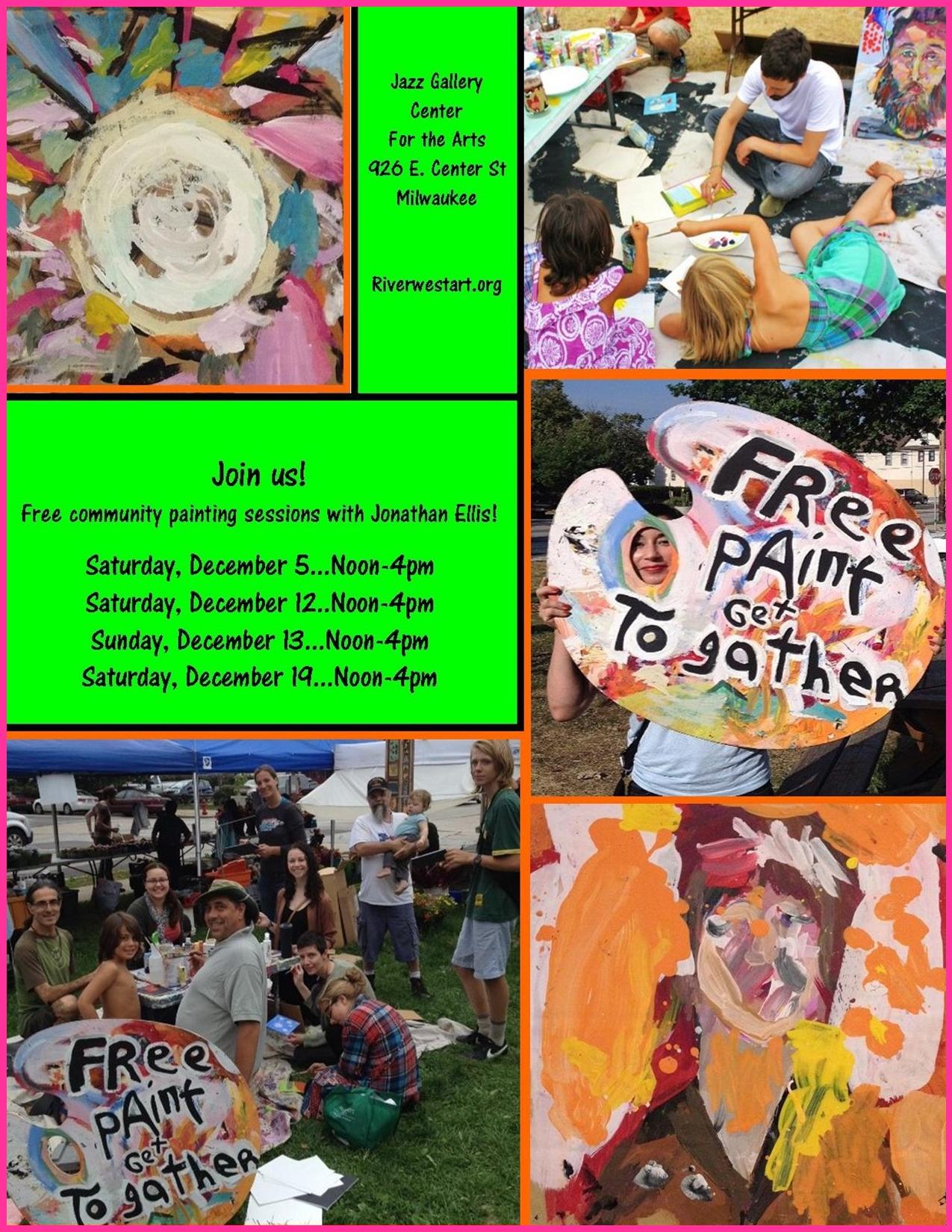 Dec 1st, 2015 by Riverwest Artists Association
The Free Paint Get Togather exhibit will consist of the many paintings left behind by their creators for the benefit of future participants.