Press Release
HCNI Tour to Feature Artists in Residence, past and present
The tour runs from 11 a.m. to 5 p.m. June 16, the Saturday before Father's Day.
The Historic Concordia Neighbors, Inc. 28th Annual Home Tour, "Experience Art: Past, Present, Possibilities,"will include nine homes, architectural and gallery spaces, Plein Air artists at work and live performances.
The tour runs from 11 a.m. to 5 p.m. June 16, the Saturday before Father's Day, starting at the Wgechda Building on the Potawatomi Campus at North 33rd Street and West Kilbourn Avenue on Milwaukee's Near West Side.
Featured homes include the residence and studio of painter and stay-at-home dad Michael Westcott, who shares the house with his wife Kristi and their children. Also on tour are the former home of painter Elsa Ulbricht, who founded the display at Marquette's Haggerty Museum at the same time as the tour. Ulbricht grew up in the house and lived there her entire life.
Ulbricht's home is now owned by
Maxwell
and
Shelisa Parker
. Max grew up in the neighborhood; his parents,
Andy
and
Marie Parker
, own
Manderley Bed and Breakfast
.
Beth and Ed Sahagian-Allsopp, owners of Vanguard Sculpture Services, also reside in the neighborhood and their home will feature art from local and nationally-recognized artists. Beth's sculpture, Acqua Grylli, can be seen along Milwaukee's Riverwalk.
Also featured will be the home of Donald Haack and Karen Smith, both career musicians with the Milwaukee Symphony Orchestra. Don retired as principal trombonist, Karen is a first violinist.
In another nod to Father's Day, Don's son Gene's house will be open for the tour. He and his wife Amy Waldman own the house in which musician Edna Freida Pietsch was born and lived for 88 years. Pietsch, a composer whose works were performed by the Chicago and Milwaukee symphonies and who taught piano students in her home, remembers the oak forest that was razed to build the Ameritech Building on Wisconsin Avenue.
Other tour sites and activities include the Schuster Mansion Bed and Breakfast, which will feature textile arts in home décor, live jazz at the Elizabeth Pabst home, now owned by Texas Bufkin, the in-home studio of Ned Hoffman and a Milwaukee Institute of Art and Design student display at the home of Robin Muller, whose daughter is a MIAD student.
A Plein-Air art contest will also be held the day of the tour, providing attendees the opportunity to watch more than 25 artists at work while roaming the neighborhood. Refreshments will be for sale at the pie and cake social at the registration site; transportation to and from tour sites will be available throughout the day.
Tickets are available at the HCNI website (www.hcni.org). People can also take a self-guided driving tour through the neighborhood at any time of year by downloading the HCNI web app.
Mentioned in This Press Release
People
:
Amy Waldman
,
Andrew Parker
,
Beth Sahagian
,
Donald Haack
,
Ed Sahagian-Allsopp
,
Edna Freida Pietsch
,
Elizabeth Pabst
,
Elsa Ulbricht
,
Gene Haack
,
Karen Smith
,
Kristi Westcott
,
Marie C. Parker
,
Maxwell Parker
,
Michael West
,
Michael Westcott
,
Ned Hoffman
,
Robin Muller
,
Shelisa Parker
Recent Press Releases by Historic Concordia Neighbors Inc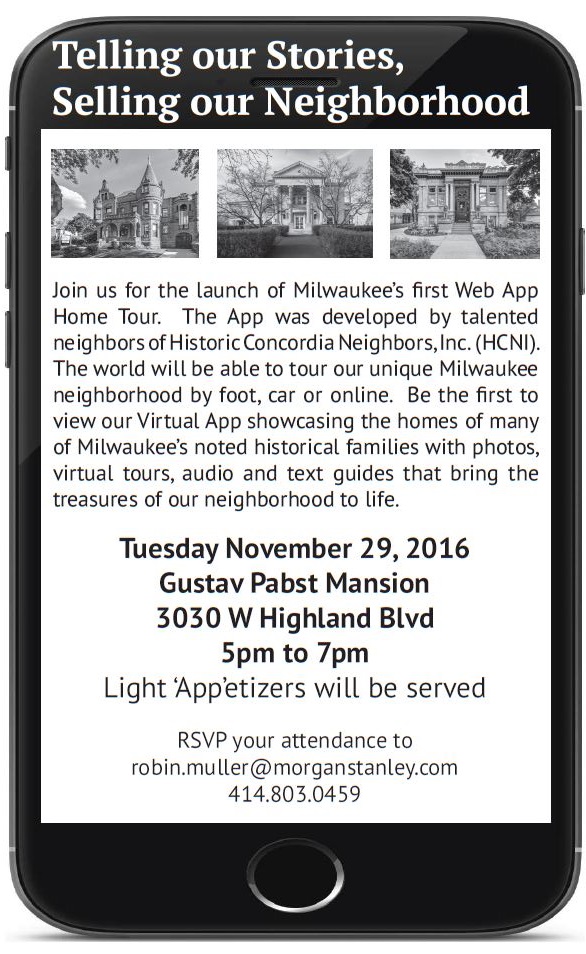 Nov 9th, 2016 by Historic Concordia Neighbors Inc
It is especially adapted for smartphones so people can use it while exploring the neighborhood by foot or by car.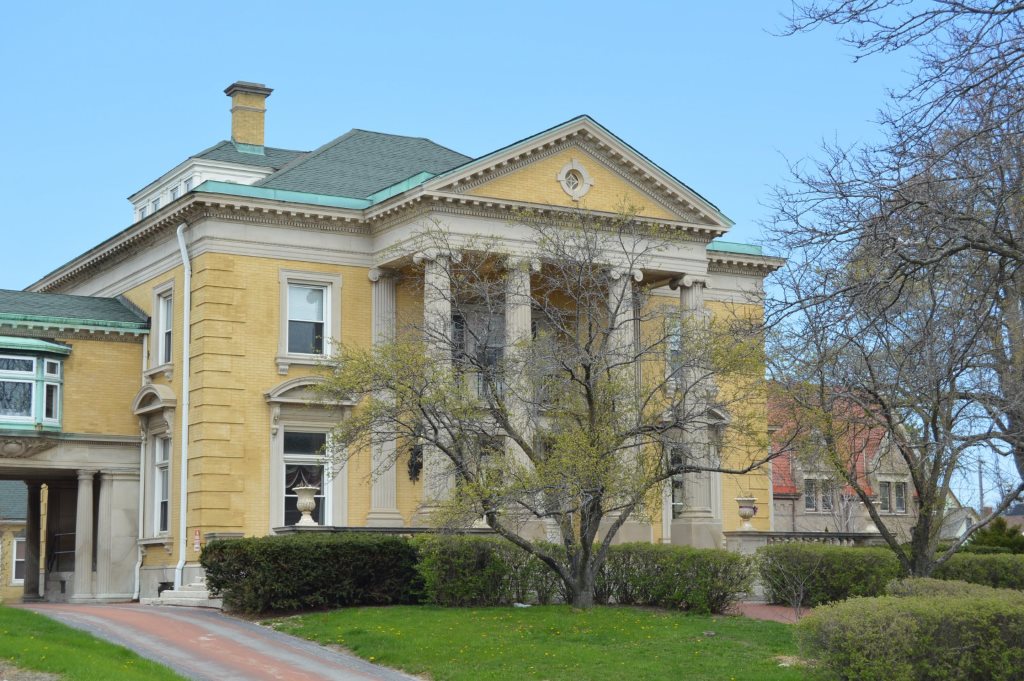 Jun 17th, 2015 by Historic Concordia Neighbors Inc
On Saturday, June 20th, 2015, Milwaukee's Historic Concordia Neighborhood will open our doors to the public as we celebrate our annual home tour.