Press Release
DSPS to Resume Enforcement of Fire Sprinkler Requirement in Multi-Family Dwellings
MADISON, Wis. –  On April 19, 2021, the Department of Safety and Professional Services will resume enforcing a code provision that requires fire sprinkler systems in certain multi-family dwellings.
Any building plans submitted to the department (or municipalities with delegated authority to review plans on behalf of the department) or delivered with a postmark on or after April 19, 2021, will need to reflect compliance with fire sprinkler requirements established in Wis. Admin. Code SPS § 362.0903. Specifically, a multi-family dwelling with three or more attached dwelling units will need to have an automatic fire sprinkler system installed unless the building meets the narrowly defined exceptions outlined in Wis. Admin. Code SPS § 362.0903(5). More recently, automatic fire sprinkler systems were required in multi-family dwellings with more than 20 attached dwelling units.
The Wisconsin code standards are adopted from the International Building Code (IBC), which is a model code drafted and promulgated by the International Code Council (ICC).
The IBC, according to ICC
, is "an essential tool to preserve public health and safety that provides safeguards from hazards associated with the built environment. It addresses design and installation of innovative materials that meet or exceed public health and safety goals."
"The International Code Council promulgated this standard and the department adopted it because fire sprinkler systems prevent injuries and save lives," said DSPS Secretary-designee Dawn Crim. "Enforcing this provision will protect individuals and families that live in multi-family dwellings and it will protect the fire fighters who respond to calls."
The provision requiring fire sprinkler systems in multi-family dwellings has a unique procedural history. It is not a new provision—it is currently part of the administrative code and had previously been enforced. However, in 2017, the Wisconsin attorney general issued an opinion specifically stating that the fire sprinkler requirements in Wis. Admin. Code SPS § 362.0903 could not be enforced. The department stopped enforcing the requirement but did not remove it from the administrative code.
Last year, Wisconsin Attorney General Josh Kaul revisited the issue. He determined and issued an opinion that the provision is enforceable. After careful consideration and review with internal staff, administration partners, and industry stakeholders, the department decided, in the interest of public safety, to resume enforcement of the code requirement beginning on April 19, 2021.
Last year, 530 plans that would be subject to enforcement of this code provision were submitted to the department for approval. Of those, only 79 did not include fire sprinkler systems. The rest of the projects already included complete (419) or partial (32) fire sprinkler systems even though the department was not enforcing the code requirement.
"The industry is already moving toward safety," Crim said. "Fire sprinkler systems save lives. They also prevent catastrophic property loss. Requiring them makes sense."
The United States Fire Administration recommends fire sprinkler systems in residential dwellings to prevent civilian and fire service injuries and fatalities, reduce losses due to fire damage, and lower insurance premiums.
Among is broad and varied responsibilities, the Department of Safety and Professional Services issues more than 240 unique licenses, administers dozens of boards and councils that regulate professions, and enforces state building codes. A fee-based agency, the Department of Safety and Professional Services operates entirely on program revenue and receives no general fund tax dollars for its day-to-day operations. With five offices and 250 employees throughout Wisconsin, DSPS collaborates with constituents and stakeholders across a wide range of industries to promote safety and economic prosperity.
Recent Press Releases by Wisconsin Department of Safety and Professional Services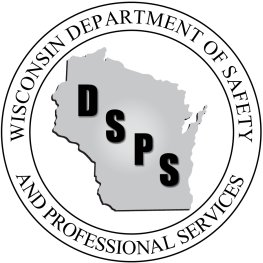 May 11th, 2022 by Wisconsin Department of Safety and Professional Services
The Wisconsin Advisory Council on Building Sustainability will advise state code councils on opportunities to enhance community resilience, encourage innovation, and incentivize use of clean energy in residential and commercial construction.