Press Release
Bus Driver's Skunk Rescue Nets PETA Award
After Bob Ervin Frees Skunk From Plastic Container, Group Reminds Everyone to Protect Wildlife by Crushing Cups and Cans
Milwaukee — A Compassionate Action Award is on its way from PETA to Milwaukee County Transit System (MCTS) bus driver Bob Ervin, who sprang into action on July 10 to save a skunk whose head was stuck in a yogurt cup. This MCTS video shows that after Ervin spotted the distressed animal on his bus route, he popped into a store to buy an extended grabber tool. When he saw the skunk again, he asked his passenger to pardon him for a moment, exited the bus, and quickly freed the animal from the cup—and he or she scampered off, unharmed.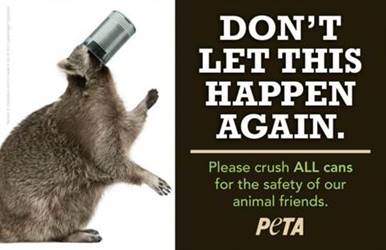 "Bob really loves animals, and he knew he had to do something to help this skunk out," Matt Striker, MCTS' integrated marketing manager, tells PETA.
"Bob Ervin's intervention meant the difference between life and death for a little skunk struggling to get free just feet away from speeding traffic," says PETA Vice President Colleen O'Brien. "PETA hopes this story will inspire everyone to come to the aid of animals in need and always crush cans and cups before throwing them in the trash."
PETA has tips on its website for living in harmony with wildlife and disposing of trash properly, including by tightly sealing all garbage in chew-proof containers, rinsing out aluminum cans and dropping the tops inside so that they can't cut an animal's tongue, crushing cans and cups, putting the tops back on bottles, and cutting open empty cardboard and plastic containers so that small animals can't get their faces or heads trapped inside them.
Ervin will receive a framed certificate and a box of delicious vegan cookies.
PETA—whose motto reads, in part, that "animals are not ours to abuse in any way"—opposes speciesism, which is a human-supremacist view that other animals are disposable. For more information, please visit PETA.org.
Mentioned in This Press Release
Recent Press Releases by People for the Ethical Treatment of Animals