Press Release
Appleton Man Indicted for Defrauding Investors
Acting U.S. Attorney Richard G. Frohling of the Eastern District of Wisconsin announced that earlier today an 11-count  indictment was unsealed in federal court charging Robert Narvett (age: 56) of Appleton, Wisconsin, with: (1) four counts of wire fraud, in violation of 18 U.S.C. § 1343; (2) one count of bank fraud, in violation of 18 U.S.C. § 1344; (3) one count of aggravated identity theft, in violation of  18 U.S.C. § 1028A; and (4) five counts of money laundering, in violation of 18 U.S.C. § 1956.
According to the indictment, beginning on or about January 1, 2014, Narvett defrauded victims by promising them he could invest their money and return it with significant interest and dividends when, in fact, Narvett was using his victims' money to fund his own lifestyle and to make lulling payments to other victims.  The indictment also alleges that Narvett applied for, and obtained, loans from financial institutions in his victims' names without their authorization.  The indictment alleges that between 2014 and 2019, Narvett fraudulently obtained over $1.5 million from his victims.
According to public records, in 2013, Narvett was charged by the Securities and Exchange Commission with engaging in a fraudulent investment scheme. A judgment in the amount of $654,583.92 was entered against Narvett in October 2014.
Acting U.S. Attorney Frohling stated:  "Prosecuting financial crimes remains a top priority for the Department of Justice.  This indictment was the result of tireless and thorough investigative work – all with the aim of seeking justice for the victims of Mr. Narvett's latest alleged scheme."
FBI Special Agent in Charge Robert Hughes stated:  "I applaud the great work of our team.  This offender can longer use his investment scheme to prey on innocent victims for his own personal gain.  With our partners, the FBI will continue to use all available resources to investigate and bring those to justice who take advantage of consumers."
If convicted of wire fraud or money laundering, Narvett would face a maximum sentence of twenty years in prison per count.  If convicted of bank fraud, he would face a maximum sentence of thirty years in prison.  If convicted of aggravated identity theft, Narvett would face a mandatory minimum sentence of two years in prison.
The Federal Bureau of Investigation investigated the case, which Assistant United States Attorneys Julie F. Stewart and Daniel Humble will prosecute. The Commodities Futures Trading Commission assisted in the investigation.
An indictment is only a charge and not evidence of guilt. The defendant is presumed innocent and is entitled to a fair trial at which the government must prove guilt beyond a reasonable doubt.
Mentioned in This Press Release
Recent Press Releases by U.S. Department of Justice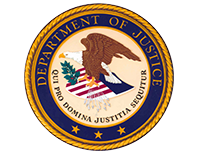 May 13th, 2022 by U.S. Department of Justice
Company and Employees Charged with Conspiracy to Conceal Violations; Two Employees Plead Guilty to Related Charges