Press Release
A Look at What's New at the 38th Annual Milwaukee Irish Fest
Festival Experience App, 16 New Artists, Food and Culture Bring Live and Legendary Experience to Milwaukee
MILWAUKEE, Wis. (July 30, 2018) – Milwaukee Irish Fest, the world's largest celebration of Irish and Celtic music and culture is ready to rock, bringing its live and legendary experience back to Milwaukee's lakefront, August 16-19. The 38th annual festival features food, culture, and a talent-packed lineup of performers, including fan favorites like Gaelic Storm and critically acclaimed, multi-platinum artists like The Coronas. The four-day festival located at the Henry W. Maier Festival grounds is sure to have something for everyone!
New for 2018:
Milwaukee Irish Fest App: Guests are invited to make the most of their festival experience with the new free app from Milwaukee Irish Fest! They can use the interactive festival map, discover activities that match their interests (shopping, sports, family fun, cultural attractions, and food and drink), check out "What's Hot," and plan a perfect day. Plus, an alert system will notify guests when there is a schedule change, weather info and more. Users can even favorite artists so they never miss their favorite music.
Nova Scotia Showcase: From traditional Irish and folk artists, to Celtic rockers, music is at the heart of Milwaukee Irish Fest. This year, the festival will welcome more than 16 new acts, along with the Nova Scotia: Celtic Heart of North America With music and laughter always on tap in Nova Scotia, the showcase invites festivalgoers to experience all that the beautiful Canadian province has to offer, including award-winning cuisine, unique culture and heritage, and a thriving music scene. Showcase performers include: Còig, Decota McNamara, Mary Jane Lamond and Wendy MacIssac, Natalie MacMaster, Donnell Leahy and Family, Shannon Quinn, Shreem and The Stanfields.
Special Shows: Opening night, festivalgoers are invited to check out an exciting performance from the most famous bagpipe band in the world, the Red Hot Chilli Pipers! Sunday, Celtgrass rockers We Banjo 3 – along with some of their friends – are set to entertain with a special "Sunday Funday" show.
Heroes Hut: A new space for active and retired military members, first responders and up to three accompanying family members, will offer complimentary snacks, non-alcoholic beverages and veterans resource information. Milwaukee Irish Fest is also proud to have been designated a Commemorative Partner of the United States Department of Defense's Vietnam War 50th Anniversary Commemoration and will honor Vietnam veterans during a special lapel pin presentation on Saturday, Aug. 18 at 3:45 p.m.
Brunch with Paddy & Molly McFest: Saturday morning families are invited to enjoy a catered brunch with Milwaukee's most famous Irish mascots, Paddy and Molly! Brunch will include a private show by children's entertainer, Wayne Francis – The Puppeteer, and children under 12 will receive a commemorative party favor. Tickets include entry into the festival and can be purchased at sfgrounds.com.
Culture: 2018 marks the 125th anniversary of the language revival movement that was born with the founding of Conradh – the Gaelic League. Special speakers visiting the festival to discuss the history of the movement will include: Dr. Niall Comer, president of Conradh na Gaelige, from Ulster University, and Lewis MacKinnon, the executive director of Nova Scotia's Gaelic Affairs.
Food & Spirits: The Celtic Kitchen is excited to welcome Chef Alain Bossé to the festival this year. Known as the Kilted Chef, Bossé has traveled the world from kitchens to convention centers, sharing his expertise and love for buying and eating local ingredients with people near and far. With his signature tartan kilt, proud Acadian heritage and undeniable flair for cooking with local ingredients, he has earned a reputation as Atlantic Canada's culinary ambassador. Also new to the festival, two new Irish whiskeys from Jameson: Caskmates IPA and Caskmakes Stout.
Additional Festival Highlights Include:
Music
Along with the Nova Scotia Showcase, Milwaukee Irish Fest is excited to welcome Dublin's TradFest Temple Bar back to the festival this year. The successful partnership, which brought TradFest to the U.S. for the first time last year, will welcome four TradFest performers to the 2018 festival.
Arts, Culture & More
The Cultural Village at Milwaukee Irish Fest features Irish and Celtic art, history, genealogy and shopping. Visitors have the chance to meet authors at the Literary Corner, walk through exhibits showcasing Irish and Celtic history, visit the Irish language area to learn simple Gaelic phrases, catch some live theatre, dancing and so much more!
Fun for the Whole Family
Milwaukee Irish Fest is truly a family affair, featuring fun for adults and kids alike. Children can collect stamps for their Family Passports, experience a traditional Irish tea time, visit the Celtic Canines, search for gold in the Leprechaun Village, participate in highland games, make free crafts and play mini-golf. Plus, festivalgoers can check out daily family entertainment at the Children's Stages. As always, kids 12 and under get free admission to the festival.
Food & Spirits
In addition to traditional Irish fare like corned beef, Irish stew and baked potatoes, the festival is always cooking up a variety of food and drink specials, including Gilles Jameson Custard or the Reuben Quesadilla. This year, find a new sampling area where guests can taste Jameson Irish Whiskey, CiderBoys Hard Cider and Five Farms Irish Cream. Be sure to visit the food truck featuring traditional Irish and Scottish dishes, as well as the Jameson Cottage & Lounge distillery door selfie station with Jameson's new whiskey, Caskmates Stout!
Sports
Milwaukee Irish Fest features several sporting events to watch and try out, such as currach races, Gaelic football, hurling, and new to the festival this year, Celtic fencing! Many offer demonstrations as a hands-on way to learn more about the Irish sports.
Promotions
Military Discount – Any and all active military members will receive free admission to the festival, any day, with a valid I.D, plus one guest, at any gate window. Thank you for your service to our country.
Thursday Promotion (Festival Hours: 5 p.m. – 10 p.m.) – Free admission with a donation of school supplies for Hope House on Thursday, Aug. 16. Partial grounds open.
Friday Promotion (Festival Hours: 4 p.m. – 12 a.m.) – Half-price Friday! $10 general admission on Friday, Aug. 17.
Saturday Promotions (Festival Hours: 12 p.m. – 12 a.m.)

Register for the 2018 Arthritis Foundation Run/Walk to Milwaukee Irish Fest and receive free admission before 3 p.m. on Saturday, Aug. 18.
Military veterans will receive free admission from 12 – 4 p.m. to attend the Vietnam War Commemoration at 3:45 p.m.
Sunday Promotions (Festival Hours: 11 a.m. – 10 p.m.)

College Day – College students receive $3 off general admission with a valid student ID between 2 p.m. and 7 p.m. on Sunday, Aug. 19.
Fests Feed Milwaukee – Anyone donating at least three non-perishable food items by 11 a.m. will receive free admission to the festival. All non-perishable food items will be donated to Hunger Task Force.
Military Day – Free admission for active, reserve, retired and guard military personnel plus one guest with valid military ID on Sunday, Aug. 19.
4-Day Passes are also available and can be purchased online for only $38. To purchase advance tickets and to learn about our new ticket package programs, and special partner promotions/ discounts, visit www.IrishFest.com. Your admission to the festival includes all of the musical acts, cultural exhibits, children's activities and more! General admission for the festival is $20, $15 for seniors 60+ and free for kids 12 and under.
About Milwaukee Irish Fest
Milwaukee Irish Fest is the world's largest celebration of Celtic music and culture. The four-day festival showcases more than 100 entertainment acts on 17 stages at Henry W. Maier Festival Park on Milwaukee's lakefront. The annual festival occurs every third weekend in August. The 38th annual Milwaukee Irish Fest takes place August 16 to 19, 2018.
Milwaukee Irish Fest is proudly presented by CelticMKE, a non-profit organization dedicated to igniting a love of Celtic culture and heritage in all people. With the help of more than 4,000 volunteers, CelticMKE and Milwaukee Irish Fest promote Celtic music, dance, drama, sports, culture, children's activities and genealogy through the annual festival, as well as year-round programming. For more information, visit www.CelticMKE.com.
Mentioned in This Press Release
Recent Press Releases by CelticMKE
Oct 15th, 2019 by CelticMKE
Milwaukee Irish Fest visionary leaves behind a lasting legacy after a long battle with cancer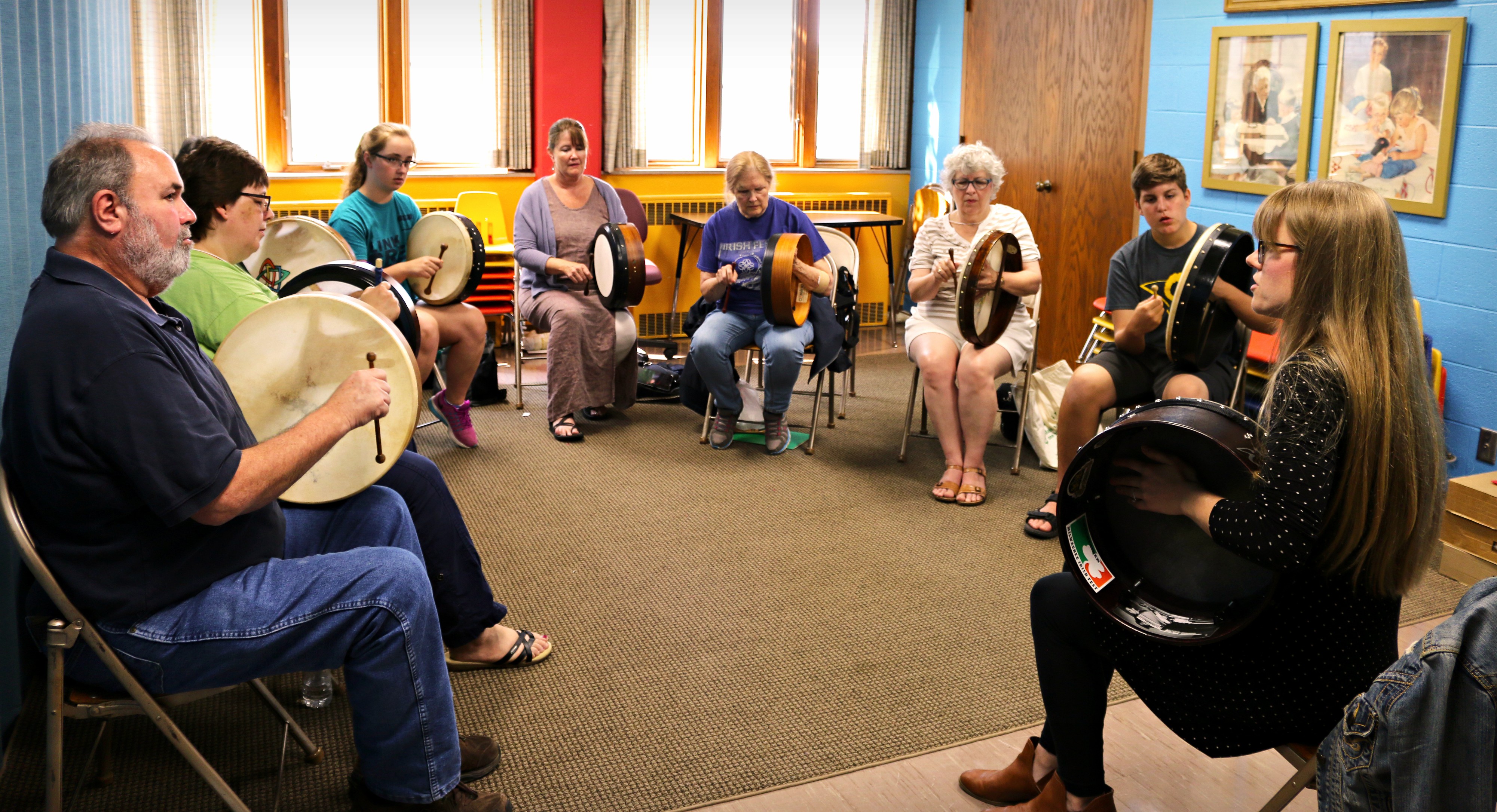 May 20th, 2019 by CelticMKE
Early Bird Discount Available on Select Classes until June 15

Feb 20th, 2019 by CelticMKE
Organization hosts and runs Milwaukee Irish Fest each year in Downtown Milwaukee