Press Release
A Juxtaposition of Traditions: Present Music Presents Thanksgiving 2014
Pieces to be performed: Hammers and Whistlers, Gloria Everywhere, Jesus' Blood Never Failed Me Yet
(October 20, 2014 – Milwaukee, Wis.)Experience Present Music's tradition as they perform their annual Thanksgiving concert on November 23, 2014 at 4:00 pm. Present Music instrumentalists and Hearing Voices, PM's new vocal ensemble, will be joined by 90+ musicians from the Milwaukee Handbell Ensemble, Vocal Arts Academy, Milwaukee Youth Symphony Orchestra, and Muskego High School.
Celebrate creation with jubilant sounds from the brass and choirs, and experience a centuries-old tradition, the Friendship Dance, led by the Bucks Native American Singing and Drumming Group. Kamran Ince's Hammers and Whistlers(commissioned by PM in 2006) and Gloria Everywhereare presented in contrast to the touching Jesus' Blood Never Failed Me Yet by Gavin Bryars. Present Music artistic director Kevin Stalheim says of his choice, "While it is gentle and simple, Jesus Blood is very powerful: a homeless man singing a simple tune expressing his hope and faith without bothering anyone. It is a stark contrast to the pushy religious fanatics that have wreaked havoc on our world throughout history. During this season of plenty for many the singer helps us to remember those with less. And it's inspiring to hear someone without family and shelter be so grateful." (Program subject to change.)
About Hammers and Whistlers
Hammers and Whistlers was commissioned by Present Music for their 25th Anniversary. Its original text is written by Izzeddin Calislar, and is about the wonderment of creation, the act of creating and the act of experiencing and sharing the creations. "We ourselves must create, after all everything we are or encounter has been created… In fact the music you are hearing now was just created–why not join in? Hammers and Whistlers also celebrates creation, and is in awe of this act as it experiences/lives itself in the sounds that come out," says composer Kamran Ince.
About Gloria Everywhere
A part of Chanticleer's Mass project And On Earth, Peace: A Chanticleer Mass, in Gloria (Everywhere) Ince set a poem of the 13th Century Sufi poet Jelaleddin Rumi to music with Ottoman, Turkish, and Western elements. Perhaps one of the greatest mystic poets, Rumi's poetry is about the pure love for god, seeking and finding god in everything we encounter, and the desire and yearning for becoming one with the Deity. Ince states, "In setting this poem, I tried to convey the strong yearning for god with searching lines, at times incomplete, breathless. The glorification and the ecstatic anticipation of unification is portrayed with more direct textures. Of course I am thinking about what Rumi's world means to me in sounds, within my musical language. The following four lines from this poem well represents the spirit of this work: Moslems and Christians and Jews raising their hands to the sky their chanting voice in unison begins to arrive…"

About Jesus Blood Never Failed Me Yet
Composed by Gavin Bryars 1971 in London, Bryars was working on a film about people living rough in the area around Elephant and Castle and Waterloo Station. In the course of being filmed, some people broke into drunken song – sometimes bits of opera, sometimes sentimental ballads – and one, who in fact did not drink, sang the religious song "Jesus' Blood Never Failed Me Yet". When Bryars played it at home, he found that the man's singing was in tune with his piano, and that the first section of the song formed an effective loop which repeated in a slightly unpredictable way. He took the tape loop and copied the loop onto a continuous reel of tape. The door of the recording room opened on to one of the large painting studios where he left the tape copying, with the door open, while he went to have a cup of coffee. When Bryars came back he found the normally lively room unnaturally subdued, people were moving about slowly and a few were sitting alone, quietly weeping.
He was convinced of the emotional power of the music and added a simple orchestral accompaniment that respected the tramp's nobility and simple faith. Although the man died before he could hear what Bryars had done with his singing, the piece remains as an eloquent, but understated testimony to the man's spirit and optimism.
About Kamran Ince
Hailed by The Los Angeles Times as "that rare composer able to sound connected with modern music, and yet still seem exotic"; Ince was born in Montana in 1960 to American and Turkish parents. He holds a Doctorate from Eastman School of Music, and currently serves as Professor of Composition at University of Memphis and Co-Director of MIAM at the Istanbul Technical University. His numerous prizes include the Prix de Rome, the Guggenheim Fellowship, and the Lili Boulanger Prize. His Waves of Talya was named one of the best chamber works of the 20th Century by a living composer in the Chamber Music Magazine. In 2010, Naxos released four new albums of Kamran Ince's music which include new recordings of the composer's Music for a Lost Earth; Symphony No. 5 – Galatasaray; Hammers & Whistlers and Symphony No. 2 – Fall of Constantinople (the latter two works are pieces commissioned by Present Music). Ince's most recent work, The Invasion, for chamber orchestra, premiered at Gallipoli, Turkey on April 25, 2011 and was presented by the Canberra International Music Festival to mark the centennial of the First World War battle of Gallipoli. PM's all-Ince concert on August 30 featured 3 US premieres and was recorded for PM's 10th CD album.
About Gavin Bryars
Gavin Bryars, born in 1943, studied philosophy but became a jazz bassist and pioneer of free improvisation with Derek Bailey and Tony Oxley. Early iconic pieces The Sinking of the Titanic and Jesus' Blood Never Failed Me Yet achieved great popular success. Works include three operas, a large body of chamber music, several concertos and much vocal music. He has collaborated widely with visual artists, choreographers, theatre directors. Since 1986 he has performed, toured and recorded with the Gavin Bryars Ensemble. He has made many recordings for ECM, Point, Philips, Naxos, Decca, and his own label GB Records. Bryars recent works include the chamber opera Marilyn Forever, The Fifth Century,(for saxophone quartet) and two ballets: Pneuma and TheSeasons. Two further ballets will be premiered in October, PeerGynt based on Grieg's original and 11thFloor. Bryars will be Composer in Residence at the Adelaide Festival in March 2015.
Tickets
Single tickets ($35-15) are available at www.presentmusic.org or at (414) 271-0711. Season subscriptions are available and range from $80 – $240.
The Cathedral of St. John the Evangelist is located on 812 N. Jackson St. Milwaukee WI 53202. Street parking is free on Sundays.
This concert is sponsored by UPAF, CAMPAC, and the Wisconsin Arts Board. Media support provided by WMSE.
This event is an independent function and is neither related to, sponsored by, nor controlled by the Cathedral of St. John the Evangelist.
Present Music
Present Music is Milwaukee's internationally acclaimed new music ensemble. Celebrating over 30 years of new music, Present Music commissions, performs, records, and tours the music of living composers. In the past quarter century, more than 55 new works, by composers from around the world, have come into existence because of Present Music. Founded by Kevin Stalheim, Present Music works closely with many of the world's most exciting and significant composers while supporting the talents of emerging voices. It nurtures the next generation of composers through its education program, the Creation Project.
Present Music is a member of the United Performing Arts Fund, which provides major financial support. This season is supported by a grant from the Wisconsin Arts Board with funds from the State of Wisconsin and the National Endowment for the Arts. Additional support provided by CAMPAC and by the generosity of foundations, corporations and individuals. PM has won the ASCAP/Chamber Music America's Adventurous Programming Award an unprecedented six times and can be heard on nine compact disk recordings on the Argo, Albany, Aoede, Northeastern, Naxos and Innova labels.
Present Music engages artists and audiences in imaginative and provocative experiences with new music through ensemble performance, education and commissioning.
Mentioned in This Press Release
Recent Press Releases by Present Music
Jan 12th, 2018 by Present Music
Four fortuitous concerts, seven compositions, in four distinct venues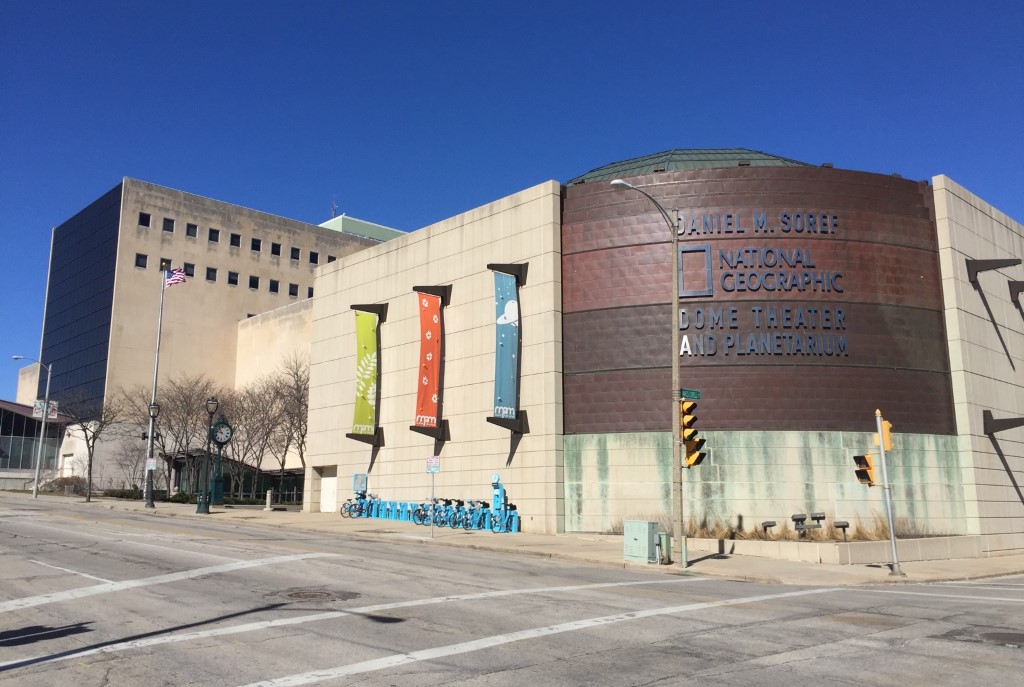 Mar 20th, 2017 by Present Music
Featuring first-ever collaboration with the Milwaukee Public Museum
Jan 12th, 2017 by Present Music
Concerts feature five musicians and 100 metronomes in three intimate venues