Press Release
Shorewood to Consider Creation of Tax Incremental District
For Proposed Metro Market Development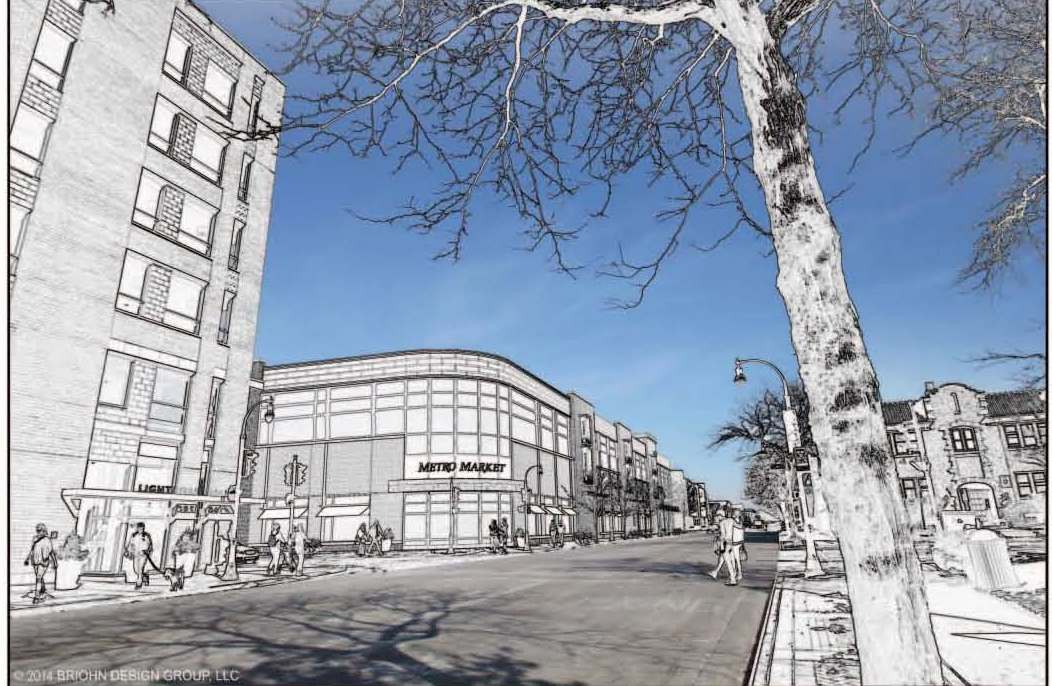 A Joint Review Board meeting and public hearing will be held at 3:30 p.m. and 6:00 p.m. respectively on Monday, June 2 at Shorewood Village Hall to consider creation of a tax incremental district (TID) for a proposed Metro Market, upscale apartments and additional retail space in the two blocks on the west side of Oakland Avenue between between East Kenmore Place and Olive Streets.
The first phase of the proposed project would consist of an 80,000 square foot Roundy's Metro Market with completion estimated for fall of 2015. This two-level store, slated to be Roundy's Milwaukee flagship Metro Market,  will offer a fresh selection of produce, meat and seafood as well as a sushi bar, wine bar, olive oil bar and smoothie bar.  There will also be a vegan department and expanded organics line as well as other casual restaurant options. Phase I also includes the construction of a 350 stall parking garage for the Metro Market and other retail customers, employees and public parking for the community.
The second phase of the proposed project consists of 80 upscale apartments and 15,000 square feet of retail space.  Parking for tenants would be provided within the building.  Phase II construction would begin in the fall of 2015 and be completed in 2016.
A Tax Incremental District #5 (TID #5) would be created to facilitate the Village's financial support to the proposed project.  A TID is a financing tool that enables a municipality to incentivize desired development through loans (which are repaid by the developer) and grants (which are repaid through future taxes on the improved real estate).
A Joint Review Board, consisting of representatives from the Shorewood Village Board, Shorewood Community Development Authority, Shorewood School Board, Shorewood Public, Milwaukee County, and MATC, will meet to review and consider approval of the TID #5 Project Plan and creation of TID #5.  This Project Plan, describing the project and its financial projections, is available at www.villageofshorewood.org located under the Community Development quick link.
TID #5 will include proposed costs of approximately $13,945,000 consisting of $6,000,000 for a parking structure grant, a loan to the developer for construction of the Metro Market in the amount of $6,500,000 and $1,445,000 in village costs for financing and professional services.  The estimated payback period for this project will be 15 years, 12 years shorter than required by the State of Wisconsin.  The total net Village investment for the proposed project would be approximately $6,695,000.
"The proposed Metro Market addition is consistent with our vision of what we want Shorewood's business district to accomplish in order to enhance the vitality of our village.  This is a bold project that is benefiting from the helpful ideas coming from many different citizen groups and individuals," said Village President Guy Johnson.
The proposed project and TID #5 project plan will continue to be thoroughly vetted throughout the Village's process of public discussion and municipal approvals. Financing numbers are expected to be fine-tuned during this process before final project approval.  For a listing of all the upcoming meetings concerning this project, please visit www.villageofshorewood.org under the Community Development quick link.
Mentioned in This Press Release