Content referencing Tim Hoven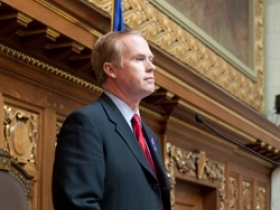 16 ex-lawmakers -- including former Assembly speakers and Senate majority leaders -- make big money lobbying the legislature.
Mar 18th, 2013 by Bill Lueders

The Roundup
Don't bother calling Kennedy Fine Arts in Northbrook, Illinois. Don't even try to leave a message, because the voice mailbox is full. Of course, it is easy to see why – James F. Kennedy, the art dealer, has been sitting in the Milwaukee County jail without bail since May 7th, and it looks like he'll […]
May 17th, 2004 by Michael Horne

Murphy's Law
Republican and Democrats can't agree on much, as they squabble over the state budget, but both parties seem to think that AOL Time Warner needs a tax break.
Jul 16th, 2001 by Bruce Murphy