A 96-unit apartment complex developed from the shell of the former Park East Hotel by developer Michael Klein and partners Derek Schneider and Jeno Cataldo.
Hotel History
Park East Hotel is a 159-room hotel located in Milwaukee's Juneau Town neighborhood. The hotel was originally built as the Milwaukee Inn and was for a number of years known as the Park East Hotel.
The hotel's last owners Jay Walia and Rick Walia bought the hotel in 2003 from Towne Realty for $3.2 million. Towne had owned the hotel twice, acquiring it first in 1969 (selling in 1979) and buying it back in 1982 after developer Oliver Plunkett declared bankruptcy. It was originally built in 1959.
The hotel was rebranded as the Comfort Inn & Suites Downtown Lakeshore in 2006. In 2014, it's name was changed again, this time back to Park East Hotel.
Starting in 1961, the hotel had a short-lived helicopter service, Milwaukee Helicopter Airways, that connected it with General Mitchell International Airport. The service offered rides from the hotel to and from General Mitchell (and five other destinations) for $5/person, carrying up to three passengers at a time. Inflation adjusted costs, put that $5 ride at $37.85 in 2012 dollars.
The hotel's bar/restaurant has recently been known as Aqua (starting November 2003) and Aura (late 2008). Before that Milwaukee restaurateur Johnny Vassallo operated Ten Eleven Restaurant in the space.
Photos
Show All
Activity
Content referencing Vantage on the Park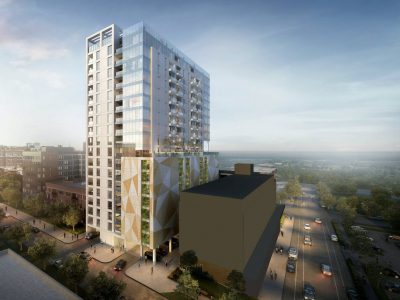 Eyes on Milwaukee
Renderings show potential of East Town site, but no plan to move project forward.
Jan 18th, 2021 by Jeramey Jannene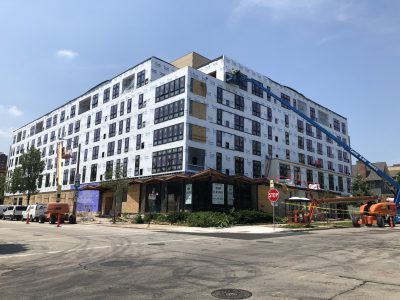 Friday Photos
Hotel-to-apartments conversion moving right along.
Jul 13th, 2018 by Jeramey Jannene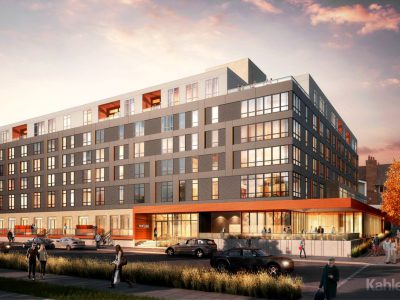 Friday Photos
Park East Hotel becoming Vantage on the Park apartments.
Mar 9th, 2018 by Jeramey Jannene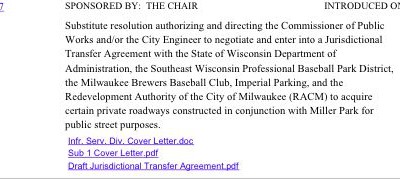 The Roundup
Alderman asked to make big money decision on 24 hour notice.
Feb 7th, 2005 by Michael Horne

The Roundup
Attorney General Peg Lautenschlager's drunk driving arrest last week removes her from behind the wheel of her state-owned vehicle for a year, and puts Governor Jim Doyle in the driver's seat. The two had squabbled, privately, over terms of the Governor's jobs bill, with Lautenschlager threatening to use her authority to see that the law comply with the state's environmental regulations, which she intimated it did not. This sort of independent action by an attorney general is not new in Wisconsin. Doyle was the chief practitioner of it, but then again, he was a Democrat, and the Governor at the time was a Republican. The press has made note that Doyle suggests Lautenschlager forgo some of her pay as a sort of penance for her indiscretion, a matter that remains unresolved at this time. Doyle also suggested that Lautenschlager consider entering a program to treat problem drinkers. He said that he had a number of friends who had been in a similar situation and that the treatment had helped them. In fact, the public admission of guilt and responsibility (which Lautenschlager made) is usually accompanied these days with a prompt acknowledgement that a problem exists. The subject then usually promptly enters a treatment program and completes it, after which the matter is forgotten. Lautenschlager has not made that admission thus far, which leaves her in the position of either not having a "problem" or being "in denial" of it. It does leave Doyle high and dry, however, and much less likely to face interference in his plans from that peskiest of all politicians – an ambitious Attorney General. Walker at the War Memorial County Executive Scott Walker welcomed about 100 well-clad guests to a fundraiser February 26th at the War Memorial Center. The strictly upper-crust affair was a Republican-type fundraiser, which meant that hard liquor was consumed (in moderation) and beer, for the most part, was ignored. For those fans of the frothy stuff, Walker offered Miller products and Heineken. Food was by Ellen's Prestige Catering, and included strolling waiters, another classy touch. Menu items included spinach somethings, meat and melted cheese on sandwich rounds, wrapped up little salmon tidbits, an entirely unsuccessful raspberry-brie tart, platters of some kind of 21st century sandwich product along with perfectly delicious fruit. The event was unmarred by public oratory, but was enhanced by an A-list of locals practicing up for the next time Bush is in town. Among the exalted: George Dalton, Dennis Kuester (on crutches), Michael Cudahy, mourning the recent death of Daniel Urban Kiley, creator of the $4 million Cudahy garden outside the adjacent Milwaukee Art Museum, Fred Luber, Tim Hoeksma, Carol Skornicka, John Finerty, Jim Weichmann, Joe Rice, Mary Buestrin, Corey Hoze and developer Mark Irgens. Hoze has secured speaker Dennis Hastert to appear at a $2000 fundraiser on his hopeless behalf in his upcoming congressional campaign. That's rich. Marvin Pratt popped in and worked the crowd for about 20 minutes before his cop told him it was time to […]
Mar 1st, 2004 by Michael Horne
Building data on this page, including assessment information, was last updated on September 6, 2020
See something wrong? Want to report an issue? Contact us.