Building Info
Address

:

520 E. Summerfest Pl.

Taxkeys

:

4290471000, 3922169114, 3922169115

Assessed Value (Land)

:

$436,200

Assessed Value (Improvements)

:

$40,000

Assessed Value (Total)

:

$476,200

Assesment Year

:

2020

Year Built

:
Formerly 520 E. Polk St.
Photos
Activity
ID
Date
Type
Description
PWEN-19-00394
2019/09/27
Permit

ROW Excavation Non-Utility

PWEU-18-04221
2018/12/18
Permit

ROW Excavation Utility

PLB-18-04642
2018/10/05
Permit

Building Plumbing Permit

PWEU-18-02073
2018/05/23
Permit

ROW Excavation Utility.

HVAC-GEN-18-01516
2018/05/16
Permit

HVAC General Permit.

ECP-18-00219
2018/05/16
Permit

Erosion Control Permit.

COM-NEW-18-00040
2018/05/16
Permit

Commercial New Construction Permit.

798927
2016/05/26
New Service Request

Litigated order (#11738941, non-compliance fined $580). Please check this property for code violations and issue the appropriate orders.

12027511
2016/04/08
Violation


~~A dumpster visible from a public street or a non-industrially-zoned district shall be screened with type "G" landscaping, as described in s. 295-405. (Provide dumspter enclosure to comply with code.) / 295-805-4-f /

1174252
2016/04/02
Permit

Fence

1173120
2016/03/24
Permit

Occupancy-Zoning Only

11738941
2015/10/08
Violation


~~PLAN CHANGES. Plans (drawings), data, specifications and certified lot or plot plan approved by the commissioner shall not be changed or modified in any manner, nor shall the amount or character of the work authorized by such approval be changed, modified or increased unless the consent and approval of the commissioner shall have first been obtained in writing. You are hereby ordered to install continuous rail road ties as shown on the approved plan along the north edge of the parking surface. Wheel guard are required per MCO 252-73 / 200-28-6 /
~~Type G Landscaping (Object Screening). This type is primarily intended to surround or visually separate utilitarian objects from street frontages. Examples of items to be screened with type G landscaping include mechanical equipment or enclosures, dumpsters and other trash collection equipment, and loading docks. This type of landscaping does not require trees, but does require screening from the ground level to at least 6 feet above grade. Plantings in the low- level, eye-level and high-level zones shall create a continuous edge of plants, completely obscuring the area behind the landscaped area from view from the street. You are hereby ordered to install type G landscaping around the dumpsters. / 295-405-1-b-7 /
~~2009 IBC 1101.2 Design. Buildings and facilities shall be designed and constructed to be accessib
==Truncated==

1115233
2014/07/02
Permit

Occupancy

1106744
2014/04/11
Permit

Addition

1106745
2014/04/11
Permit

Fence

1106746
2014/04/11
Permit

Erosion Control

ID
Date
Description
Type
Content referencing 520 E. Summerfest Pl.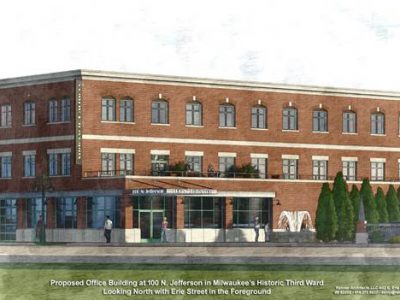 Eyes on Milwaukee
Developer hopes to start townhome construction in coming months.
Feb 20th, 2020 by Jeramey Jannene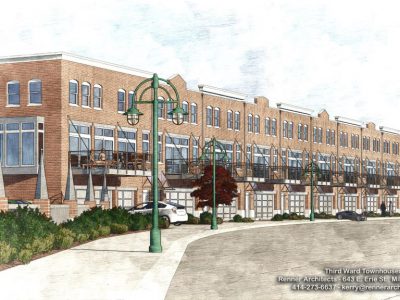 Plenty of Horne
A 13-unit complex, though the pediments were questioned. And more Ice Bars coming!
Oct 26th, 2017 by Michael Horne
Building data on this page, including assessment information, was last updated on September 6, 2020
See something wrong? Want to report an issue? Contact us.