Bike Czar
Fun Exhibition for Milwaukee Bikeshare
Poster art by a nationally known illustrator and cycling enthusiast helps raise money for Bike Share program.
//end headline wrapper ?>
Get a daily rundown of the top stories on Urban Milwaukee
In case you didn't know, Milwaukee is on the verge of getting a bike share system similar to B-Cycle in Madison, Capital Bikeshare in Washington, D.C., Nice Ride Minnesota or any of the dozens of other cities in the US that now have fully functioning bike share systems. Midwest Bikeshare, Inc. already has quite a bit of funding in hand, and to help raise those final dollars, the good folks at Hanson Dodge Creative have organized a gallery show of Michael Valenti posters.
Tom Held did a great interview with Michael Valenti and posted a bunch of his other posters in an article you can read here at OnMilwaukee.com.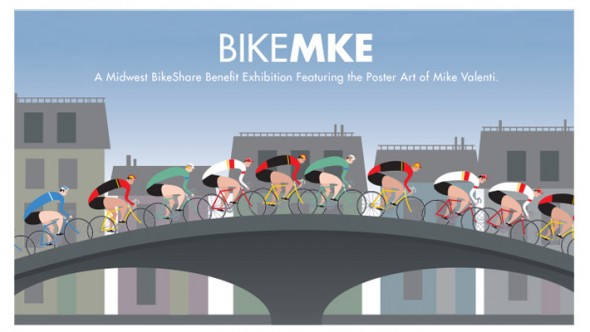 The ongoing exhibition, 
BIKE MKE
, features the poster art of cycling enthusiast and renowned designer, illustrator and artist, 
Michael Valenti
. The Chicago-based designer has created a new, limited edition poster to commemorate the 2013 launch of 
Midwest BikeShare
 in Milwaukee. Valenti unveiled his newest creation at the exhibition's opening reception on Thursday, March 21 at the HDC studios. Limited edition, silkscreen prints of the commemorative poster were sold at the event (posters are still available through Midwest BikeShare), with a portion of the proceeds benefiting Midwest BikeShare.
Valenti said the exhibition and his creation of the commemorative poster were a natural fit that combined his dual passions of cycling and art. "I was delighted when Ken Hanson first approached me about doing this show and also creating a poster to support Midwest BikeShare," said Valenti. "I've been riding bicycles since childhood and drawing pictures just as long. I'm always happy to be part of an effort that promotes the joy of riding to a larger audience."
The exhibition will run through May 30 at the HDC studios, 220 E. Buffalo St. Admission is free and open to the public.
About Michael Valenti
Michael Valenti has been creating images and advertising campaigns as an art director, designer and illustrator for more than 30 years. A Boston native who now calls the Midwest home, Valenti has an impressive resume starting with his early work at Boston-based agencies Robinson and Cabot Advertising. He subsequently spent 15 years at the Leo Burnett Company in Chicago where, among other accomplishments, he co-managed the $250 million Allstate account and was art director for the Hallmark account. Valenti also ran the creative department at Cooper & Hayes in Miami before setting out on his own. Today his design studio is based in Lindenhurst, Ill., where he serves clients from as far away as Shanghai, London and New York. He also turns his passion for cycling into art, designing and selling his posters for the use of his clients and for reproduction as fine art prints.
From Fortune 500 companies to small wineries in Michigan, Valenti's commercial advertising work creates an emotional connection to the brand, strengthening the bond and making the sale. His client list includes industry giants such as McDonald's, Eli Lilly, Disney, Morgan Stanley, Pillsbury, Kraft, Kellogg's and Procter & Gamble, as well as smaller clients including Timberland, Carnival Cruise Lines and the Round Barn Winery.
About Midwest BikeShare
Midwest BikeShare is a non-profit corporation working to bring BikeShare to Wisconsin communities. It hopes to install 25 bike rental kiosks and some 250 shared bikes throughout Milwaukee by this summer. It has raised nearly one-third of the $1.5 million needed to launch the program.
First popularized as a transportation strategy in Europe in places including Paris and Barcelona, bike-sharing has quickly expanded around the world. In the U.S., 2010 was a pivotal year for the concept with cities such as Denver, Minneapolis, Chicago and Des Moines headlining the installation of systems.  Midwest BikeShare envisions operating a self-sustaining system here, including the promotion of and ongoing maintenance and daily management of the bicycles, working hand-in-hand with city and county government, and local bicycle experts.
The volunteer-based Midwest Bikeshare, Inc. was founded by Bruce Keyes, a partner at the law firm of Foley & Lardner, LLP and Barry Mainwood, owner of Mainly Editing, Inc., with additional assistance and support from Jack Hirt, a partner in Midwest Cycling Series, LLC, a company that stages the Tour of America's Dairyland bike race series, and Juli Kaufman, an owner of Fix Development, LLC. For more information, visit:www.midwestbikeshare.org or follow them on Twitter @MidwestBikeShar.
This story was originally published by the Bicycle Federation of Wisconsin.