//end headline wrapper ?>
Get a daily rundown of the top stories on Urban Milwaukee
There I was, sitting in a great little restaurant, north and slightly west of Humboldt Park. The food was distinctly Italian, and the art on the walls was distinctly Shelby Keefe. I actually got out of my chair and took a closer look. Too often, art hanging in restaurants, cafés, banks, etc. is akin to wallpaper. Keefe's work was not wallpaper.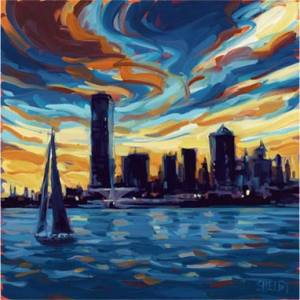 When was that Shelby? A decade ago? Those were pastels weren't they? Street scenes?
Wow, Judith, that was a long time ago….I think it was just after I moved to Bay View in 1998 or '99! It was the place before the Italian place, called The Black Tie on Clement Avenue. That was, I think, during our first "Bay View Arts Tour" and Jennifer and Michael, who owned the place, invited me to hang my work in their just-opened café. I hung my oil paintings there for several months and was grateful for the attention my work received.  And yes, you could call them street scenes. I call them urban landscapes.
Should I say "You've come a long way Shelby?" It would seem so, for here you are in 2010, about to launch the poster for the Lakefront Festival of the Arts. How did you snag that gig? Do you earn a fee for your design?
You could say that. In that time I have gone from being a self-employed graphic designer painting when I had the spare time, to becoming successful enough as a painter to let the graphic design go, and paint full-time. As far as how I got the gig, well, co-chairs Debbie Gerke and Danielle Brinkman called me out of the blue this past winter and asked if I would consider doing it. I said yes, and we got together and they showed me a printout of one of my "performance paintings" of the lakefront they had found on my website that they liked.
They went on to commission me to do another like it but asked to have the Calatrava addition more prominent, which I was happy to do. So I made a new painting — imagining a live audience, (like there is for my performance paintings), played my dance music loud as I painted, and created the bold, fat brush stroke style of painting that is the result. These are quite different from my relaxed, freely rendered studio paintings and I love doing both styles.
I don't "earn a fee" per se, rather, in return for the painting, my booth fee is waived and I am given an automatic "in" to next year's festival. And of course, it garners me lots of good attention!
Do you still exhibit in cafés, banks, etc? You've been an exhibitor at the LFOA how many times? Awards?
The only cafe I've exhibited in recently is Beans and Barley. For now I've been concentrating on showing my work through galleries such as Edgewood Orchard Galleries in Door County, River's End Gallery in Waukesha and a gallery in Florida and New Mexico. I also have a good source of income from commissioned work through corporate art consultants, I do about seven art fairs each summer and I sell directly out of my studio/gallery in Bay View.
I've been fortunate enough to have exhibited at the Lakefront Festival 9 separate years, with 2006 being a year where I received an award entitling me to three years jury-free acceptance to the show.
Not everyone can afford a piece of art, especially in this economy, but almost anyone can afford a poster of the event. Will they be for sale at the lakefront?
Not only will they be able to buy a poster, there will be t-shirts, mugs, hats and other stuff that will sport the poster image (I have only seen the t-shirt so far, and it's pretty cool!). People can come to my booth after buying their poster to have me sign it, and they can also purchase my original paintings, some of which will be the "performance paintings" I talked about. They will also see many new urban landscapes painted in my more typical style that many people seem to identify with me.
Is that little restaurant  where I first saw your work still there?
Yes, it's called Tenuta's, just east of Humboldt Park on Clement Avenue, and it continues to be a popular place for Italian food. I don't know whether they feature local artists like the Black Tie did long ago, but I wouldn't be surprised if they did.
The Lakefront Festival of Art begins Friday, June 18  on the grounds of the Milwaukee Art Museum and runs through June 20,2010. For more information, check the LFOA website. You can see more of Shelby Keefe's work if you stop by booth 13 at the festival, or by clicking  here.